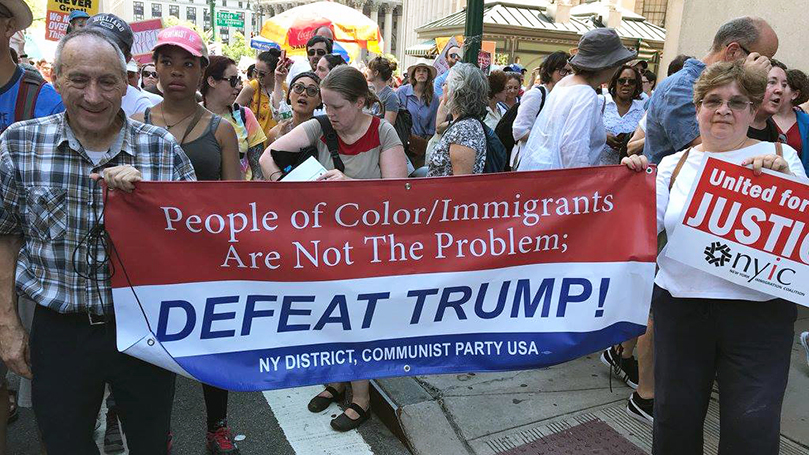 This page is intended as an index of contributions to Pre-Convention Discussion, including the new Draft Program of the Communist Party USA.  You don't have to be a party member, a movement veteran, or a scholar of Marxism to participate.  We want to hear evaluations of our strategy and tactics based on your experience!  To participate, you can comment on Convention Discussion materials on the Communist Party USA Facebook page and here at cpusa.org.  You can also send written or video contributions to discussion@cpusa.org.
Use the links below for guidelines and instructions , as well as some questions to stimulate your thinking.
How do I participate in discussion? (text)
DRAFT PROGRAM AND ASSOCIATED DOCUMENTS
CPUSA Draft Program 2019 (download)
Club and District Discussion Guide (download)
Draft Program Introduction (summary/overview)
Please note that proposed changes to the Draft Program should be sent to the Program Committee at program@cpusa.org.  Comments for public discussion, such as those addressing political framework, strategy, and tactics, should be sent to discussion@cpusa.org.
CONTRIBUTIONS BY TOPIC
Each topic will be the subject of an online discussion.  Click on the link below the topic heading to register.
I. Class and Democratic Struggles
Seminar: Intro to Draft Program, Class and Democratic Struggles (Marc Brodine)
The absence of recorded women's thought (D. Mohney)
The urgency of NOW: African Americans and women (Dee Miles)
Let the party stand behind women's liberation, not oppression (Lowell B. Denny III)
Sex work, like all work under capitalism, is shaped by exploitation and oppression (Scott Hiley)
Jobs, housing, and the Green New Deal (Emile Schepers)
What about worker co-ops? (Bill Johnston)
The Green New Deal and working class power (Donald Donato)
What stands in the way of working class power?
A stronger stance on reparations (Ian Goodrum)
II. Realities of the Working Class Today, and the Working Class Movement for Social Progress
Giving a mass basis to our peace and solidarity work (Emile Schepers)
Podcast: Understanding Collectivity (Roberta Wood)
The right's greatest assets (Keith Floyd)
Struggle in the Digital Age (Clyde Crockett)
Imperialism has grown more aggressive (John Arnold)
Building Class Consciousness in Central Indiana (Brad Lorton)
We need healthcare for everyone now! (Barbara Russum)
Two Tactics for Raising Class Consciousness (Charlie)
Contingent Workers and the Reserve Army of Labor (Norman Markowitz)
Ponzi Scheme Capitalism (James H. Slacum)
Developing Class Consciousness is a Real Challenge (Annie Allen)
Recommit to Communist International Unity (Wadi'h Halabi)
Reply: Do we need another Comintern? (Michael Arney)
Reply: Response to Comrade Arney on recommitting to Communist international unity (Wadi'h Halabi)
Reply: The road to socialism and the world Communist movement (Joe Sims)
III. Unity Against the Extreme Right in the Electoral Arena and Beyond
Austerity fuels the rise of the extreme right (Andrew Stewart)
Reply: We need to defeat Trump and the conditions that produced him (Norman Markowitz)
How can we win over workers who gravitate toward reactionary movements? (Annie Allen and Norman Markowitz)
Tactics for winning over workers (Mason C)
Time to rethink the two-state solution? (Ian Goodrum)
Video reply: The two-state solution and the fight against fascism (Scott Hiley)
'Right wing', let's stop using that term (Roberta Wood)
Reconsider the Popular Front (Lowell B. Denny III)
Reply: We should be proud of our history and bold about our goals (Ian Goodrum)
Trump, monopoly capital, and the "extreme right" stage (Chris Butters)
To win workers away from the right, start from the left (Lowell B. Denny III)
When talking with conservatives, use evidence (and a little psychology)
IV. The Role of the Party, the Battle of Ideas, and Our Vision of Socialism
The biggest obstacle to socialism (Tyler Pentecost)
Love capitalism's enemy (Norma J. Harrison)
Poem: Henry Winson's Laugh (Rafael Pizarro)
A suggested program for socialism and real democracy (Norman Markowitz)
Consolidating new members and developing new activists and cadres (Emile Schepers)
We must adjust our language to today's realities (Peter Wise)
To build class and socialist consciousness, add some fun! (Louis Wellington)
The Communist Party takes no responsibility for the opinions expressed during the Convention Discussion period. Those views do not necessarily reflect the views of the Communist Party, its leading bodies or staff members. The CPUSA Constitution, Program, and all its existing policies remain in effect during the Convention discussion period and during the Convention.
Comments