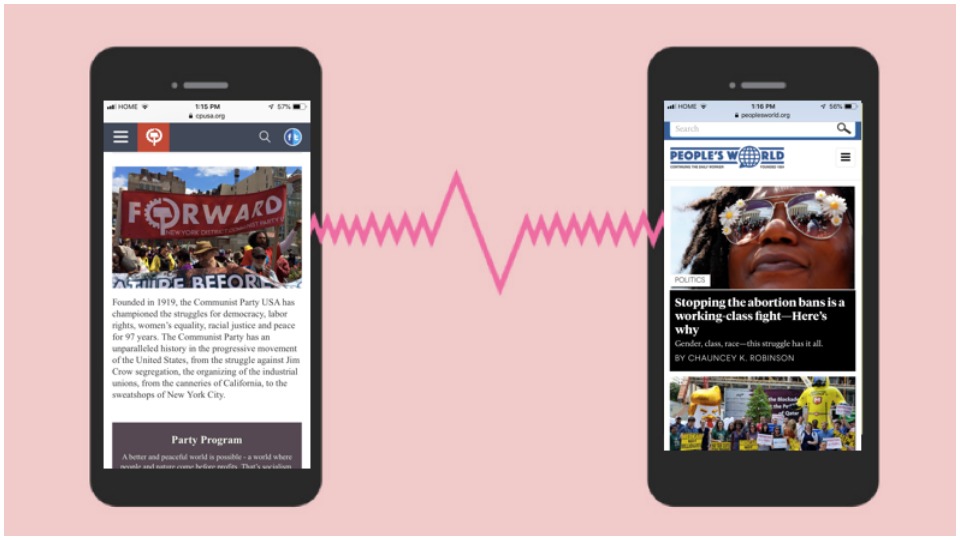 From politics to the economy, culture to sports, and every area of life in between—we are all constantly bombarded with information overload. Often, what we get, though, isn't really information at all, but rather distraction and misinformation aimed at continuing the status quo of oppression and exploitation.
These are dangerous times, but they are promising times as well, as we see a growing number of people looking for ways to get involved in combating the hateful rhetoric and oppression.
It's imperative that as activists, and especially as members of the Communist Party, we add our voices and make our presence known in the growing resistance movement. We must be a resource for working people as they maneuver on ever-changing and often confusing terrain.
This is where our communications strategy comes into play. Today, PeoplesWorld.org and CPUSA.org each serve to help build the Party and the working-class movement. We're on the right track, with some solid gains to show for our efforts so far. The task ahead is to consolidate what's been achieved and continue moving ahead.
Our online homes—PeoplesWorld.org and CPUSA.org
People's World is becoming a one-stop shop for working people and activists to see what they should be paying attention to—on elections, politics, the labor movement, culture, the environment, and more. In People's World, they get all of that, with a Marxist viewpoint woven in.
People's World is a daily news platform for the entire labor-led people's movement. It is a voice for workers, the unemployed, people of color, immigrants, women, youth, seniors, LGBTQ people, cultural workers, students, and people with disabilities. By featuring the analysis and contributions of CPUSA leaders and members, it is the Party's voice in the mass movement. By also featuring a range of authors that go beyond our organization, it is also a voice for allied movements.
The role of party organ is fulfilled by CPUSA.org—the Communist Party's official website. The Party's homepage is a place for not just its members, but the world at large, to know exactly what is going on with the CPUSA and what the Party's take is on the major issues of the day.
Since the 2014 convention, a strategic decision was made to focus staffing and financial resources toward building People's World. The renovation of PeoplesWorld.org was a major project that involved months of planning and testing. A brand new homepage debuted in 2016, just in time for the elections. A short time later, the new People's World nameplate was unveiled—an attractive and modern logo that recalls our connection to a long history of socialist journalism with the Daily Worker.
We've made some big leaps in terms of preparing our 95-year-old newspaper for the contemporary battle of ideas in the digital world. The current site is more user-friendly, more attractive, and is compatible with any device—computer, smartphone, or tablet.
A look at some of our gains
 PeoplesWorld.org
The commitment to upgrading our communications operation is succeeding. PeoplesWorld.org averages 90,000 to 190,000 readers a month. And for anyone worried about whether the move to online cost us readers, when the People's Weekly World went out of print in 2009, its annual subscribers numbered 1,900. Today, People's World is being read by more than 800x that many people.
Here's the record since the 2014 Communist Party convention: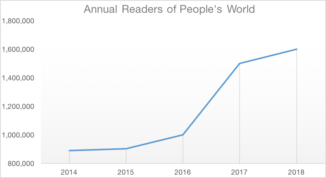 Data from the first half of 2019 suggest the website is already well on its way to beating last year's numbers. It gets 5,000-6,000 daily readers as a minimum—nearly three times what it was just three years ago.
Beyond just the traffic numbers, there are other indicators of our growing influence:
People's World has been recognized with over 35 awards from the International Labor Communications Association, including best publication and the prestigious Max Steinbock Award for labor journalism.
People's World was the only media outlet allowed at the AFL-CIO Executive Council meeting in New Orleans this year.
At the historic "She The People" forum, which spotlighted the political role played by Black women and other women of color, People's World was given earlier access to participants and exclusive interviews.
And after being denied for many years, People's World's Washington Bureau has secured Congressional press credentials.
CPUSA.org
As for CPUSA.org, that website was also renovated in 2016. It now consistently receives around 350,000 visitor sessions annually. And in the crucial election year of 2016, a total of 467,375 sessions—nearly half a million—were logged. Maintaining a steady audience is a strong achievement, and the website is on track to surpass last year's numbers.
The traffic for the CP site can climb even further as the number of postings and amount of fresh content are ramped up. Increasing frequency is one of the key necessities for driving traffic.
A couple of episodes of a new Communist Party podcast, "The Specter," have been recently produced. It developed out of a one-day face-to-face meeting between some young leaders in the Party that took place in Chicago some months ago where content creation, communications, and youth work were the topics of the day.
The first episode of "The Specter," produced by a collective of new young Party members, discussed the process of how people come to join the Party and what that means for them. It's been met with enthusiastic support, and a second episode focused on China has now appeared.
There's also work being done to step up the Communist Party's social media work. There are efforts to increase the amount of video content on the CPUSA website and the Communist Party's account on the social media platform YouTube. Meanwhile, on Twitter, the CPUSA's account has grown in recent months to 11,000 followers. On Friday mornings, the Party broadcasts a weekly Facebook Live discussion covering a range of topics, from impeachment to imperialism.
And of course, CPUSA.org continues its digital relationship with People's World, cross-posting content and referencing each other where it helps to maximize distribution of targeted messages. The Communist Party's pamphlet on immigration appeared on both sites, and pre-convention discussion pieces that are important to distribute to audiences beyond just Party members have been re-posted.
Comments