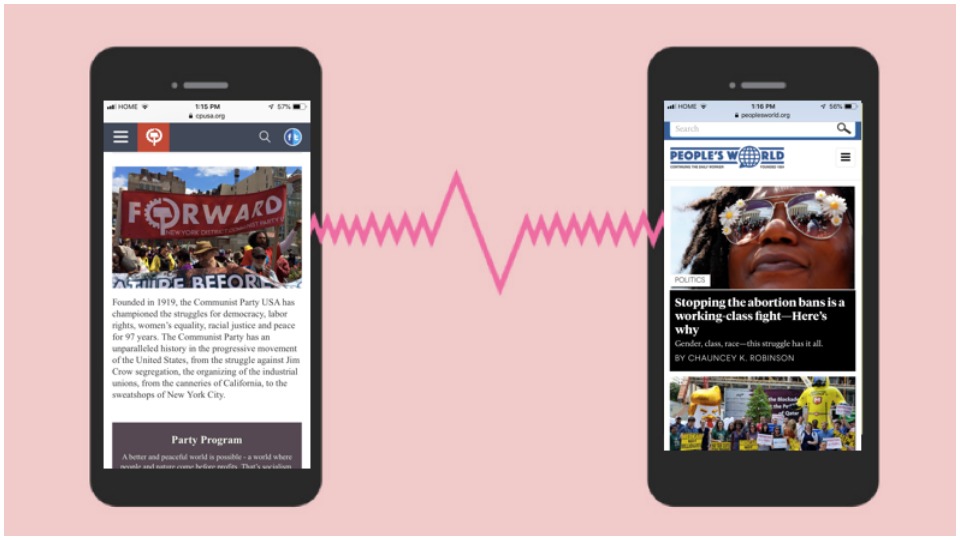 Today's media terrain
Those of us looking to push a progressive agenda cannot afford to ignore or devalue the role of communications and new digital media, because those forces that seek to spread disinformation and oppression are plunging ahead and getting results.
The airwaves of radio, television, and various internet-based programs are filled with a pro-corporate and racist agenda. Monopoly control and manipulation of the media were instrumental in Trump's election. Some examples:
The Clear Channel corporation, thanks to FCC deregulation, gobbled up over 1,000 radio stations. Now known as iHeartMedia, the company stocks its most powerful stations with right-wing talk shows and shuffles liberal programs onto less-listened-to channels.
Sinclair Broadcasting, the largest owner of local TV stations, peppered local newscasts across the country with pro-Trump talking points through forced "must-run" editorials and scripts. A popular viral video shows local TV anchors all reading the same script.
A handful of supposedly local news sites, like the "Tennessee Star" and the "Arizona Monitor" have popped up with headlines supporting GOP candidates and right-wing rhetoric. They are just a few of the locally focused, conservative ideological outlets dressed up as traditional newspapers that are appearing while outwardly conservative sites like The Daily Caller and Breitbart see their traffic dip.
Online is where it's at, but the internet isn't magic
 The numbers confirm: Online is one of the key ways many have become active in the resistance to Trump and the right-wing corporate agenda.
In the past year, 34% of Americans have taken part in a group on social media that shares an interest in an issue or cause, while 32% say they have encouraged others to take action on an issue that is important to them.
Members of marginalized communities feel their voices carry more weight and are more likely to be noticed through online organizing. We saw this with the #BlackLivesMatter hashtag that continues to be used (this holds true for the right as well, as shown by the endurance of the Trump hashtag and marketing phenomenon of #MAGA).
Millennials have become the majority of the working class, and studies show that a majority of them still take in their news and information through reading—often while on the job or on the way to work. While much media consumption has moved to video, the extent of this shift may have been exaggerated by big brands like Facebook and YouTube that push video content.
As more liberal and progressive media outlets move toward paywalls and subscriptions in order to survive financially, the right wing has continued to go for free mass outreach.The big money they have behind them allows them to do things that cash-strapped publications often can't. For People's World, throwing up any kind of hurdle to people reaching our analysis and information is simply not an option. We have to be as accessible as possible, which means we need the financial support of our readers in order to keep our content free.
We approach the circulation of our material flexibly. We're willing to try new things, but we can't copy every new thing that appears on the internet. We must look at what we can realistically achieve and what we will get out of the effort.
We have to look at more flexible ways of engaging our members and readers that go beyond just soliciting people to write for People's World. Let's take a fresh look at how the Communist Party, for instance, encourages and trains members who would like to channel some of their activism into journalism. (Also, see the new "How to Write for People's World" pamphlet to be debuted at the convention.)
People's World is a publication aimed at a mass audience—it is our means of delivering Marxist analysis and news to the broadest group of people possible. It is a tool for building the Party and people's movements, but it is not a bulletin board for internal dialogue about Party disputes or disagreements between members.
Let's give concentrated attention to how we outreach. The quality of our content is improving. The increased traffic we get from people finding our articles on Google and other search engines shows people want to read us. But how can Party members be encouraged and trained to make full use of the possibilities of new digital media and social media for distributing People's World and CPUSA content? This training cannot fall on the People's World staff alone, but should be a joint effort in which the Party and publication reinforce each other's efforts.
Can we run two to four CPUSA writing/digital media training workshops around the country per year? In the past few years, there have been a number of writing seminars and workshops. We have to look at ways to bring these opportunities to even more interested members.
How about print? The People's World editorial collective is exploring the possibility of a print periodical that collects more thematic articles with longer shelf-life than the standard daily news piece. It could be published a few times a year and focus on particular struggles or themes (like the environment or new developments in the fight against racism) or be based around an event (like elections). If successful, such a print publication would give Communist Party members and People's World readers physical material to distribute and share in their organizing efforts. This would be an experiment to test feasibility and financial sustainability. The print publication would also be aimed at directing people to the flagship publication under the People's World banner, the daily news website.
What about locally-produced print content? We are also exploring ways to make it easier for readers to download PDF flyers of individual articles that would be perfect for carrying to picket lines, demonstrations, and conferences in their area.
Are People's World readers' groups possible at the club and district level?
Can we (and should we) look into developing a People's World smartphone app?
We'll keep everyone updated on these and other initiatives as they develop, but we also need to hear more ideas from the rest of the Party.
Keeping up with the quick pace of political development is key when it comes to building the Communist Party and helping shape the movements we're all part of. With PeoplesWorld.org and CPUSA.org, we have some great resources to do that.
We're small, and they'll always have more money than us. But with the support of the whole Party, we can reach millions more members of the working class with our message of how to win progressive change, the importance of unity in the class struggle, and the necessity of socialism.
Comments