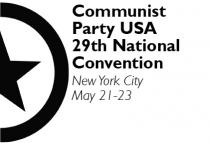 This article is part of the discussion leading up to the Communist Party USA's 29th National Convention May 21-23, 2010. CPUSA.org takes no responsibility for the opinions expressed in this article or other articles in the pre-convention discussion. All contributions must meet the guidelines for discussion. To read other contributions to this discussion, visit the site of the Pre-Convention Discussion period.
All contributions to the discussion should be sent to discussion2010@cpusa.org for selection not to the individual venues.For more information on the convention or the pre-convention discussion period, you can email convention2010@cpusa.org.
The following is a summary of a discussion on the "International Issues and US Foreign Policy" held in the North Texas Club.
One of the participants gave the group a summary of the article that got people's thinking focused on the topic. Everyone felt the document was correct, did a good job of covering the hot spots in the world and historical background of the international situation. Some felt that the documented needed to be expanded more.
Below are some comments from the discussion:
Neo-liberalism reduces poor nations to exporting only their labor.
Needs to explain why American capitalists practice imperialism. They do it because they must!
How can Afghanistan develop its economy without poppies [drug trade]?
Rocket attacks on Israeli citizens is terrorism
What is the CP in Iraq thinking? What do other communist parties in other national think about the international situation? We need more on Africa, including South Africa?
German workers supported the Nazis because they provided jobs in their war machine. We must be careful that we demand jobs for peace. "Jobs not war' really good slogan.
Canada has no bank bailouts and (almost) no bank failures
Can the UN and Non-Governmental Organizations (NGO) solve the crisis in Afghanistan, when the U.S. created the problem and holds the solution? We need to keep in mind that NGO's only donate with strings attached.
Green jobs and global warming are new parts of the international movement.
Broadening the way we look at peace groups differently is a good idea. We need to figure out how existing groups can work the issue of peace into their work.
Taking a scientific analysis like this report and discussion is good. The discussion ended on an upbeat note. Participants felt that the discussion helped clarify issues.