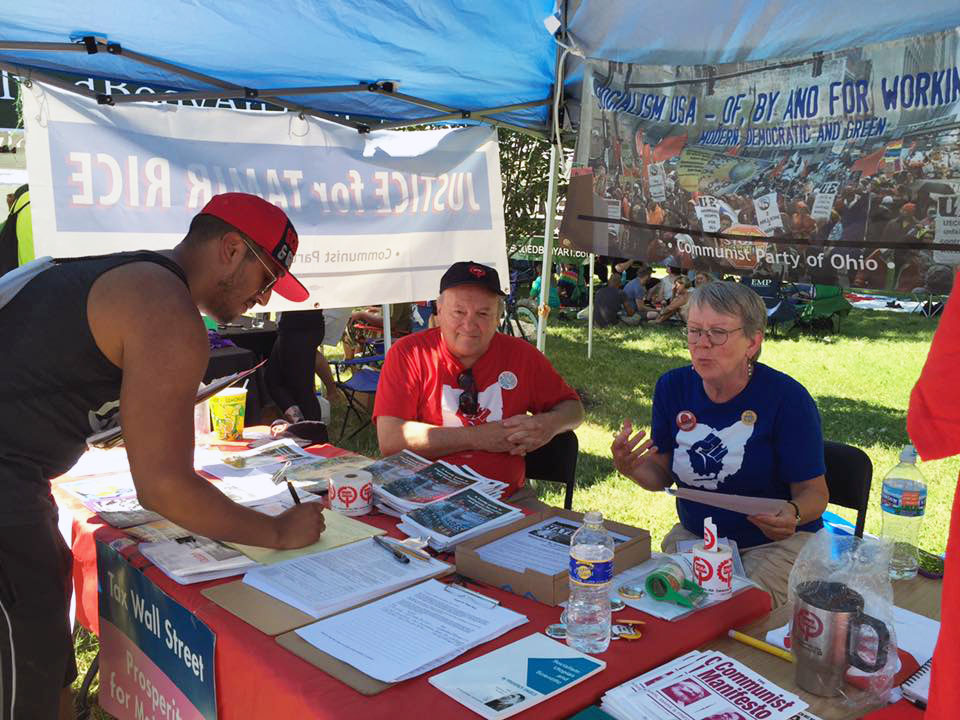 The Communist Party of Ohio was represented at this year's Community Festival in Columbus, Ohio, better known as ComFest.   The festival, which was first organized in 1972, is one of the oldest and largest all-volunteer community events, and this year thousands attended over the course of three days to enjoy more than 200 performers on five stages, workshops on subjects from economic inequality to song writing, and speakers who exhorted audiences about climate justice, women's reproductive rights, and voting rights.   The CPUSA had a table that offered literature, voter registration, t-shirts and a petition demanding justice in the case of Tamir Rice, the 12-year-old gunned down by police in Cleveland last year.
At a workshop entitled "The Next Left," special guest National Chair John Bachtell discussed how to keep the momentum of social movements alive throughout the election period and afterwards.  From the stage,  CP vice-chair Rosanna Cambron invited audience members to visit the booth and learn more about our program of action to fight in the short term to defeat the ultra-right and the goal of working-class power.
The most valuable part of the event was the in-depth conversations that comrades were able to have, both with festival-goers who wanted to know more about what the Party stands for, and with each other as comrades from all over Ohio staffed the booth in shifts for the 30 hours of the festival.  The Party's participation was very well received.  Over 80 visitors to the booth signed up to be included on the mailing list for future meetings.  The organizers of the festival reiterated their support of our presence there, as the CPUSA's principles mesh well with those adopted by ComFest.