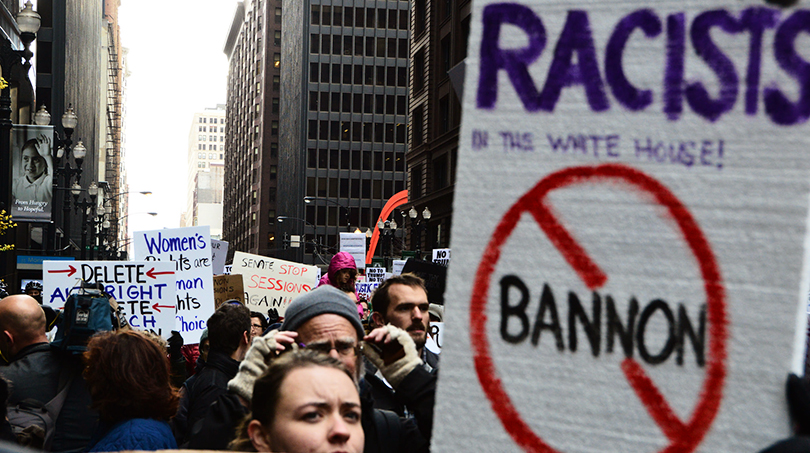 Political Action report to the National Committee of the Communist Party USA.
This election and its results reflect a deepening crisis in the political and economic systems in the United States and other capitalist countries.  For millions hurt by extreme and growing economic, racial and social inequalities, poverty and incarceration, something has to give: which  direction will it go? We started out this election cycle with the warning of that danger and also the opportunity before us.
It seems unthinkable that someone supported by the KKK, surrounding himself with white supremacists, misogynists, immigrant haters and union busters, will follow the first African American president in the White House.
Latino and African American school children are being bullied and taunted by classmates influenced by the campaign rhetoric of Donald Trump.
Trump won the electoral college.  But Hillary Clinton won the popular vote by two million, despite massive suppression of her vote.
The results give a very heavy heart when we consider the difficult and dangerous road ahead for democratic rights and the future of our planet in the hands of Trump. Yet at the same time, a joyous and hopeful heart as young people who refuse to be governed on the basis of racism and exploitation, walk out of class  rooms, fill downtown streets,  and courageously stand up for their future. In so doing they stand on the shoulders of decades of freedom fighters who have gone before. These young people want radical change that takes on capitalism and gives them a chance to thrive.
As Communists we approached this election from the standpoint of the needs of the people.  What would enable an expansion of union organizing and community organizing and unity building?  What would enable the demand and the fight for living wage jobs, pay equity, an end to police killings and incarceration of African American and Latino youth? What would enable the fight for comprehensive immigration reform and stopping climate change?  What would uplift the fight for taxation of the 1 percent and relief to the millions?
We approached the election from the standpoint of the struggles and the future of the working class and people.  In the Democratic primary many comrades across the country played big roles in building Bernie Sanders' "political revolution." The 13 million votes he got changed the playing field.  It resulted in the most progressive Democratic Party platform ever adopted, with the participation of Hillary Clinton and Bernie Sanders united on the demand for a living wage, free public college, union rights, reform of the criminal justice system, and a summit on climate change.
The general election showed that people are angry and insecure and want a government that will respond to them and not the 1 percent.  Unfortunately the strong platform which Hillary Clinton represented was not brought to the voters loud and clear especially in the last days of the campaign.
Our 10 point strategy to win a landslide unity vote Nov 8 and build ongoing grassroots power made a real contribution because it helped us mobilize with labor and others in this election, but was geared for the long term.
We put up an excellent fight all across the country. Alongside labor and democratic minded organizations, we made new friends and recruited some new members, increased the readership and respect for People's World. In many places we are now in a stronger position to double down and take our organizing to the next level as part of the resistance shaping up nationally.
This report will offer both an emergency plan to protect immigrant and all working-class communities immediately targeted, and also a longer term approach to building class consciousness and solidarity in the face of a Trump administration.
But first a look at some of what happened. Nationally, the election was a devastating setback. Hillary Clinton won the election with 2 million votes, but Donald Trump captured the Electoral College.  Republicans maintain control of both houses of Congress, but Democrats flipped two seats in the Senate and six seats in the House. There were a number of important counter trends and bright spots that underscore the majority support in our country for issues that help working people.
Arizona, Washington, Colorado, and Maine all voted to raise the minimum wage.  South Dakota defeated a ballot measure to lower the minimum wage even though Trump carried the state.  Maine also passed a referendum for ranked voting.
In Arizona anti-immigrant Maricopa County Sheriff Joe Arpaio was finally defeated in a landslide 59 percent to 41 percent vote. 130,000 new Latino voters were registered to vote in the last year.
In Virgina an anti-union ballot measure to put "right to work" (for less) into the state constitution was defeated, and the 4th CD flipped from Republican to Democrat (Donald McEachin ) after a court ordered redrawing of district lines.
In Neva  Democrat Catherine Cortez Masto became the first Latina elected to the U.S. Senate; and Ruben Kihuen the first Latino from  elected to the House from CD 4 — the result of deep internal organizing by culinary workers Unite Here union over many years, and an increase in the Native vote.
In Illinois  Tammy Duckworth defeated  Republican Mark Kirk, and is the first Asian American woman from  and the first female wounded veteran elected to the U.S. Senate.
In California Kamala Harris is the second African American woman and first Indian American woman elected to the US Senate.  A tax the rich initiative was also passed in CA.
In New Hamphshire  Maggie Hassan defeated Republican Kelly Ayotte for the U.S. Senate.
Washington state saw Pramela Jayapal elected from CD 7, the first Indian American woman elected to US House of Representatives, a strong progressive ally of Bernie Sanders.
Ilhan Omar was elected to Minnesota  state legislature, becoming the first Somalian elected official in the country.  Just before election day Trump made a visit to the state and specifically attacked the Somalian community and Ilhan Omar.
In Florida Darren Soto was elected the first Puerto Rican representative from CD 9 with the participation of progressive groups.
In New Jersey  Josh Gottheimer defeated seven term Scott Garrett in CD 5.  Garrett is an extremist Republican and a founder of the Tea Party.
In  North Carolina  Democrat Roy Cooper won the election for governor, although Republican incumbent Pat McCrory is claiming "voter fraud" and demanding a recount.
Voters in Vermont saw David Zuckerman become the first Progressive Party candidate to win election as Lt. Governor
In Missouri two Democratic State Representatives, Bruce Franks Jr. (78th District) and Peter Merideth (80th District), and 5th Ward Democratic Committeeman Rasheen Aldridge won in St. Louis, despite overall defeat for the Democrats in the state.
These victories show that there are cross currents in this election.  They are part of what is new and developing, and are an important part of the resistance going forward. They show that there is the possibility for a real "inside-outside" strategy including filibusters and other tactics inside the Senate and other elected bodies, and at the same time street heat and other popular tactics to voice the demand of the people.
Voter Turnout
Overall voter turnout was the lowest in 20 years.  Republican turnout was down two points from 2012, Democratic turnout was down five points from 2012. (CNN).  However the push for a landslide was important, and probably helped contribute to the popular vote win by Hillary Clinton.
There are many factors for low turnout, including that many working-class people felt they did not have anyone to vote for that would improve their situation.  This was expressed in many surveys including Democracy Corps.
This was the first election in 50 years without the full protections of the Voting Rights Act.  There was an increase in voter suppression targeting the Black and Latino communities in 14 states, including caging and many other methods, and a decreased turnout. There were 868 fewer places to vote in Arizona, Texas and North Carolina.
In North Carolina court orders to correct suppression practices were ignored by Republican officials, leading to 158 less polling locations mostly in African American voting districts. In Wisconsin a voter ID requirement was imposed by the Republican governor for the first time.  In Milwaukee, a city with a large African American population, turnout was down 13 percent more than the number of votes that Trump won the state. In Florida 25  percent of African Americans have been disenfranchised.
In all these states the difference in the vote between Trump and Clinton was smaller than the estimated loss of votes due to voter suppression which could have made the difference in Trump carrying North Carolina, Florida and Wisconsin.
The October surprise interference of the FBI and Wikileaks and the role of mainstream media's focus on that and on the e-mail controversy, decades of  sexist labeling of Hillary Clinton as a liar, excusing Donald Trump for repeated sexual assault of women, and letting him off the hook for countless lies are also part of the picture.  The nasty and ugly campaign was part of Trump's strategy to tamp down the Democratic vote.
Who voted for Trump?
Most of those who voted for Trump did not consciously embrace his racism, bigotry and misogyny.  They were trying to put a wrench in the works and hope for the best. Many would support the fight for wages, jobs, child care and student debt, and in so doing they can experience how divisions and bigotry only benefit Wall Street.  Rejection of racism, and raising understanding about how racism hurts all, can be won in this way.
A quarter of the people who voted for Trump said he is not qualified to be president (CBS exit poll). And 70 percent of all voters said immigrants without documents should have the chance to apply for legal status rather than be deported.  So they do not agree with Trump on many things.
However, half of white voters said they believe that Black people are treated fairly in the criminal justice system.  Of those voters, 80 percent voted for Trump.  Of the 41 percent who said Black people are treated unfairly in the criminal justice system 65 percent voted for Hillary Clinton.
Hillary Clinton carried the vote in urban areas. Donald Trump carried small cities and rural areas, largely white, and often isolated and unorganized in areas influenced by right-wing talk radio.
The mainstream media fosters the idea that the working class is "white men without college degrees."  who supported Trump. But managers, small business owners, contractors etc. may not have college degrees while many workers do. The working class is multi-racial, multi-national, male-female, gay-straight, young-old.
Households under $50,000, about 45 perecnt of all households, voted for Clinton by a roughly 10-point margin. The rest favored Trump by a slight margin.  There is not yet a complete breakdown by income and race, but a much higher percentage of lower-income households are African American or Latino or immigrant.  Latino voters with income under $40,000 voted for Clinton overwhelmingly by 85 percent.
Union vote
Clinton carried 56 percent of union members and 51 percent of union households, a drop of four percent from Obama's vote in 2012.  The AFL-CIO says this vote was "despite Trump making his appeal to working people the foundation of his campaign.  He used our rhetoric on trade and keeping jobs in America, notwithstanding his policy positions and past practice.  Moreover, he forged a personal connection with working people by acknowledging their resentment about the rules being written to marginalize them."
As we know, unions and Working America put a lot of resources into knocking on doors of their sisters and brothers to discuss whose side Trump is on. The AFL-CIO is looking deep into how to raise the level of solidarity among their members, outreach even further with the community, and field union members as candidates.
Some other vote stats
The following is based on what is available at this time, and will be enlarged and updated.
Millennials:
The vote of those between 18 and 29 was 55 percent for Hillary Clinton and 37 percent for Donald Trump  In 2012 the millennial vote was 60 percent for Obama and 36 percent for Romney.  The 24 million people under 29 who voted in 2016 constituted a decrease in the percentage of millennial voters from 26 percent in 2012 to 15 percent in 2016.  The majority of millennials voted for Hillary Clinton, especially among millennials of color.  Donald Trump received 37 percent of the millennial vote. The vote for a third party was 8 percent.
Latino Voters:
The Latino vote was 79 percent for Hillary Clinton to 18 percent for Donald Trump. (Latino Decisions).  Latino registration grew 18 percent compared to 2012 and Latino voting grew 23 percent compared to 2012.  Latinos represent 10 percent of American voters. (Wm Velasquez Institute)
Black Voters:
Black voters chose Hillary Clinton 88 percent to Donald Trump 8 percent.  In 2012 Black voters chose Barack Obama 93 percent to Romney 6 percent  (Pew Research).  The female Black vote was nearly unanimous: Hillary Clinton 94 percent to Donald Trump 4 percent.  The male Black vote was Hillary Clinton 80 percent  to Donald Trump 13 percent.  In 2012 Obama earned 87 percent of votes by black men and 96 percent of votes cast by black women. (News.Mic)
Asian American Pacific Island Voters:
Asian voters chose Hillary Clinton 65 percent to Donald Trump 39 percent. (NY Times)  Early voting by Asian Pacific Island American voters doubled over 2012 in FL, VA, AZ, NC.
Native Vote:
The National Congress of American Indians reports that in Michigan the Native vote was seven times the margin in the presidential race, and in Wisconsin the Native vote was three times the margin in the Presidential race. There was a large increase in the Native vote turnout in Nevada.
White Voters:
Among white voters, 37 percent chose Hillary Clinton and 58 percent chose Donald Trump  (NY Times). According to a CBS exit poll, "among white voters, there is no evidence that income affected who they supported."  Hillary Clinton won 86  percent of white Democratic women and 81  percent of white, Democratic men.  Donald Trump won 91 percent of white, Republican women and 92 percent of white Republican men. White independent women chose Hillary Clinton 41 percent to Donald Trump 49 percent.  White independent men chose Hillary Clinton 31 percent to Donald  Trump 57 percent. (CBS)
Women:
Hillary Clinton won 54 percent to  Donald Trump 41 percent. of women's votes. (News.Mic).  Among male voters, Hillary Clinton got 41 percent to Donald Trump 53 percent (News.Mic).  In 2012 President Obama won 45 percent of male voters and Mitt Romney won 44  percent of women voters.  White women  voted for Donald Trump 53  percent to Hillary Clinton 43 percent. White males voted for Donald Trump 63  percent to Hillary Clinton 31 percent.  In 2012 Barack Obama won 35 percent of white, male voters.  Among white voters, Clinton only won among women with a college degree 51 percent to 45 percent.
Urban / Rural:
In cities with population over 50,000 Hillary Clinton won 59 percent to Donald Trump 45 percent.  In suburban towns Hillary Clinton got 45 percent to Donald Trump 50 percent.  In small cities and rural areas Hillary Clinton got 34 percent to Donald Trump 62 percent. (NY Times)
Third Parties:
CBS exit polls indicated the following: "With so many tightly contested races, the votes cast for candidates such as Gary Johnson and Jill Stein may have impacted the overall results. The exit polling asked voters they would have cast ballots for if there were only two candidates (Clinton and Trump). A quarter of Johnson voters said Clinton, 15  percent said Trump, and 55  percent said they would not have voted. Numbers were similar for Stein voters, with about a quarter saying they would have chosen Clinton, 14  percent saying Trump, and 61 percent saying they would not have voted. It is difficult to say with any certainty, but with razor thin margins in some states, a small number of voters who might have supported Clinton could have altered outcomes in some states"  NOTE: This includes Michigan.
Don't Mourn, Organize
This is a time for renewed and increased grassroots organizing, and building new alliances like we never have before by all democratic minded forces.
It is clear that the Democratic Party needs an overhaul if it is going to appeal to and involve working families, and be an effective opposition force.  The status of both Democratic and Republican Parties deserves study as well as the possibility for the emergence of new and different forms such as the Working Families Party for example.
Keith Ellison running for chair of the DNC represents a sea change.  He is a community organizer, African American, the first Muslim elected to the House, and the chair of the Progressive Caucus.  He was the first member of Congress to endorse Bernie Sanders in the primary. He is credited with warning last year that Trump could get elected if people did not feel that the Democrats were really fighting for and with them.  Ellison says his sneakers are laced up and he is ready for grassroots organizing.
Bernie Sanders, Elizabeth Warren and Keith Ellison hit the ground running right after election day.  Their strategy is to hold Trump accountable for the things he demagogically said on the campaign trail to attract votes from working families, while at the same time fighting all-out against every action and policy that would discriminate or cause harm starting with opposing deportations.
Elizabeth Warren addressed the AFL-CIO arguing that paid family leave, raising the minimum wage, expanding health care and Social Security are all favored by the majority in the country, are good for the economy and working people and should be fought for boldly.  At rallies including in Washington DC, Bernie Sanders is emphasizing that the fight has just begun, and that if millions of people become engaged in the political process they cannot be denied.
The Working Families Party has issued a call for community conversations during the last week in November "to show the whole political establishment that there is a massive progressive force that will fight against Trump's extremist agenda of greed and hate every step of the way — and build an America that works for all of us." #ResistTrump.
Our Revolution is also digging deep into local organizing and looking toward producing new progressive candidates and campaigns in 2018 and 2020.
After the initial shock of the election results, this week and a half has been a hectic one of deliberation and action for the labor movement, immigrant, civil rights, women's, LGBTQ, environment, senior, healthcare and other progressive organizations like Rev. William Barber's Moral Monday movement all holding national conference calls to engage supporters.
While no one knows exactly what to expect, the picks for transition team and cabinet appointees are ominous for the working class and for democracy.  To date they are a team of white supremacist and reactionary ideologues who want to dismantle government including the department of education, EPA, Labor and more. The indicated first 100 days plan includes deporting or detaining two or three million immigrants, requiring Muslims to register with the government, appointing a Supreme Court justice who opposes abortion rights, and repealing the Affordable Care Act.
Trump's inclusion of fascist minded Steve Bannon as strategy director has brought forth strong opposition from all levels including elected officials and spreading across social media. The goal is to force Bannon out of the White House.
There are just two months remaining in the Obama administration. Protesters of the Dakota Access Pipe Line are putting their bodies on the line and asking President Obama to declare the Standing Rock Sioux tribal area a protected site before he leaves office.
Unions and immigration organizations are preparing to protect their communities and take to the streets. The six largest civil rights organizations have pledged to oppose all threats to racial justice.
National actions to complement local fightback are being planned for the next two months and then the first 100 days after inauguration.
 RootsCamp is taking place this weekend with Democracy For America in Washington DC
 Tuesday November 29 is a large mobilization of the Fight for $15 across the country.  In Ohio a mobilization at the State capitol that day will protest an attempt to slash unemployment compensation to 16 weeks
January 14  A civil rights mobilization will be held in Washington DC at the time of Martin Luther King's birthday led by Rev. Al Sharpton
January 21  A massive Women's March on Washington is being organized for the day after inauguration
April 29 A large People's Climate Mobilization will be held in Washington DC called 100 Days Fight for Climate, Justice and Jobs bringing together civil rights, labor and environment organizations.
These national and local actions reflect a new level of radicalization and  interconnection of economic, racial and gender equality and climate justice issues and organizations.  This significant new development is reflected in the outpouring of people into the streets immediately after election day calling for unity against hate and protesting Trump as president-elect.
The need for a revitalized peace platform within this uprising is evident.  The threat of war and proposals for increasing the military budget require immediate opposition. A basis from which to move forward is offered by Rev William Barber warning against the triple evils of racism, militarism and consumerism.
The Party
This meeting of the National Committee should give a concrete lead to our members, our clubs, our districts on how to contribute to and be a part of the remarkable resistance on an emergency basis and longer term.
Emergency
The threatened mass deportation and detention of immigrants would tear apart families, entire communities and local economies.  It would enrich the private immigration prisons at the expense of the community.  This threat goes against the 70  percent  who said in exit polls they did not agree with deportations.  It is a threat to everyone.
Immigrant organizations are strategizing and mobilizing rallies, meetings with elected officials, marches, preparing know your rights materials, providing mental health assistance to deal with the fear.
The Political Action Immigration Subcommittee had an emergency meeting on Wednesday to talk about the impending disaster of house raids and family separations under Trump.  At special risk are students who signed up for DACA which would end if Trump terminates President Obama's executive orders. Sanctuary cities are also at risk.  Mayors in many cities have reaffirmed they will not cooperate with mass deportations. Immigrant rights groups are holding rallies, marches and meetings to ensure that cities that welcome immigrants and refugees continue to hold firm if Trump threatens to withhold their federal funds.  People's World has done good coverage, as well as outstanding coverage of the elections all this year.
We agreed to help the entire Party become involved.  It extends to all people who are living in fear: will stop and frisk being imposed; will LGBTQ rights be rolled back; will Planned Parenthood be de-funded?
In our Connecticut state committee meeting last weekend two Puerto Rican comrades who are mothers of school age children were in tears because of the bullying and racism against their kids at school.  This is happening across the country. It is not acceptable. Elected officials, school officials, unions, and all organizations should be enlisted to put a stop, enforce zero tolerance, and let people know how to report hate crimes.
For the Communist Party it is basic to be of assistance, show solidarity and reach out to the broader community including the 70 percent who oppose deportations on the basis that an injury to one is an injury to all.
Longer term
We have seen over the past several decades the necessity of an electoral policy for a broad alliance to defeat the extreme right-wing.  The need now is to expand broad alliances of all those targeted, a huge cross section of the people of our country.
This election also makes it clear that there is urgent need for a strong multi-racial working class component, and a stronger labor movement, as the inequalities of global capitalism create more and more instability and division. The key to building class consciousness is people's involvement in struggle and organization.  The struggle has to be more than elections, it has to be ongoing and address the day-to day-crises working class people face at home and at work.
The fightback will be determined by what actions the Trump administration and Republicans locally take.  The Communist Party should be present in marches and lobbying and street heat and mobilizing to fight the dismantling of Social Security, Medicare, public education, labor rights, environmental regulations, financial regulations and all that has been threatened.
A larger and stronger Communist Party can build unity and offer a bigger vision of socialism.  We should take a new look at our work. How can we strategically grow People's World, cpusa.org and social media to deepen the understanding of fascism and democracy, of class struggle and the fight against racism and all bigotry, of capitalism and socialism?  How can we consolidate our members and clubs as centers of resistance at the grassroots community level?
How can we most effectively assist districts and local areas in coalition building as part of the broad front with tactics that fit the specific situation.  Tactics are different in a Sanctuary City with a progressive member of Congress than they are in a Republican dominant community in a red state. How can we join with labor to address the question of why so many workers voted for Trump and what we can do about that?
Also longer term is the basic issue of voting rights and one person one vote. We should prioritize the fight to restore the Voting Rights Act, to end voter suppression in all its forms, and a strategy to end the Electoral College.
I want to appreciate the district and club surveys that were submitted about the results of work in this election.  They are very informative and they raise good questions and ideas.
Just a few of the comments:
AZ  "About a half dozen new folks have been coming to meetings, but more importantly, we are in process of recruiting more.  Real breakthrough with Chicano youth."
CT "One club went out weekly door to door in their ward to get pledges to vote and readers for the People's World.  Eighty-one people signed up to get headlines by e-mail and/or to get the print edition weekly at their door.  On election day we knocked on their doors and gave rides to the polls."
FL  "We are already planning on traveling to Miami, Tampa and Orlando before the holidays to get folks plugged into post election work.  Some in Central FL have been participating in the anti-Trump activities.  Our  folks in South FL want to work on turning Ft. Lauderdale into a Sanctuary City."
MI "Our local comrades had an immediate response when the local middle school had the "build the wall" outbreak.  We contacted school superintendent and city commissioners, who responded immediately and took our concerns as well as the entire community's seriously."
MD "We signed up over 200 people on PW VOTE cards during the course of the summer and fall as we attended six community fairs/festivals and one city-wide book fair.  We entered all the names on the PW website.  From that list two young women responded to our invitation to the debate party."
NJ  "The Party was fully mobilized in both the primary and the general election.  Those who couldn't be on the streets made phone calls, texted, etc."
NY Brooklyn Club "Five new members joined the Party.  We feel that our club was strengthened by working together in local races, learning and discussing together, and making links with groups and new people.  We did more as a club than we would have been able to do individually."
The most productive discussion today might be exploring our various experiences and prospects in light of our different situations.
Reviewing the work of the Political Action Commission
Our work in this election was many sided and informed by the local reports from districts at our twice monthly meetings about campaigns on the ground. It included assisting with local coverage of key races and issues in People's World, arranging for translation of election articles for Nuestro Mundo, and circulating election articles from People's World on social media.
Our work included producing literature including A Handy Guide to Capitalism, Socialism and Democracy (produced in Ohio in English and Spanish), Immigration Myth v. Fact (bi-lingual), and producing downloadable flyers Beware the Trump and Defeat Trump, Defeat Racism.
Our work included an emphasis on voter registration, education and turnout using the People's World Vote Card to sign up people to receive headlines by e-mail during voter registration tabling and going door-to-door.
Our work also included CPUSA endorsement and participation in Democracy Spring and Democracy Awakening marches and the Climate march in Philadelphia with our banner "One Person, One Vote."  It included participation in caucus meetings and other events during the Democratic National Convention in Philadelphia where 7,000 copies of the Handy Guide were distributed and a Communist Party was staffed at Progressive Democrats for America's Progressive Central.
Our work included developing an action plan to assist district and clubs to educate and involve members and build unity in the elections especially with labor and around issue mobilizations.  It included preparing two webinars with the Education Commission and the Labor Commission, frequent e-mail blasts and weekly reports to the Coordinating Committee, and frequent reports to the National Board and National Committee.
The Youth Collective held a voter registration camp in St. Louis, MO.  We participated with a national battleground phone bank in Florida.  A national phone bank to new Communist Party members was organized.
While the overall results did not turn out the way we hoped, all the amazing efforts during the primaries and during the general election place the Communist Party and People's World in position going forward in this fight of our lives for basic democracy and the future of our planet.  We are in place to develop tactics required for broad unity in the resistance to Trump and the Republicans, and to grow our organization.