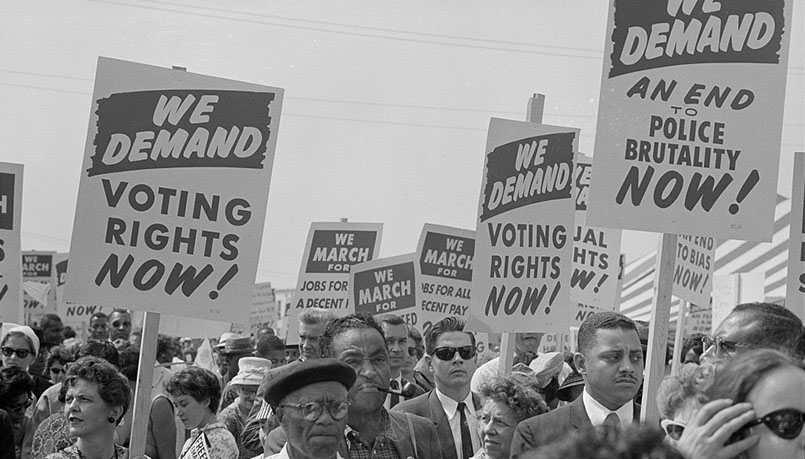 CPUSA has always insisted that the struggles against capitalist exploitation and against racial and national oppression are separate, but interdependent; overlapping, but distinct in their history and their demands.  Building the unity we need requires that the working class as a whole take up and fight for the demands expressed by movements of the racially and nationally oppressed in their struggle for equality.  As you'll read in one of this month's Resources for Discussion, "Can equality be achieved under capitalism? The answer is that the struggle for equality will determine whether socialism can be achieved."
In honor of Dr. King's birthday and in celebration of Black History Month, we invite you to a discussion of the following questions:
How can CPUSA contribute most effectively to building unity, both
a.) within the working class, and
b.) between the working class as a whole and the African-American people in their struggle for social and political equality?
We want to hear from you!
We welcome written contributions and especially encourage participation via video or audio.  Priority will be given to submissions of 1000 words/7 minutes or less.  Check out the guidelines below, and send your thoughts to discussion@cpusa.org by February 24.
Click here to send us your ideas!
Resources for discussion
Here are some pieces to stimulate your thinking and  that present the CPUSA's understanding of special oppression, the fight for equality, and the need for unity.
Survival or liberation? (Henry Winston)
Special oppression and the need for unity (excerpt from 2019 Draft Program)
The urgency of now: African-Americans and women (Dee Miles)
Leninism and the African-American national question (Joe Sims and Jarvis Tyner)
The fight for voting rights today (video, multiple presenters)
Events and Educational Programming
Online book talk: To the Promised Land: Martin Luther King and the Fight for Economic Justice (Dr. Michael Honey)
Dr. King understood that racial equality and economic injustice were incompatible, and that the fight for the rights of workers and the poor was a key part of building a movement for social transformation. Join us February 23 at 8 PM Eastern for a discussion led by the author of this important new book.
Register here: https://attendee.gotowebinar.com/register/8708286427652567821
New Haven, CT, Feb. 21: Film showing: Freedom Summer.
New Haven, CT, Feb. 23: "Dump Trump" unity march and voting rights panel discussion.
Philadelphia, Feb. 28: Forum on art, identity, and communism.
Contributions
The backlash against the 1619 project and a new history of slavery (Markowitz)
By recognizing the central role of slavery in U.S. history, the 1619 has drawn anger from the right.
Unify the oppressed by organizing incarcerated workers (Carlson)
The prison-industrial complex is the site of maximum exploitation of workers and people of color.
How to fight for racial justice? Look to our past (Denny)
Let's look to past CPUSA activists for inspiration on working for racial justice.
Race and capitalism: a response to the NYT 1619 Project (Wendland)
White supremacy works to create and safeguard the conditions that create viable rates of surplus-value extraction.
Image: March on Washington, 1963 (photo by Marion S. Trikosko)
Comments