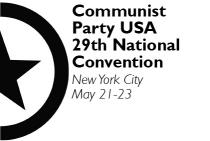 This article is part of the discussion leading up to the Communist Party USA's 29th National Convention May 21-23, 2010. CPUSA.org takes no responsibility for the opinions expressed in this article or other articles in the pre-convention discussion. All contributions must meet the guidelines for discussion. To read other contributions to this discussion, visit the site of the Pre-Convention Discussion period.
All contributions to the discussion should be sent to discussion2010@cpusa.org for selection not to the individual venues.For more information on the convention or the pre-convention discussion period, you can email convention2010@cpusa.org.
As we get closer to our National Convention, where new leading comrades will be elected, it is important to take a few moments to ponder some questions central to how we move forward organizationally, financially and politically.
The questions are: What is leadership? How do we define leadership? And what criteria are we looking for when we describe leadership?
Additionally, these questions aren't just important to delegates at the National Convention. They are important to all Districts, clubs, committees, etc. They are important to any Party member sincerely interested in moving the Party forward organizationally, politically and financially.
Furthermore, abstract notions of leadership will not suffice. We work in a real world, a world that expects real results. The demanding challenges – and opportunities – of todays political landscape thrusts upon us the need to be practical, concrete, direct and expedient. In other words, the political landscape thrusts upon us the need to get things done, to get results.
For example, the Missouri / Kansas District of the Communist Party recently held its District Convention, where we elected National Convention Delegates and a new District Executive Board. Prior to the District Convention the out-going Executive Board discussed what we wanted our new leadership body to look like, what we wanted our criteria for leadership to be.
After pro-longed discussion we decided, first and foremost, that our leadership criteria must be results based. As the old saying goes, 'The road to hell is paved with the best of intentions.' So we didn't base our leadership criteria on intentions, but on results.
Additionally, by looking at results based criteria for our leadership we were forced to ask another important, yet often over looked question: What do these comrades potentially bring to the table? As leaders, what kind of base do they have? Are they leaders in their union? If so, can they move their union? Are they community leaders? If so, can they move their community organization? Can they turn-out folks to rallies, pickets, demonstrations, phone-banking, door knocking, Party events, etc.?
Furthermore, as leaders, what financial resources do they bring to the table? Do they make a substantial individual financial contribution? Do they regularly get financial contributions from their unions or community groups? Are they good fundraisers? As we all know, freedom isn't free and the movement needs money! So, for us, the ability to move money is very important, especially within the context of the Party's current financial situation.
In many organizations (progressive, centrist and right-wing), the main purpose of a leadership body is to fundraise. In fact, many organizations have a 'buy-in' that each leader or board member must fulfill every year. In this context, fundraising by the leadership body is a built-in structural component of their leadership criteria, of their very definition as leaders.
We also asked: Who can they bring with them? Obviously, we have to keep in mind that our goal here is to grow the Party financially, organizationally and politically. And we can't do this by ourselves. We need boldness. We need people who think out-side of the box and understand the necessity for action.
Obviously, we can't take a mechanical approach to leadership. Other factors weigh into our deliberations: age, gender, race, ability to work collectively and political experience are also part of the leadership equation. However, these factors should better enable us to move people AND money outside of our immediate Party circles, to broaden and deepen our influence, public presence and size.
Furthermore, a leader must be able to honestly and sincerely address internal obstacles to growth. They need to be able to ask the hard questions and hold comrades accountable to results – demonstrable, concrete results. Leadership isn't just a political question. It isn't just being right on the issue. It is a nuts and bolts question, a question that requires political understanding AND the ability to get things done.
Leaders need to be able to answer hard questions like: How many people have you recruited to the Party in the recent period? How much money have you brought into our organization? What is your mass assignment? Are you developing other leaders who can eventually step-up and take your place?
These are hard questions, not easily answered. However, every District, club, committee, etc. needs to ask themselves: Are we serious about growth – political, financial and organizational growth? If we are serious about growth, what steps do we need to take to build the type of leadership body that can fulfill the criteria above?
Now this may be a hard pill to swallow, but in my opinion, comrades who don't fundraise, don't have a base (aren't part of a community group, union, etc.) and as a consequence, don't attract others to the Party, aren't leaders. You could have the best politics in the world, but do you bring people AND money into the Party? Do you prove by your actions that you are committed to growing our organization?
Now this doesn't mean that comrades who don't aren't good comrades, that they aren't active and involved. It just means that as a small organization we have to be more aware of what our goals are and who can get us from point A to point B.
Obviously, some comrades will huff and puff. Some will feel like they are leadership material, though they rarely (if ever) bring people or money into the Party. We've had this experience in the MO/KS District. I'm sure other Districts have as well.
However, I feel very confident that the criteria listed above provides a good bottom-line, a good minimum, and enables us to honestly and sincerely weight each comrades real – results based – contribution. Additionally, it provides a high level of transparency, as we should be able to point to each leading comrade and clearly identify their concrete results based contribution to the political, organizational and financial growth of the Communist Party.
Furthermore, we should not think of every comrade as a leader. All organizations have different levels of membership participation. We should be no different. Some members will pay their dues, come to events once or twice a year, and participate when they can. And that is okay! Other members will attend every meeting, every action, every discussion, etc. And that's okay too! Additionally, we'll have a mix of members who are somewhere in-between.
The point however, is that we need to make room for all types of members – passive members, activist members, leaders, etc. Not every member will be or should be involved in the same way. Not only is it unsustainable. It is unrealistic.
If we are to grow into a mass organization, we have to think like mass organizers. Mass organizers do not try to involve every member in every decision. They project out-ward and engage the broader movement. They recruit and develop leaders from among a mass base who can lead and guide the organization politically, financially and organizationally.
I think the Communist Party can be a mass organization. I think we can have tens-of-thousands of members. However, we need to clearly define our leadership criteria. We need to clearly define what can take us to the next phase of our development politically, financially and organizationally.
Comments