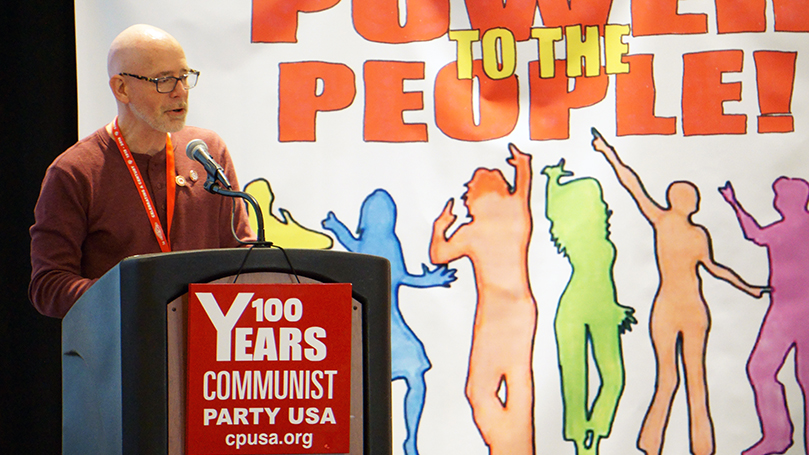 This page serves as an index of the deliberations and decisions of the 31st National Convention of the Communist Party USA. Its purpose is not only to inform our members and allies of the results of the Convention, but to give an understanding of the internal democracy of the Communist Party USA, the process by which we arrive at collective decisions.
CONVENTION REPORTS
Main report: Unity to save people and planet, for full democracy, equality, and green socialism (John Bachtell)
Convention summary: Celebrating our 100th birthday, CPUSA is alive and kicking
PRE-CONVENTION DISCUSSION
Pre-Convention discussion began February 1, 2019 and continued until the Convention.  The new Draft Program was the centerpiece of discussion, but members and allies were invited to contribute in either writing or video on all aspects of our work. 
Draft Program (view/download PDF)
Draft Program Discussion, section 1: Intro to Draft Program & class and democratic struggle (video)
Draft Program Discussion, section 4: Role of the Communist Party USA (video)
Contributions to pre-Convention discussion
Pre-Convention discussion report (Carol Ramos)
GREETINGS TO THE CONVENTION
"I join you in celebrating the Communist Party USA" (Angela Davis)
"Greetings to the most militantly humane, strongest, united political convention in our country" (Denise Winebrenner Edwards)
"The legacy of the party is the legacy of the left as a whole" (Calvin Cheung-Miaw, Left Inside-Outside Project)
Greetings and solidarity from fraternal parties around the world
WORKSHOPS
Our National Convention featured three workshops of the whole as well as a variety of breakout sessions. The workshops of the whole were plenary sessions devoted to discussion of broad strategic priorities for the coming period.  Each one was framed around a special resolution and included a panel presentation followed by discussion of how to implement the strategy.  Each Digest below includes the notes from table discussion during a workshop of the whole.  Notes from breakout sessions are grouped together in a single document.  All can be viewed and downloaded with the links below.
Digest: The U.S. Working Class, Climate Change, and the Green New Deal (pdf)
Digest: Special Oppression and the Struggle for Equality and Democracy (pdf)
Digest: Demilitarizing at Home and Abroad, Unity for Peace and International Solidarity (pdf)
Notes from breakout workshops (pdf)
UNITY PROPOSALS
In planning the party's future, three main questions emerged: how to organize opportunities for members to participate, how to build our work among youth, and how to amplify our theoretical and ideological work.  Because opinions and approaches varied, CPUSA's National Board requested a series of 'unity proposals'–that is, plans that could draw wide support.  These plans were developed based on discussions within the party collectives responsible each area of work, along with deliberations of the National Committee and contributions to pre-Convention discussion.
The work of the Membership and Organizing Collective
Engaging our members in ideological work
RESOLUTIONS ADOPTED BY THE NATIONAL CONVENTION
Final Resolutions of the 31st National Convention
Special Resolution: Hands off Iran and Venezuela
ELECTION OF A NEW CPUSA LEADERSHIP
Remarks by Rossana Cambron (National Co-chair, CPUSA)
Remarks by Joe Sims (National Co-chair, CPUSA)
How does CPUSA elect its leadership? (John Bachtell)
Report on the new CPUSA National Committee
Comments