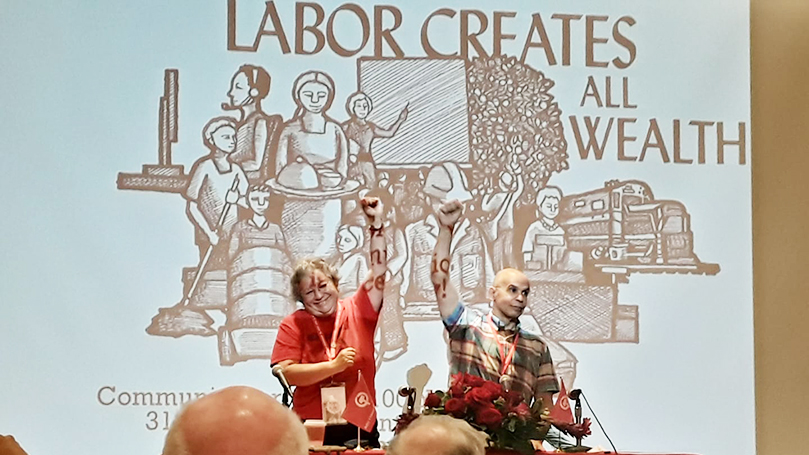 This has been a great convention, we leave here with strong vibes of unity and  the desire to get out there and each one of us lay our brick that will build the road toward Socialism.
Why did I join the Party?
I was active in the MECHA [Movimiento Estudiantíl Chicanx de Aztlán], but it did not seem to be enough, I heard about the Communist Party holding classes and although I was raised with anti-communist propaganda, I had met this cool guy and decided to check it out.
It gave me hope that a better society could be built, it was backed by scientific and historical proof, a society that would take care of all its citizens equally, no starving children, no homeless families.
The responsibility you have given me today, I accept with the understanding that I am not the leader of this Party, that the collective is the leader, that we are all responsible for moving this Party forward into the next 100 years. That we will all remember that we are in the struggle for something bigger than ourselves and thus we will listen to each other, we will help each other grow on a personal and political level to be the best example of honesty and integrity, that we will respect the decisions of the Party collectives and be principled and not organize counter to what has been decided. People are suffering, and we can be a big part in paving the way to end the in human conditions we all face.
It is clear from the discussion we had at this convention, that the Party needs to make the Green New Deal a central issue in our upcoming plan of work. I would like to suggest that the Party set an extraordinary national planning day on the Green New Deal. On this day we would all read and discuss the GND and then, more importantly, develop a plan of action for our club.
We can call it "National Reds Going Green Day", We may think about having it on Sept 1st as it marks the start of our the next 100 years of struggle.
Can we grow? Yes, we can grow, and we are growing, and in order to sustain our new membership, we need to make sure that we engaged them in activity that they are passionate about, that we make them feel that this is their political home, this is their family, not in words, but in deeds. That we communicate to them that same hope that keeps all of us still in the struggle.
I agree with Angela Davis when she states in her greeting to this convention:
"This is a perilous moment-unions are under attack, racist assaults and anti-Semitic violence are on the rise, ultra-right candidates have won office in the US, Brazil, the Philippines, Israel, and in other countries. At the same time, there is increasing opposition to white supremacy, police violence, misogyny, and capitalist accumulation of wealth in the world. With its century-old history of struggle, the Communist Party is well-positioned to offer expertise, experience and Marxist analysis that will assist the resistance movements to grow and develop."
We have it, lets go out and share it !
Thank you
Comments