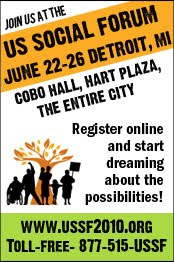 The Communist Party USA is heading to the United State Social Forum and we are asking all of our members, allies and supporters to join us there. The details are below. Register today and link to our Social Forum Page for updates and info.
Second US Social Forum: Amidst National Political Transformation, The United States Social Forum Brings New Hope for Change
US Social Forum
June 22-26, 2010
www.ussf2010.org
Thousands will gather in Detroit from June 22-26, 2010 to promote democracy, diversity & justice and to help transform one of the cities hardest hit by the global economic and environmental crisis. By doing so, they also hope to strengthen a growing global movement for change.
Building off the World Social Forum process, the 2nd US Social Forum in Detroit will feature over 1,000 self-organized workshops, 500 cultural events & performances, People's Movement Assemblies, inter-city work projects, live web streaming, a media center, Children's Social Forum & youth spaces, plenaries, direct actions, international guests, open spaces, tours, and an 8,000 person party!
The second United States Social Forum (USSF) will attract organizers, activists, artists and others to build housing and mobile computer labs, create urban gardens, and take actions to generate dramatic change by and for local residents. The USSF will also be a national stage on which Americans and global citizens will strategize to produce sustainable social reforms in education, transportation, employment, immigration and environmental issues.
Grown in part from the lessons of the World Social Forum process that began in Porto Alegre Brazil in 2001 as civil society's alternative to the annual World Economic Forums in Davos, the USSF is arguably the largest non-partisan political event in the country.
"Detroit will welcome everyone who feels the time is now to find ways out of this crisis that work for working people, not for Wall Street bankers," said Marian Kramer of the Detroit-based Michigan Welfare Rights. "Detroit is ground zero of our failed economy – with almost 30% unemployment, and severe, ongoing environmental threats to our air and water. But we're also a city of solutions, as this Social Forum process will show."
Some of these solutions include East Michigan Environmental Action Council's (EMEAC) part in winning stronger water regulations and the promotion of "green chemistry," and Michigan Welfare Rights' efforts to ensure people receive the aid they deserve, and fighting utility shut-offs. Detroiters, especially youth, are organized and committed to people's solutions for a wide range of challenges, including media, sustainable and local food resources, education alternatives, art and culture, safety, and immigration. The citizens of this resilient city are working to create a new reality for themselves.
The USSF is designed to both support the replication of these movements on a nation-wide scale, and create a space where they can learn from similar movements across the country and world. Attendees will be building global community and participating in workshops, demonstrations, and public actions that will lay the groundwork for continuing local and national momentum.
"The USSF is a big tent for real change," said Steph Guilloud from Project South (Atlanta). "People from all walks of life will join under the banner of building a more vibrant civil society from the ground up, and creating a world that will be livable for our children and grandchildren."
Actvists, cultural workers and community changemakers from around the country and globe are flying, bussing, biking and walking to Detroit for this historic event, where the process is just as important as being present. It's an exciting time to be a part of a movement for democracy, diversity, and justice and we hope to see you there June 22-26.
Another World is Possible. Another US is Necessary. Another Detroit is happening!
DON'T WAIT! REGISTER TODAY AT
www.USSF2010.org