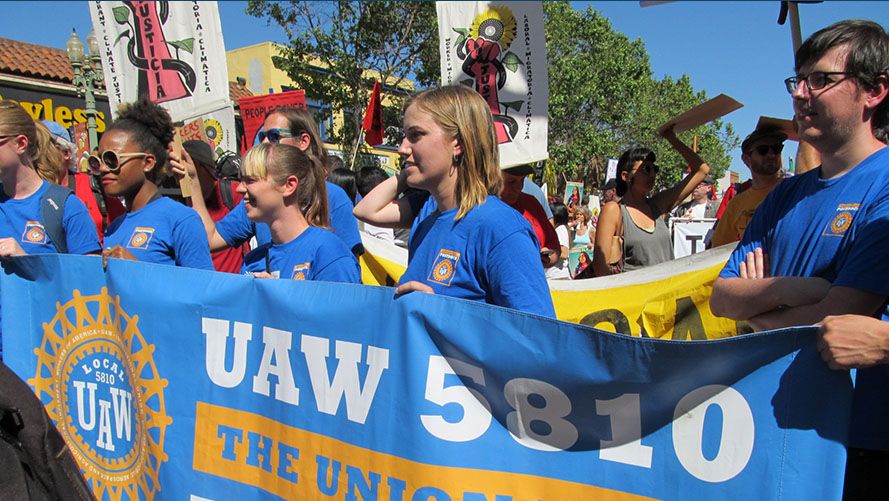 Billed the "blue collar billionaire" Donald Trump targeted white workers in the 2016 election emphasizing, trade pacts, jobs and other economic concerns – and it worked.  Alert to what was happening among the rank and file, the AFL-CIO affiliated Working America set up teams of canvassers in northeast Ohio and western Pennsylvania that went door-to-door campaigning vigorously against the then GOP nominee.
In spite of these efforts, on election day Trump triumphed winning far bigger than expected margins among union households and union members themselves and with it the Electoral College. What happened?
Since that time guided by advisor Steve Bannon, Trump's focus on class issues has continued with the administration's efforts to divide unions between in particular its skilled trade and service divisions, again not without some success.
Still all across the country unions have been active in the resistance while being tactically mindful of their membership and the new challenges presented by Trump's "populist" appeals.
From the beginning peoplesworld.org closely reported on these developments under the editorial direction of John Wojcik, the publication's former labor editor, now editor in chief. An old union hand himself, Wojcik serves as vice president of the International Labor Communications Association (ILCA), a post to which he was elected by his fellow labor journalists across the country.
Monday evening, May 8th at 8:00 PM Wojcik will lead a webinar discussing these new and unprecedented challenges before the labor movement and the country.
Trump's attacks on the press,  Trumpcare, the attempt to gut the EPA and more will be discussed.
Can the labor movement lead the resistance? What's labor's  strategy for countering Trump's racist and nationalist appeals among its members and beyond? Have the unions worked out an approach to the 2018 midterm elections?
Comments