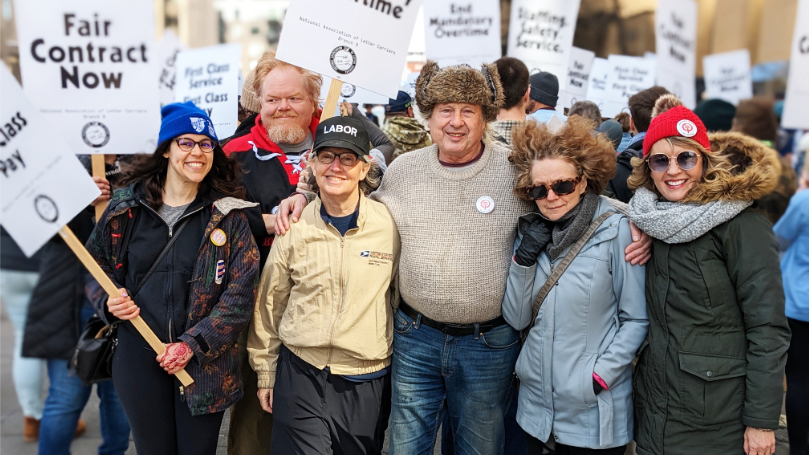 Twin Cities comrades who are letter carriers, union members, and community activists protested understaffing and unfair wages at the downtown Minneapolis Post Office on April 2nd, demanding "first class pay for first class service!"
The National Association of Letter Carriers (NALC) union says postal workers have long struggled with stagnant wages, understaffing, and mandatory overtime, all of which have resulted in unsafe working conditions, mail delays, and myriad health problems due to overwork.
Ben Noble, a letter carrier and captain at the Minnehaha post office with NALC Local Branch 9, described workers being forced to endure 60-hour work weeks for months on end. Grueling mandatory overtime over a protracted period has resulted in many postal workers sustaining long-term, debilitating injuries.
"There's a war being waged at USPS and it's our bodies, minds, and souls that are the casualties," said Noble in a speech at Sunday's rally in downtown Minneapolis.
Postal workers demonstrating Sunday explained that neighborhood delays in mail service are also the result of overstretched workers. Negotiations between the NALC and USPS began on February 22nd, yet the union says many letter carriers in Minnesota have still been forced to work 12–16 hour days, seven days a week.
One letter carrier at the rally mentioned that mandatory overtime was something that workers were able to accommodate over shorter peak seasons like holidays, but chronic understaffing by bosses has resulted in carriers being forced into mandatory overtime indefinitely.
It has also resulted in residents not being able to rely on mail service or regular delivery, and in huge negative health and life consequences for letter carriers.
JoAnn Gilbaugh, executive vice president of NALC Branch 9, addressed workers and supporters at the rally, explaining that after 60+ hour work-weeks, letter carriers' "emotional well-being" is at an all-time low.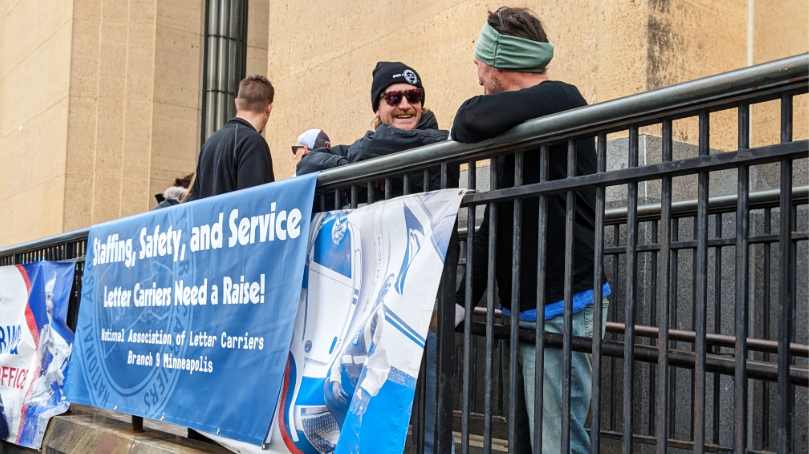 She noted that those 20 extra hours per week could be spent raising children, enjoying time with family and friends, resting, and healing. Instead, mail carriers are forced to accept mandatory overtime or risk being fired. "We deserve to have our lives back!" declared Gilbaugh.
Worker also demanded USPS raise wages to keep up with inflation and corporate price gouging. Union leaders described how USPS prioritizes Amazon packages over others, which has also led to delay in regular mail delivery. "Something has to be done," say workers from the rally. "They want first class service, but we need first class wages!"
Also in attendance at the rally was U.S. Representative Ilhan Omar, DFL-Minn. (5th District). Omar, whose father was a former postal worker at the site of the rally in downtown Minneapolis, explained that when her father was employed, he was able to choose whether or not to take extra shifts. Overtime was optional, which is no longer the case.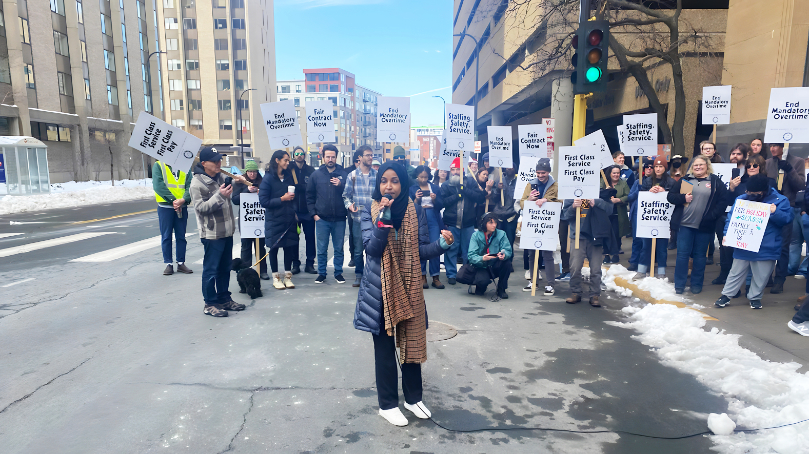 In addition, union leaders described how USPS bosses recently enacted the "Golden Hour" rule, enforcing a policy where workers are not allowed to converse casually with each other during the first hour on the job. This policy essentially denies workers the opportunity to talk with each other about their working conditions before they start delivering mail for the day.
The rally, which was held to garner public support, also gave letter carriers the rare chance to gather together and collectively demand change. "There is strength in solidarity!" exclaimed Gilbaugh.
Twin Cities CPUSA will continue to stand in solidarity with letter carriers demanding safe staffing, dignified wage increases, and an end to mandatory overtime. All power to the postal workers!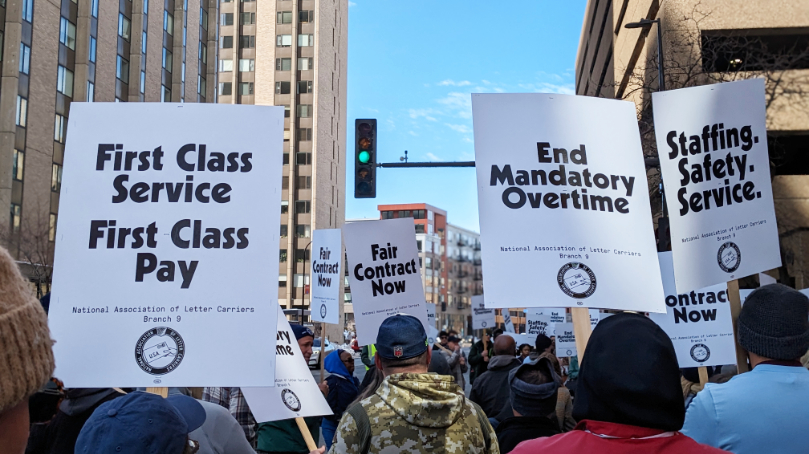 Images: Twin Cities CPUSA
Comments
Related Party Voices Articles