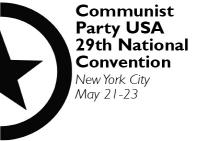 This article is part of the discussion leading up to the Communist Party USA's 29th National Convention May 21-23, 2010. CPUSA.org takes no responsibility for the opinions expressed in this article or other articles in the pre-convention discussion. All contributions must meet the guidelines for discussion. To read other contributions to this discussion, visit the site of the Pre-Convention Discussion period.
All contributions to the discussion should be sent to discussion2010@cpusa.org for selection not to the individual venues.For more information on the convention or the pre-convention discussion period, you can email convention2010@cpusa.org.
As we approach the 29th National Convention of the Communist Party USA, I reflect on the problem of Party growth that has confronted the Party all of my (30) some years of membership. For many of those years I have served in the capacity of club executive member or club chair. In the main the clubs functioned well trying to bring into being the political direction charted by the collective decision of the National Committee and the Party leadership. Determined efforts have been made to ensure that clubs meet regularly with prepared agendas. Ever changing world developments are taken notice of with attention given to how they could affect the fight for justice. Attention is given to strengthening our work within the labor movement. Issues facing people in the community are discussed at club meetings. Important elections facing the nation, state and community are analyzed leading to a determination being made of which policies and candidates to support. I think clubs operating at their best are dynamic with much to offer. Over the years the members have proven committed hard workers but have been unable to meet expectations around recruitment.
In spite of not recruiting in the numbers desired, it would be wrong to conclude that important recruiting has not happened. In fact it always has, and those recruits join efforts to grow the Party. They come to appreciate the need of the Party and are convinced of the contribution it makes in the fight for jobs, equality and peace. For some the understanding of the necessity of socialism increases and their commitment to it is won.
Our efforts at recruiting have ranged from building forum attendance to hear Party leaders and influential working class leaders speak on the vital issues of the day, to District initiatives around mobilization for fight back against measures detrimental to the working class. To clubs, through work with the press, involvement in community issues and workplace concerns. Integrated within these approaches are efforts to focus on individuals who we would especially like to see within our ranks.
In short recruiting has always been on the front burner for us. It demonstrates our concern for the viability of the Party and our belief that its existence is important in helping to shape how our class fights in the ongoing class struggle.
Since recruiting and membership are of paramount concern for us I think we should have a different outlook about it. An outlook is needed that lessens frustration while deepening our involvement with activist and social movements. Our increased participation in the mass movement has resulted in more people learning of our perspective and style of work (which values unity). More people have established closer contact with the Party as a result. Some of us try to recruit these people. Some join, but most do not. Yet, many of us have experienced very complimentary comments from some who do not join. They say they do not have what it takes to be a Communist. Others are motivated around a single issue and might view the Party as being too all encompassing. Then some are active in other organization or religious orders. They feel they cannot commit themselves to us.
I suggest we begin intensifying efforts to implement the following, most of which have been proposed to some degree before. (1) Every member helps to build our on-line press. It allows us to reach more people than ever before. It helps others to understand our world view and our problem with capitalism. This is important for those people in other organizations and movements who do not see why they need to join us. (2) That Party members become more involved in mass movements and especially in the union movement. (3) That clubs become more organized as action bodies that mobilize rapidly. Such clubs may not have to meet on a fixed schedule but rather take advantage of technology allowing it to contact its members and broader contacts as needed. Maybe those who do not join the Party because they feel its clubs meet too often would now join. (4) That we ask people to join us and struggle with them to pay dues. By retaining recruits we can begin to make our case for socialism with them. If we are successful they will join us in the fight to win over our class and people for greater democracy and socialism.
Comments