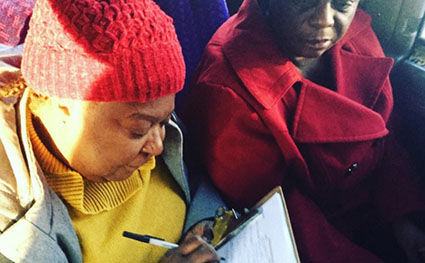 Outrageous. Criminal. That's the only way one can describe the Flint water crisis – a crisis that's the result of GOP Governor Snyder's emergency manager policies towards predominately African American communities. By prioritizing corporate profits and paying bondholders, in the financially troubled cities the Republicans sacrificed the health of Flint's citizens, particularly its children.
Michael Moore, the filmmaker and activist is circulating a petition asking the Justice Department to arrest and prosecute Rick Snyder.
Peoplesworld.org has been on the ground covering the story:
Recently, Flint residents demonstrated at the state capitol demanding action.
The following day Peoplesworld's reporters covered the organizing and relief efforts at a local church.
An outstanding video was also produced telling of the tragedy and Flint's citizen's response.
We urge use to share these stories widely.
Outraged at the cause and consequence of the crisis? Do something! Sign and shares the petition and stories.
If Flint proves anything it's that there's a lot at stake in the upcoming elections. There will be many Flint's to come unless the GOP and its backers are defeated.
Comments