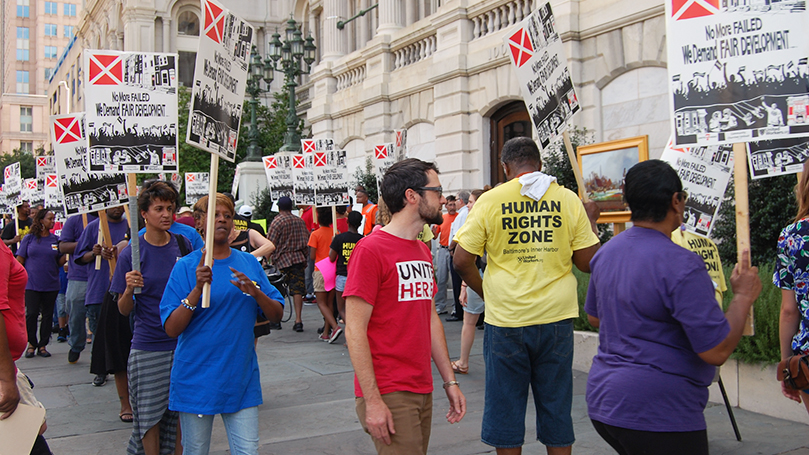 The Communist Party has a long history of demanding and organizing for jobs to rebuild our nation's infrastructure.   Over the years we have developed a working-class approach including massive public investments prioritizing impoverished African American, Latino and Native communities, poor rural areas, and youth; guaranteeing union rights and worker protections; transitioning from a war economy to a green economy, and taxing the richest.
In these times of continued escalating economic and racial inequality, life conditions for millions of working-class people across our country are at a crisis point.  There is a jobs crisis, a housing crisis, a crisis of drinking water in rural and urban communities alike, an environmental crisis in response to climate change.
In Memphis, while marking 50 years since the sanitation workers strike when Dr. MLK was assassinated, we saw blocks of boarded up housing complexes.  In Flint, households still do not have safe drinking water.
A comrade in Pittsburgh reports that while 40 years ago the federal government funded 30% of local water repairs, now only 3% is funded. Infrastructure is a top issue there now as it is in Michigan and Tennessee.  Municipalities simply do not have the funds for the most basic needs.
In Connecticut, at the state capitol recently, the carpenters union was standing outside with giant signs calling for infrastructure repair and jobs.
Donald Trump made infrastructure and jobs a big issue in his campaign.  Now people are asking, "Where are the jobs?" Like everything else, Trump's infrastructure proposal is a giant scam which would privatize public assets and siphon off even more wealth to developers and the super rich.
The issue of a real jobs and infrastructure program is unifying.  Local government, whether red or blue, cannot afford to meet the needs of their communities.  One example is how this emerged as an important issue in the successful campaign of Connor Lamb.  Pennsylvania's 18 CD which had voted heavily for Trump chose a Democrat in the special election this year.
D- is the current grade issued by the American Society of Civil Engineers for our nation's infrastructure. They say a $4.9 trillion investment is needed by 2025 to come up to good repair.  This does not include innovations like high speed rail or telecommunications.
The challenge before us is, in the midterm elections and for longer term:  How can we, with our allies, help build a strong grassroots voice and vote for programs that prioritize sustainability and the future of our country and its environment enabling millions of people to live productive and secure lives?
What is already out there?
In his presidential campaign Bernie Sanders called for a $1 trillion public investment, which led to a plank in the Democratic Party program.  A number of progressive Democrats have put forward various pieces of legislation.
But all are united behind one House resolution introduced by Rep Lieu of California, that is co-sponsored by 157 Democrats.  It is HConRes 63 which puts forward a set of 10 principles with a very strong starting point. For example, it calls for public investment, racial and gender equity, worker and environmental protections etc.
Behind HConRes 63 is the Millions of Jobs Coalition which includes 36 national labor, civil rights, environmental and progressive political organizations (AFSCME, SEIU, NEA, Color of Change, 350.org, MoveOn, Working Families,  Indivisible).
Our proposal is that a partywide campaign building grassroots support for HConRes63 with the Millions of Jobs Coalition be launched at the National Committee meeting.
The campaign would include getting more co-sponsors and local elected bodies to endorse, city council resolutions, union resolutions, churches, youth groups, public events where infrastructure repairs are needed, and local petitions where practical. It would include stories in the People's World and our own piece of literature.  It should be connected to the youth voter project that has also been proposed as a partywide campaign.
This campaign should be connected to the emerging broad movements.
Some of us may remember the slogan that Jesse Jackson popularized, "Rebuild America, Keep Hope Alive" coined as part of a movement of labor and community  activism when the first cities began to go bankrupt in the 1990's.
Today the Poor People's Campaign is carrying forward the torch of Dr. Martin Luther King, taking on what King called the triple evils of racism, economic exploitation and war that are destructive to our society.  Within the far reaching moral agenda of the Poor People's Campaign, the demand for massive public investments in infrastructure that target poor and rural communities is prominent.
Our proposed campaign would fit there. Rep. Keith Ellison is currently gathering support to repeal the Trump tax bill.  He says, "We demand that Congress repeal the Trump-GOP tax scam for the rich and corporations. When we do, we'll be able to protect critical services and invest in our families, communities and country's future. We'll be able to rebuild roads, bridges, and water systems. We'll be able to fully fund education―pre-K through college. We'll be able to protect our environment and move towards a renewable energy future, and much more!"
Even with the repeal that would not happen spontaneously. Our proposed campaign would fit there. In New Haven a Jobs for Youth, Jobs for All -End the Violence march in New Haven was a build-up to the trip to Memphis, and is the main demand upon return.
Our proposed campaign would fit there.
We have an important contribution to make in connecting the issues and movements and building unity against the Trump agenda and for what we need.  In addition to repealing Trump's tax bill and taxing the rich, we also call for big cuts to the military budget and creating a peaceful, green jobs economy for all.
Our proposed campaign will be different in each locality, based on the needs, concerns and organizations there. To carry out the campaign, each organized district of our Party would be asked to indicate a comrade who will focus on this effort and keep in touch with the small national subcommittee from the two commissions.
Appreciation to Bruce Bostick who put together a draft proposal to encourage discussion, input and ideas.  He says it is "to encourage discussion with the goal of building our fight to rebuild our nation's infrastructure.  This is needed to counter Trump's lies, and to put this key issue into the center of our nation's political discussions in this important election year.  As well, we see the building of this movement as helpful in re-centering the CPUSA in its historical working class base."
To close:  In Memphis many speakers reiterated MLK's call for the need of a radical restructuring of values and of the economy in our country.  This proposal for a real jobs and infrastructure campaign moves toward that possibility and strengthen and enlarge our Party as well.
MOTION Adopted unanimously: NB bring proposal to NC for party wide campaign on jobs and infrastructure by building support in various ways depending on local areas for HConRes 63 and the Millions of Jobs Campaign.
Comments