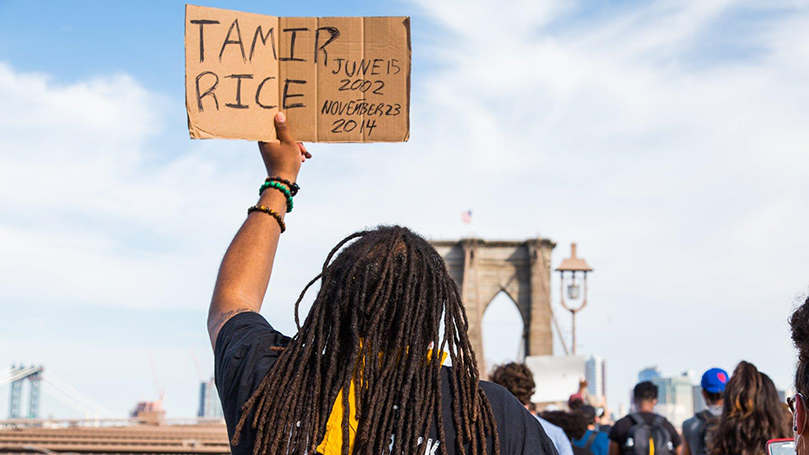 If you watch the video of the murder of 12-year-old Tamir Rice, its reality could not be more clear. The state of Ohio is an open-carry state. Tamir Rice openly carried what turned out to be a toy gun, and the police officers who were called to the scene drove aggressively over a playground, jumped out the car door, and in 0.792 seconds shot him dead. If you watch the video of the murder of 12-year-old Tamir Rice, there was no time for commands, official warnings, or for this black child to explain to these men in blue that it was just a toy.
Trump's Department of Justice officially announced Tuesday what we all knew since October — that the federal civil rights investigation into the case of Tamir Rice has been shut down. In October of this year, the New York Times reported that the DOJ had stalled investigation past the statute of limitations for obstruction of justice charges against the officers involved, and had also failed to alert Tamir's family for over a year that the DOJ denied federal prosecutors' requests for the use of a grand jury in their investigation.
So it comes as no surprise that the murder of Tamir Rice joins those of Eric Garner and Michael Brown, cases that have lit a fire and built a movement in the hearts of people worldwide, and yet have attained no indictment, no charges, and most egregiously in the case of Tamir, no federal investigation at all.
It comes as no surprise, but it still breaks our hearts. Here at the Communist Party in Cleveland, we stand with Tamir. And we stand with his family and for the justice they seek. Cleveland's club has helped build the Tamir Rice Foundation from the ground up, as well as the Tamir Rice Justice Committee, and through these efforts have built strong relationships with Tamir's family, Black Lives Matter Cleveland, and the many local racial justice organizations fighting for power for working-class African Americans. We were deeply honored to hear Tamir's mother Samaria speak at our 100th year Anniversary and National Convention in 2019, and today we call on our members and comrades to show love and support for her at this time.
Our hope for justice cannot be found today in Trump's DOJ. We can, however, make a contribution to the Tamir Rice Foundation as they build an Afrocentric Cultural Center for Cleveland's youth, a historic memorial at the site of his death, promote civic engagement and literacy, and fight for community control of the police. With our rage and our grief at this injustice, we can continue to say his name and continue to struggle in the streets in his memory.
Tamir Rice will not be forgotten. He is "PRESENTE!" And "one day, when the glory comes," it will be his. It will be his.
Photo: FB ACLU
Comments