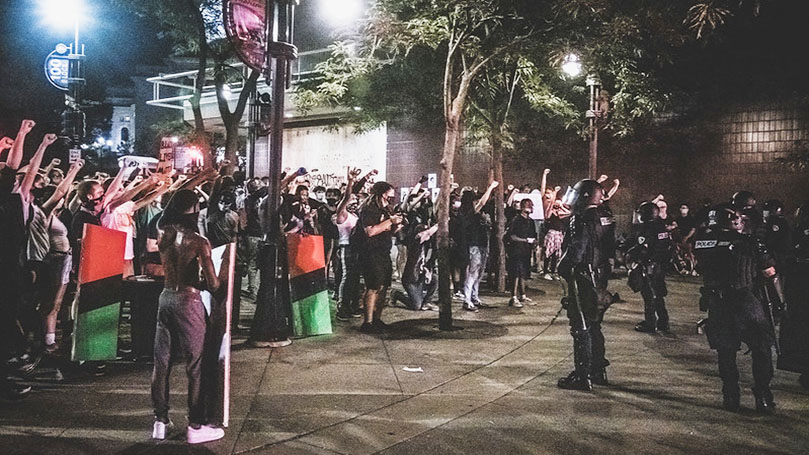 The August 26th action by the Milwaukee Bucks to refuse to participate in a scheduled game against the Orlando Magic is, foremost, an inspiring, spirited act against racist police repression. It also signals a pivotal moment within the newly restless labor movement.
It is not missed on us how the mainstream media characterize this action as a boycott. It was not a boycott in the traditional sense of the word. It was a wildcat strike, whose meaning the mainstream media do not want to publicize among the working class. The mainstream media may not want to alert the broader working class to the power it has, so instead uses a fairly innocuous term like "boycott" in its place.
By taking this wildcat strike action, the Wisconsin-based basketball team emulates the very best the labor movement has offered in the class war not only against bosses and capitalism but also against racial injustice.
The sharpest tool the working class possesses is the tool most needed by capitalism: our labor. The working class demonstrates this power by withholding its labor.
The Bucks demonstrated their labor power for the just cause of racial justice and ending state-sponsored brutality by unilaterally withdrawing their labor. Their wildcat action prompted other teams, including the Women's National Basketball Association and Major League Baseball, to follow suit and the NBA to postpone all scheduled games for that day. In doing so, the Bucks demonstrated its power in the finest tradition of the best the labor movement offers the working class.
The team's statement read, in part, "We are calling for justice for Jacob Blake and demand the officers be held accountable. For this to occur, it is imperative for Wisconsin state legislature to reconvene after months of inaction and take up meaningful measures to address police accountability, brutality, and criminal-justice reform."
Their action follows the 2018–19 strike wave. The ILWU's shutdown of ports, the West Virginia and other teachers' strikes, the UAW strike against General Motors, and labor leader Sara Nelson's threatening a strike of airline attendants that helped end Trump's government shutdown are examples of how our power is used for progress and against reaction. The Bucks' action follows in this tradition of withholding one's labor—only this time it was for racial justice.
The Communist Party USA lauds the action of the Milwaukee Bucks and hopes it will inspire the working class and unions to use the power they possess in their collective, organized, and deliberate capacities. We further echo the Bucks' closing words: "remember to go out and vote on November 3rd."
Image: ken fager, Creative Commons (BY-NC-SA 2.0).
Comments