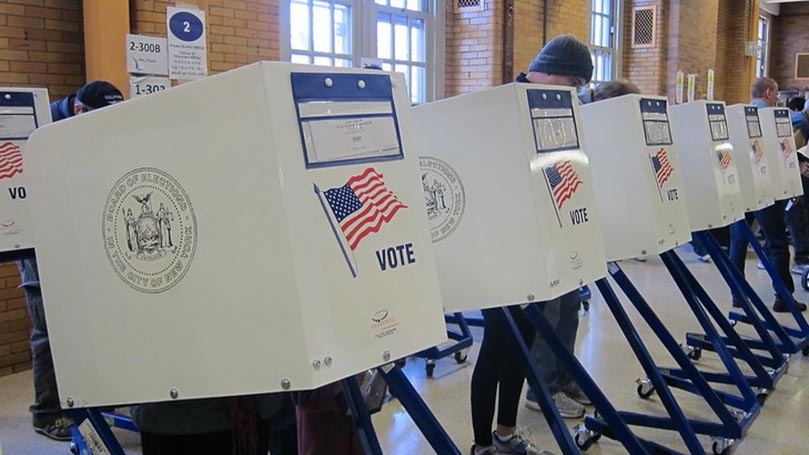 The New York State Communist Party is a party of and for the working class. We see the fight for equality of African Americans as well as all racial and national groups as central to the class struggle. We view the battle for justice for all women and the LGBTQ communities as essential to forward progress. From this vantage point, we hold keen interest in the upcoming county, municipal, and other local elections throughout the state on Tuesday, November 2.
We are deeply alarmed at the low voter turnout throughout the state in the June primaries. We know this happens in every off-year election, but in several cases, new records were set. Big business, bankers, real estate landlords, and all politicians who serve those ruling-class interests, no matter where the location, are content with apolitical and non-political populations.
The One Percent will heed people's demands, and will eventually be defeated, only by a thoroughly political and more activist working class as well as African American, Latino/Hispanic, Asian, and Native American people as a whole. Only when the working class becomes more politicized and active. When women and LGBTQ people across racial and national lines inspect politics more carefully, upper-class players, corporate lobbyists, and compliant politicians know they cannot conduct business as usual. Therefore, we call for the largest turnout possible.
We are relieved to operate in a Democratic blue instead of Republican red state. Indeed, in many cities and counties, victory in the Democratic Party primaries is equivalent to triumph over all opponents in the general election. However, we know that this is not always the case, and sometimes Republicans mask themselves as members of the Democratic and Working Families parties in order to trick voters.
In general, we hope the majority of voters choose candidates who support progressive legislation. We realize that most significant laws are passed on the state (and federal) level. But we acknowledge that some important matters can be addressed by localities. These might include the following:
Steps to help stop the COVID-19 pandemic
Increasing various city and county rent assistance programs
Support to local labor struggles and municipal minimum-wage increases
Steps towards equality—in city and county hiring practices, by increasing city income taxes on the top income brackets, and by pressuring or negotiating with local public school boards regarding curriculum issues
Effective police reform: civilian control, repurposing the role of police, and ending its militarization and immunity from budget cuts
Improvements in local health care options, including mental health coverage, in contracts with city and county workers
Protection of our children, especially those living in poverty
Land use and zoning that benefit our multiracial and multinational working class and all working people instead of local corporate and big landlord interests
Nevertheless, specific candidates are selected in voting booths and at voting machines. With that in mind, the CPNY takes special note of several elections. The following comments, however, are not endorsements and should not be interpreted as such.
Mid-Hudson and Lower Hudson Valley
Hundreds of candidates were endorsed by labor unions and progressive political organizations in Dutchess, Orange, Putnam, Rockland, Ulster, and Westchester counties. Some are fusion candidates of both the Democratic and Working Families parties. In especially Rockland County, Republicans are trying to interfere with the WFP — they were successful in several elections. Victories by the truly democratic candidates could indicate a growing progressive trend in this region.
Long Island
Nassau County has 111 candidates standing in 44 separate races, and Suffolk County has 181 candidates who are standing in 71 races. Some candidates are running under both Republican and Democratic party labels, and sometimes there is virtually no difference in platforms. We think that there is a difference, however, because Democratic candidates face internal party pressure to do the right thing at least part of the time. In contrast, the NYS Republican Party is a state Party of Trump. In Suffolk County, Republicans were successful in hijacking the WFP line in a few races.
Albany
The best candidates won primaries in Common Council Wards 1, 2, 6, 9, 11, and 14. In Wards 10 and 15, they ran unopposed. We hope working people and all oppressed nationalities lean on these legislators to improve the quality of life in our capital. The presumptive mayor, incumbent Kathy Sheehan, had some labor support, though her campaign website did not promote it. Across the river in Rensselaer County, voters might elect the progressive Gwen Wright for County Executive. She would be the first Black and first Black woman to hold the post.
Syracuse
Two at-large Common Council seats are up this year, and winning by far the most votes in the contested Democratic primary was progressive African American activist Rasheada Caldwell. The city might elect its first Black mayor, though that Democratic candidate did not garner left-of-center or labor endorsements, and local housing activists are critical of him for several reasons.
Rochester
Incumbent Mayor Lovely Warren resigned as part of a plea bargain on several felony charges. She was also ethically challenged in the cover-up of details about the police homicide of Daniel Prude. The new mayor will be City Council member Malik Evans, who is running unopposed and was endorsed by the city's unions and social change organizations. Evans credited the labor movement for his landslide primary victory over Warren.
All five at-large City Council seats are up in November. One incumbent, Miguel Melendez, Jr., is backed by progressive organizations, as are two candidates for open seats, Stanley Martin and Kim Smith of the People's Slate.
Buffalo
In June, Democratic Socialists of America member India Walton defeated four-term incumbent Mayor Byron Brown. Brown secured most labor endorsements, as incumbents often do, but Walton won some important union support as well as swept the endorsements of progressive organizations and elected officials from the Buffalo area and throughout the state. She was a nurse, active in her union as a representative for 1199 SEIU, and then ran a non-profit organization, the Fruit Belt Community Land Trust.
Brown mounted a write-in campaign after losing his quest to appear as a third-party candidate on the ballot. The legal challenges cost the Walton campaign precious amounts of money, and she was already outfunded. Right-wing Republicans and billionaires are working to defeat Walton, though Brown disassociated himself from those efforts. Various advanced and left organizations are helping Walton, by fundraising or canvassing Buffalo neighborhoods.
New York City
Labor and social change organizations were heavily involved in New York City Council primaries. The incoming council will be the most diverse and progressive in the city's history. Incumbent Public Advocate Jumaane Williams and the presumptive new comptroller, Brad Lander, were clear favorites of progressives and labor. Nearly all of these candidates are certain of victory.
That leaves the New York City mayoral race, maybe the most complicated election in the state. There were three competing progressive candidates, which was problematic, and organized labor was split across four choices. Of the progressive contenders, two campaigns imploded. Brooklyn's Borough President Eric Adams won a narrow Democratic primary victory, leaving some on the left and others disappointed.
We cannot dismiss his overwhelming support from Black voters and his union endorsements. We remind people that this Black support did not go to Citigroup Vice Chairman Raymond McGuire. Moreover, Adams will likely be the city's second African American mayor—an accomplishment that should not be easily dismissed.
Furthermore, his Republican opponent, Guardian Angels' founder and right-wing radio personality Curtis Sliwa, is a danger to progress. Sliwa's effective-looking ads portray him as a good guy who cares about people and animals. That betrays years of political commentary defending appalling Republican policies and acting like an ignoramus in a crass appeal to anti-intellectual populism.
At the least, we ask that voters defeat Sliwa. But that leaves much unresolved. Some social change organizations think Williams and Lander can help influence Adams. Some groups are hoping the City Council can push him toward progressive reform, while others argue that our city government system gives so much weight to the mayor that the City Council has little overall influence.
Adams is a true contradictory centrist. Core working-class and democratic forces were important sections of his voter base, but his campaign was also one of the choices favored by Wall Street and real estate interests. Before the primary, he sometimes emphasized law and order for a city suffering an increase in shootings. Yet his main campaign poster's second slogan was, "For an end to inequality."
Some activists dislike his business-friendly face, but no mayor in our city's history has done the opposite. Real estate moguls partially dominate New York City, and no mayor has taken on real estate interests while in office, though de Blasio did push back somewhat. Adams is supported by the charter school movement and might hand the reins of the public school system to it. We think that would be a dreadful development, yet we understand that it might not be awfully unpopular, given the terrible performance of the school system in Black and Latino school districts.
Assuming Adams wins, his honeymoon will probably end quickly and the contradictions he faces will be hard for him to juggle. Action by the people's movements will be essential to move matters forward.
******
With few exceptions, all areas of the country are locked into the two-party system. New York State is no exception. On the one hand, we think it is a horrible tactical error to equate both major parties. Labor and all of the people's movements are nested inside the Democratic Party — a pro-capitalist party that does not break with imperialist foreign policy but opposes a fascistic Republican Party and has an influential social democratic, progressive wing whose proposals would improve life for the overwhelming majority of the population. The Party of Trump is hell-bent on shrinking voting rights, opposing all measures of labor rights, fighting all actions for equality, determined to end abortion rights, acting as if in the Dark Ages in its approach to LGBTQ issues, and favoring higher education to be paid by student indenture to finance capital.
On the other hand, we strive for a near-term future of labor and community organizations selecting candidates independent of the Democrats. Eventually, we favor an anti-monopoly coalition as a springboard to socialism. Prior to that, we think labor and all progressives must form the widest coalitions possible to defeat the extreme right and enact forward-looking social and political change. It is here where we see the New York State municipal elections of 2021. Victory is certain if enough forces unite and fight for it.
Image: Joe Shlabotnik (CC BY-NC-SA 2.0).

Comments