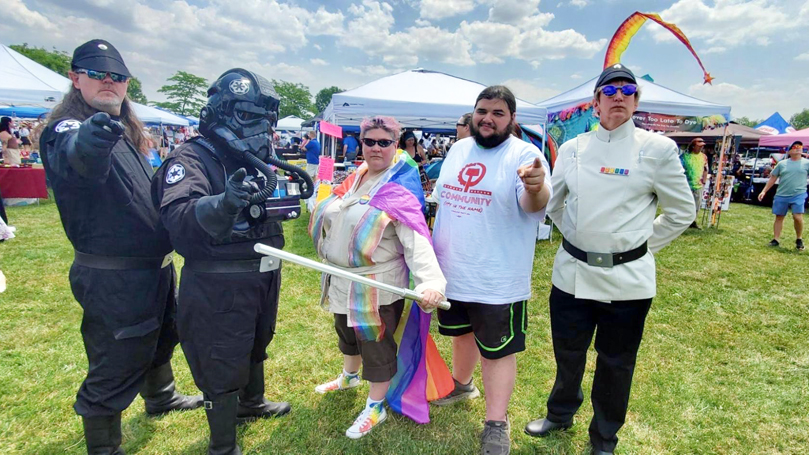 Members of the Communist Party of Indiana, CPUSA recently attended pride festivals to show their support for the LGBTQ+ community.
Festival go-ers were frequently attracted to the booth by a simple sign that read "COMRADE is Gender Neutral." Party members spent the days of the festivals making conversation with attendees, encouraging them to share issues of importance from their communities.
The CPUSA sees new members with every piece of discriminatory legislation. These members are often proud members of the LGBTQ+ community, frustrated with the status quo.
Members of the working class are being forced to endure increasingly difficult circumstances, especially those who are members of the LGBTQ+ community and/or people of color. These difficulties are only compounded by politicians who frequently look out for their own interests, not the interests of their constituents.
This year alone, Indiana has passed three laws that directly attack the LGBTQ+ community. House Bill 1569 forces the Department of Corrections to deny necessary care for transgender people, despite the fact that denial of medical care is a violation of the eighth amendment's prohibition on cruel and unusual punishment. Senate Bill 480 prohibits families and doctors from giving evidence based, age-appropriate care to trans youth. House Bill 1608 requires teachers and school officials to send a note home to parents if their child requests to go by a different name or pronoun. This forced outing of children can and will lead to violence in schools and at home.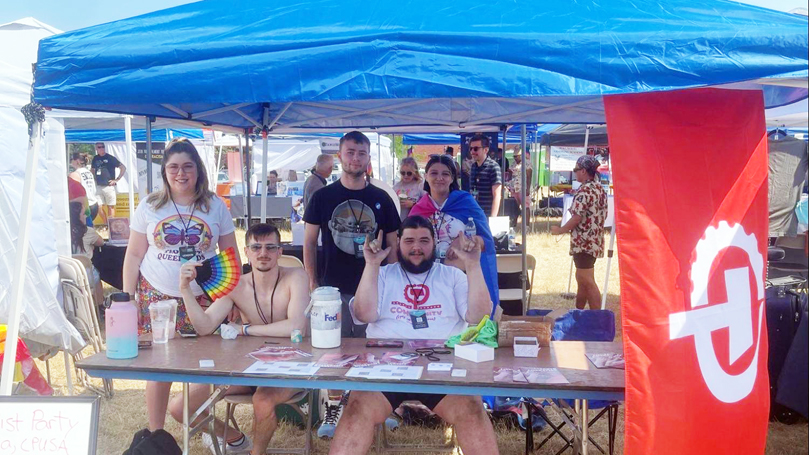 Appalled by these attacks, members of the Communist Party of Indiana, CPUSA, testified against these bills; and we were not alone. Numerous health professionals, students, teachers, and community members also testified against them. Yet, these bills were passed anyway, showing that our anti-democratic assembly is more committed to the promotion of hatred and division than to the needs of its constituents.
The Communist Party of Indiana emphatically opposes these bills and any attacks on the LGBTQ+ community, is determined to defend the rights of all working people — no matter their race, gender identity, or sexual orientation. The CP will not throw up their hands in defeat, nor will they look to others to take action.
"We cannot wait for superheroes to come to save us," CP member Jake Watkins said, "we must organize ourselves to fight for our liberation."
Images: CP Indiana member Joshua Reid poses with fellow Greenwood Pride Festival attendees. | Monica Dominguez; CP Indiana members at the Indy Pride Festival | Jake Watkins; The simple white board that captured the attention of many festival go-ers | Monica Dominguez
Comments