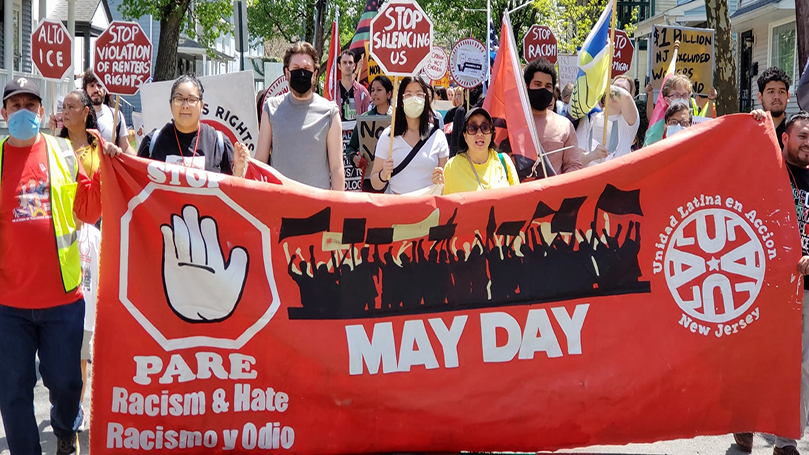 Unidad Latina en Acción NJ (ULA NJ) hit the streets on May Day to celebrate International Workers' Day in Princeton, NJ. They marched for the right to organize without retaliation, an end to wage theft, the passage of two pro-worker, pro-immigrant bills, and the building of a workers' center in Princeton. The workers' center will be a place for workers to meet and organize to demand better wages and working conditions.
Unidad Latina en Acción NJ (Latin Unit in Action NJ) is a women-led grassroots organization whose mission is to fight for immigrants, labor, and human rights by educating, empowering, and organizing migrant communities. The New Jersey CPUSA is a strong supporter of Unidad Latina and participated in the May Day event.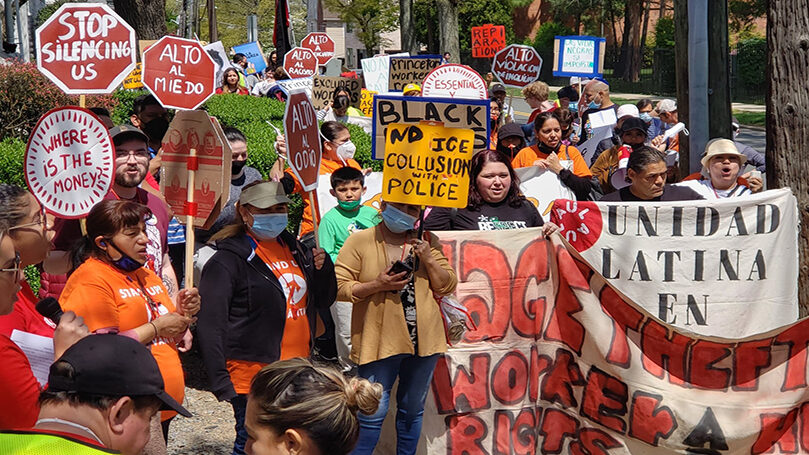 Unidad Latina is demanding passage of the NJ Domestic Workers Bill of Rights, which would help protect New Jersey's 50,000 domestic workers from wage theft, denial of work breaks, and threats against them for their immigration status.  They also support the NJ Values Act, which would place restrictions on cooperation between government agencies and ICE.
The migrant worker community is criminalized by local police-ICE collaboration, local enforcement, racial profiling, and the detention and deportation system. For 13 years the ULA NJ has supported the Princeton community by defending workers' human rights from being exploited by powerful businesses and corporations.
These are part of the workers that at the height of the pandemic were considered by the government "essential workers" for their indispensable work at logistical sites, meatpacking companies, and elsewhere, keeping the supply chain open and the economy running. Now, these same workers are invisible to our politicians. Nevertheless, President Biden could put an end to their demands by using his executive power.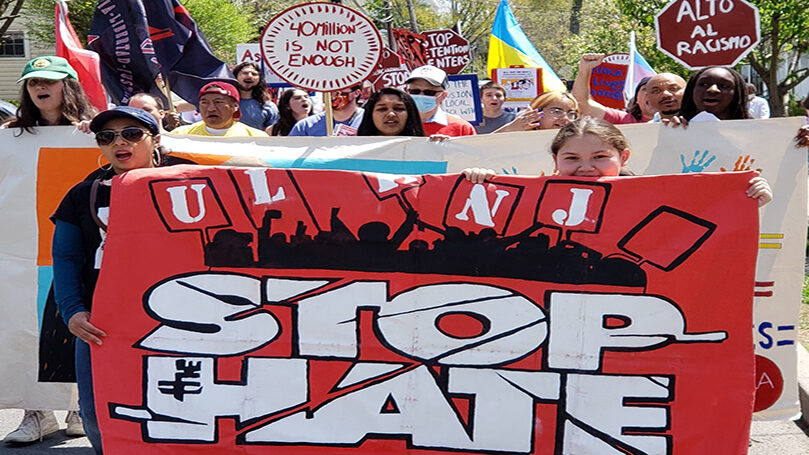 The marchers also called for no more collusion by local police with ICE, asylum and papers for all immigrants, and a $1 billion fund for workers excluded from COVID-19 financial relief, mostly immigrants without documentation.
Starbucks employees, Black Lives Matter supporters, Unidad Latina, Party members, and others marched in solidarity against the war in Ukraine and U.S. intervention. They called for money spent on weapons to be used instead for economic relief for workers and their families, who have been greatly affected during the pandemic.
Their annual May Day march was at risk of not taking place this year, as the mayor of Princeton and the city council denied their permit. The workers overcame this hurdle by organizing and getting people in the community to sign a petition to wave the $2,000 that the city demanded.
Images: New Jersey CPUSA.
Comments