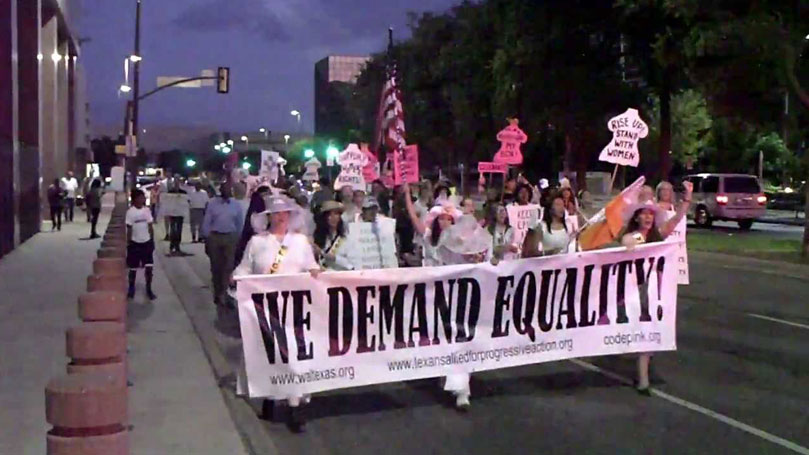 The reality of the political climate and threatened economic downturn force the fight for women's rights and equality to the front burner. As a segment of the working class and as a special question which motivates united action across class lines, women and the struggle for women's equality are an integral part of the over all movement for social progress in our country. Setbacks in the struggle for the rights and equality of women are setbacks in the struggle for democracy itself and affect everyone, not only women. Hence, it is in the interest of all to become more firmly grounded in the reality of the connections and more responsive to the calls for action in this arena.
We can NOT wait to reassert our allegiance to the fight for women's equality and declare our readiness to stand with the women's movement against those who now control all three branches of government and threaten retribution for the united stance of women with the labor and the civil rights movements.
We can NOT wait to become retooled in the fundamentals of working class theory and ideology based on the reality of women's experiences today and what the future, both near and far, promises while reconnecting with the actual struggles that have and will unfold.
Toward this end, the CPUSA initiated a conference on March 23-24, 2001 in Chicago to explore various aspects of the struggle for women's rights and equality. Many issues were examined: equal pay & comparable worth, welfare rights, reproductive rights, domestic violence, globalization, poverty & child poverty, union organizing, public education, health & child care, affirmative action, young & senior women, etc. Many organizations told of their history and concerns.
For more info contact The CPUSA Women's Equality Working Group.
3118 South Halstead, Chicago, IL 60608
1-800-924-8061
ext. 224
Comments