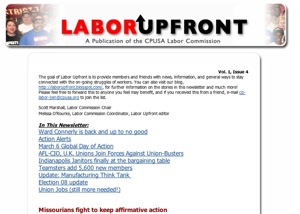 Vol. 1,
Issue 4

The
goal of Labor Upfront is to provide members and friends with news,
information, and general ways to stay connected with the on-going
struggles of workers. You can also visit our
blog, http://laborupfront.blogspot.com/,
for further information on the stories in this newsletter and much more! Please
feel free to forward this to anyone
you feel may benefit, and if you received this from a friend, e-mail cp-labor-join@cpusa.org to
join the list.

Scott Marshall,
Labor Commission Chair
Melissa O'Rourke, Labor Commission Coordinator, Labor Upfront editor


In This Newsletter:
Ward
Connerly is back and up to no good
Action Alerts
March 6 Global Day
of Action
AFL-CIO,
U.K. Unions Join Forces Against Union-Busters
Indianapolis
Janitors finally at the bargaining table
Teamsters add
5,600 new members
Update:
Manufacturing Think Tank
Election 08 update
Union Jobs (still more
needed!)


Missourians fight to
keep affirmative action
Ward Connerly is back, and this time he's targeting affirmative action
in five more states (Arizona, Colorado, Missouri, Nebraska, and
Oklahoma) in his twisted attempt to make sure that "race has no place
in American life or law." This thinly disguised Republican GOTV
campaign is drawing criticism from a broad coalition of labor,
community and business organizations.

In Missouri, the Working to Empower Community Action Now (WE CAN)
coalition is organizing on several fronts to defeat the inappropriately
named Missouri Civil Rights Initiative, including their "Think Before
You Ink" project educating Missourians on why not to sign the petitions
circulating that would place the initiative on the Nov. 4 ballot.

"Not only will this end diversity in the workplace and the education
system, but it will set us back 40, 50, 60 years," said Brandon Davis,
director of WE CAN.

Initiatives like these have been passed in California (1996),
Washington (1998), and Michigan (2006). According to an article in the
LA Times, effects are still not clear-cut, but a California Department
of Transportation study last year found that based on the number of
businesses owned by women and minorities, such companies should be
getting 19% of the state transportation contracts. Due to Connerly's
"Civil Rights Initiative," their share amounts to only 11%.

You can find out more information on the Missouri Civil Rights
Initiative and how to get involved in fighting it at http://wecanmo.org.

Action Alerts
Bust Lori Swanson for
Union Busting!
In the face of fear, attorneys in the Minnesota Attorney General's
Office want to
join AFSCME. Last week they courageously wrote a letter asking their
boss for recognition of their union. On Wednesday, Attorney General
Lori Swanson held captive audience meetings to coerce her employees
into opposing the union. She summoned small groups of the attorneys to
a conference room. With two supervisors and two judges watching, the
workers were asked to mark an anti-union ballot saying that the letter
requesting union rights didn't speak for them.

Let's end the fear and intimidation, so the office can get back to
protecting consumers. Call Attorney General Lori Swanson immediately
at 651-296-6196. Tell her to stop union busting and recognize the union
chosen by her attorneys. Also, call the legislators who appropriate
funds for the Attorney General's Office: Senator Don Betzold
(651-296-2556) and Representative Phyllis Kahn (651-296-4257). Tell
them not to fund the Attorney General's union-busting activity.

You can also find more information here
and here.


Join the Coalition of Immokalee Worker's (CIW) campaign to improve farm
labor conditions
The CIW is launching a national petition drive to demand that Burger
King and other food industry leaders work with the CIW to improve the
wages and working conditions of the workers who pick their tomatoes,
and join with the CIW in an industry-wide effort to eliminate
modern-day slavery and human rights abuses from Florida's fields. The
petitions will serve as notice that those who sign are "prepared to
stop patronizing Burger King now, and other food industry leaders in
the future, should they fail to do so." The campaign comes on the
200th anniversary of the US ban against the importation of slaves, and
echoes key strategies of the early abolitionist movement that helped
hasten the end of slavery in the 19th century. Click here to find
more information.

International
Labor News
March 6 Global Day of
Action
From Labourstart: The ITUC and the ITF are organising a global action
day on 6 March 2008 to express our solidarity with Iranian workers once
again. We want Mansour Osanloo and Mahmoud Salehi released immediately
and unconditionally from prison. Their health conditions are
deteriorating.

We also demand that fundamental workers' rights be respected in Iran,
in accordance with the ILO core conventions. The imprisonment of
Osanloo and Salehi are not isolated cases in Iran. Nine education
workers were sentenced to 91 days in prison recently. The Iranian
authorities claim they are 'threats to the national security' although
in reality, it is genuine trade union activities they want to crush.

Oppression of the independent workers' movement in Iran is escalating.
That is why the global unions, together with human rights activists,
wish to send a strong message to the Iranian government. 6 March falls
two weeks prior to the Iranian New Year and the parliamentary elections.

Send your message! Spread the word and take part in the 6 March Action
Day! Find more information here
and here.

AFL-CIO, U.K.
Unions Join Forces Against Union-Busters
From the AFL-CIO
and TUC:
In one of the first concrete steps to continue the global solidarity of
the historic Global Organizing Summit in December, the AFL-CIO and the
British Trades Union Congress (TUC) are joining forces to try to
eliminate the vicious intimidation practices employers use to prevent
workers from seeking a better quality of life.

AFL-CIO President John Sweeney and TUC General Secretary Brendan Barber
signed a joint
agreement Feb. 12 to work together to eliminate the intimidation of
workers who want to improve the quality of their families' lives by
forming a union.

Tactics used by US employers to keep unions out of the workplace are
being increasingly used in the UK as employers here begin to hire firms
of union-busting consultants to persuade their workers against the
benefits of union membership, warns a TUC report
published Feb. 12.

Dr John Logan, author of the report said, 'For over three decades,
so-called 'union avoidance consultants' have helped American employers
undermine their workers' fundamental right to organize and bargain
collectively. The United States has an entire industry dedicated
exclusively to stopping workers from forming a union. Several of these
US consultants are now operating internationally and are seeking to
expand their business in the UK and elsewhere in Europe. It is
essential that union busting is not allowed to flourish on this side of
the Atlantic.'

TUC General Secretary Brendan Barber said, 'This is a US export that UK
workplaces could well do without. Thankfully the activities of the
union busters are still small scale here compared with the influence
they exercise in the States, but it's important that we do all we can
to stop them dead in their tracks. That's why our agreement to work
together with the American unions to counter the propaganda put about
by the union busters is so important.'

U.S. Labor News
City-Wide Contract
to Lift Thousands of Indy Janitors Out of Poverty
by Jason Jones
Indianapolis, IN—On Thursday, Feb. 21, a three-year
effort by 1,500
Indianapolis janitors to form a union with the Service Employees
International Union (SEIU) culminated as representatives of Local 3
headed to the bargaining table.

They will be negotiating for fair pay, access to affordable health care
and more working hours with an eye to improving not only janitors'
working conditions, but also setting a standard for other low-wage
service workers in Indianapolis.

Carla Head, a member of the bargaining committee, told Labor Upfront
that 'We are some of the hardest working people in this city and we are
here because we want to be respected and treated fairly.'

In the few minutes before the negotiations took place, local community
leaders, including state representative David Orentlicher (D,
Indianapolis), religious leaders, and Jobs with Justice activists, held
a brief prayer vigil for the six members of the bargaining committee in
the freezing snow near Monument Circle.


(Jason Jones, PWW)


Senior pastor of Speedway United
Methodist Church, Darren Cushman-Wood,
stated, 'These negotiations represent a real opportunity to begin the
process of ending the economic segregation in Indianapolis which has
been a barrier for thousands of workers to enter the middle class.'

Local 3 will negotiate with
representatives of American Building
Maintenance (ABM), Group Services France (GSF), Mitch Murch Maintenance
Methods (4M), Sommers Building Maintenance, and Bulldog, who currently
offer the majority of janitors just four to six working hours a day and
pay between $6.00 and $7.50 and hour with no affordable health care.

The CEO of American Business Maintenance, Henrik Slipsager, earned a
total package of $2,405,431 for fiscal year 2007 according to the SEC
website. The total compensation for ABM's executive officers totaled
$7,433,110. That's just one of the cleaning service contractors. Some
of the corporate giants that contract with these cleaning services
bring in over $1 billion a day.

Freight workers say yes
to union
by John Wojcik
A majority of 150 workers at the UPS Freight (formerly Overnite
Transportation) terminals in Cleveland and Toledo, in Ohio and in
Bowling Green, Kentucky have signed authorization cards to become
Teamsters, bringing the total number of drivers and dockworkers seeking
to join the union to 5,600 since Jan. 16, the Teamsters announced Feb.
19.

"The International Union's Organizing Department helped us reach out to
workers in Cleveland," said Frank Burdell, president of local 407 in
that city. "This victory was a long time coming, and we look forward to
helping the workers reach their goals."

"This is the second group of workers in our jurisdiction to sign and
submit cards – the Louisville group was first," said Fred Zuckerman,
president of Local 89 in Kentucky. "We will provide all the UPS workers
with top-notch representation so that they will have the tools to make
their lives better on the job."

"In just over a month, the majority of nearly 5,600 UPS freight workers
have signed cards," said Ken Hall, director of the Teamsters Package
Division. "We have sustained the strong momentum, and workers are
excited to join the victory train."

In addition to the Cleveland, Toledo and Bowling Green workers, a
majority of UPS freight workers in West Virginia, Pennsylvania,
Maryland, New Jersey, Indiana, California, Florida, Arizona, New York,
Kentucky and New England, including the cities of Chicago, Atlanta,
Houston, San Diego, St. Louis, Orlando, Charlotte, Milwaukee,
Minneapolis, Oakland, Seattle, Memphis and Detroit, have submitted
cards to become Teamsters.

The International Brotherhood of Teamsters represents 1.4 million men
and women in the U.S., Canada and Puerto Rico.

News from the Labor Commission
Update: Manufacturing
Think Tank
Plans are moving ahead for the Manufacturing Think Tank being organized
by the CPUSA's Labor and Economics Commissions for March 14-16 in
Chicago. We hope to develop an outline of progressive industrial
policy for our country, an industrial policy that would serve
the interests of labor, working people, their families, their
communities and our country. We have the example of the government
mobilization for WW II to meet vital national need, to show it can be
done.

Elements of such an industrial policy must include re-regulation of
vital related industries like energy, transportation and
communications in the public interest. An overhaul of the tax system
that rewards off-shoring and capital flight. Government directed and
regulated development of green manufacturing methods, sustainable
technology deployment and priorities for production to meet human
needs rather than military and other wasteful and useless production.

What do you think? We want to know. How do you see an industrial policy
or program for preserving our vital manufacturing base? What obstacles
have to be overcome? What kind of a movement is necessary? Send your
ideas to scott@rednet.org before March 13
and we will make sure they
are considered in our
work.

Election 08
Update, and We need to know….
Labor support for Barack Obama got it's biggest boost yet with the
February 21 endorsement of the Change to Win federation of seven unions
and it's membership of over 6 million. This endorsement has the
potential to make a huge impact on the March 4 primaries in Ohio and
Texas.

We need to know…where people are involved in campaigns, both in labor
for Obama or Hillary committees and also key congressional races, and
where can we build support where it isn't yet. E-mail us to let us
know, and send us periodic updates.

Union Jobs (We need more
listings!)
We've gotten an increasing number of responses in the call for union
job listings, more than we can list anymore. For the sake of space and
ease, we'll list cities and industries, and for further information
please contact me, morourke@cpusa.org.
Chicago: IBEW: further info is available at www.ejatt.com
Chicago Education-to-Careers: http://www.cisco.org/etc/apprec.htm
Dallas: Jobs at IBT and UAW represented facilities

There is also a website, http://www.unionjobs.com/ that
lists union
jobs, including staff, trades and apprenticeships, by state.

Keep them coming!!!! In an effort to assist young
workers in finding decent-paying union jobs, I'm requesting that anyone
who knows of job openings or apprenticeships, in all fields and across
the country, please forward that information to me
(laborupfront@cpusa.org).

To remove your name from our mailing list, please e-mail cp-labor-leave@cpusa.org

We welcome questions, comments and stories for our next
newsletter. Send them to us at laborupfront@cpusa.org
or call (773)
446-9920, ext. 212.

Comments