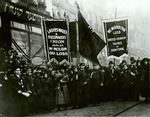 The Womens Equality Commission of the CPUSA extends warmest greetings to the women and girls of the world on International Womens Day 2009.
Since the early days of the 20th Century, the world has celebrated this day as a way of recognizing both the accomplishments of women and also the work that remains to be done to bring full equality to women and girls.
Women still suffer from violence, insecurity, and economic inequality throughout our country and the world. While we have successes and as we build our power, strength, art, knowledge and spirit, we know that there is much to do in building the world wide movement for womens equality.
We live in hope that this new millennium will lead to further change and an attitudinal shift in how women and girls are viewed and view themselves. We know all battles have not been won; we are ever hopeful.
While we work, we also celebrate. We need bread, but we need roses, too. Happy International Womens Day to all our sisters and to our brothers who honor them.
Comments