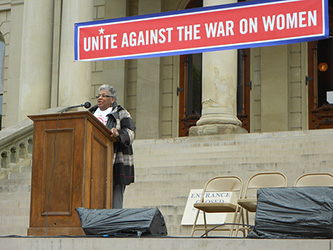 It seems that every day there is a new story about State laws restricting reproductive rights or blocking motion towards wage equality.
What is the status of women in the U.S today? What gains have women made over the years and why is there now an increased backlash against women and women's rights? Who is behind the War on Women and why? Who loses and who benefits from it? What can men and women do today to fightback?
Join us in a phone conference conversation with Carolyn Trowbridge.
DATE: Tuesday, Aug 21
TIME: 8:00 pm eastern, 7:00 pm central, 6:00 pm mountain, 5:00 pm pacific
Call: 605-475-4850
access code 1053538# at the prompt
(Your carrier's normal long distance rates my apply)
---
Coverage of women's issues from People's World:
Comments