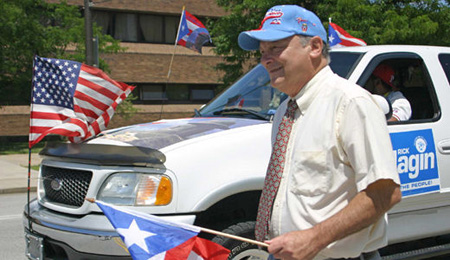 Speech given at the Comfest, June 28th, Columbus Ohio.
Hello, sisters and brothers: My name is Rick Nagin. I'm the Ohio District Organizer of the Communist Party USA.
Wow, what a week it has been! As Bob Dylan said, 'The times they are a-changing!" We can really celebrate the historic decisions of the Supreme Court upholding the Affordable Care Act and affirming the constitutional right of people, regardless of their sexual orientation to marry the person they love. In addition, after the horrible racist massacre in Charleston cities and states across the South are taking down Confederate flag, the Southern swastika. They're taking it off public buildings license plates and merchandise in national parks and retail stores like Walmarts.
And I will tell you about another change that you may not have heard of, but is maybe even more important. Gallup has been doing polls about people's attitudes toward socialism. Support for socialism has been steadily rising over the past decade and last Monday they reported that nearly half the people -47%- would vote for a socialist for president. For Democrats it's 59% and for young people 18-29, it goes up to 69%.
The American people are hungry for change. They are overwhelmingly looking for a better life. We know that in the richest country in human history we should not have to be struggling so hard to make ends meet. There should not be so much poverty, insecurity and desperation. There's plenty of money to solve our problems. American workers are the most productive in the world. Each year they create more wealth than any other country in the world. The problem is that under the rules of capitalism and the laws we now have, the bulk of that wealth is monopolized by tiny group of billionaires. The richest 1% of families have $30 trillion in assets – that's $30 million for each of their families Well it's time to change those rules and those laws. Overwhelmingly the American people favor taxing this excessive wealth and using it to meet the needs of the people. – to rebuild our crumbling infrastructure, to develop renewable energy industry and to provide high quality free health care and education for all.
The American people are tired of attacks on our living standards and democratic rights by extremist politicians We are tired of the attacks by Republicans like Gov. Kasich on the right of workers to bargain collectively, on the right of everyone to have full access to vote, on the right of women to control their bodies. We support the effort of hard-working, law-abiding immigrants to become citizens and we insist on the elementary right of all people, regardless of the color of their skin, to walk and drive freely in their communities, shop in stores, have their children play with toys in parks without fear of being stopped, arrested,harassed or gunned down by those who dishonor the respected uniform of law enforcement. We are tired of the systemic racism that divides working people and cripples our political strength and we are tired of having to live in communities awash with guns and gun violence solely to satisfy the greed of gun manufacturers and the crazy fantasies of extremists who dream about race war and insurrection. We are tired of the endless wars and we are tired of living with the growing threat of environmental catastrophe.
We can do better. We want a better life.
The Communist Party has been fighting for a better life for the past 96 years -for socialism – a just, democratic society which puts people before private profits, guarantees equal rights for all and promotes world peace. We seek to strengthen, build and unite the grassroots movements – organized labor, the civil rights and #BlackLivesMatter movements, the environmental movement, and every struggle where ordinary people stand and fight for their rights. We work in the electoral-legislative arena and it's great that today one of the leading Democratic candidates is a socialist who is getting such an enthusiastic response We wish Bernie Sanders all the best – Go Bernie! – but, regardless of who the Democratic nominee is, we will be working with our brothers and sisters in labor and the grassroots movements to do everything possible to prevent a takeover of the federal government by the right-wing extremists and their fascist-minded financial backers. We can't sit this out. Too much is at stake. The next president could choose many new Supreme Court Justices and if that president is a Republican it will be a disaster for our living standards, our democracy,for world peace and our environment for a long time to come. We know what they want and what they do when they get power. They want to impose austerity on the American people. They want to destroy basic democratic institutions -our trade unions and public schools and strangle all our democratic rights. We can't let that happen.
Please stop by our booth and pick up some literature. We have clubs throughout Ohio and are helping to build student chapters young communists. We invite you join us in the effort to clear the path to socialism in America.
Photo: Peoplesworld.org
Comments