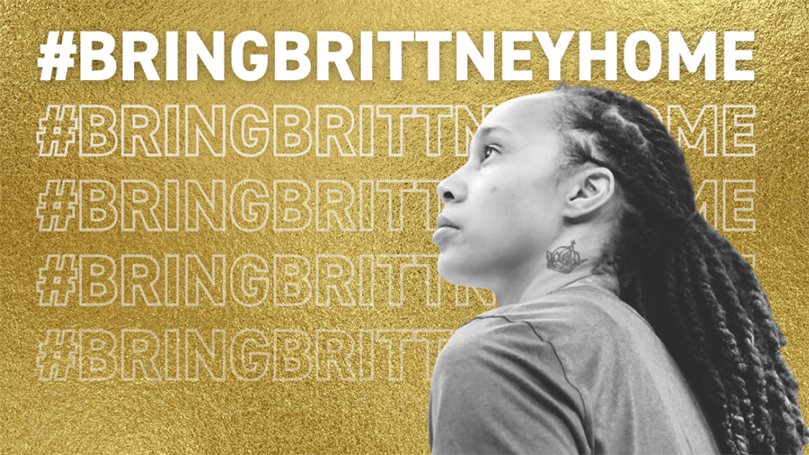 Brittney Griner, seven-time WNBA All-Star and two-time WNBA Defensive Player of the Year, has been incarcerated in Russia since February of 2022 on trumped-up drug charges. Griner, 31, is under investigation for "large-scale transportation of drugs, an offense that can carry a sentence of up to 10 years behind bars in Russia," according to the New York Times. The WNBA Players Association (the union representing the basketball players), has issued statements of support for her release, and her wife has been urging the White House to do more to bring Griner home.
On July 4, Griner sent a hand-written letter to the White House pleading with President Biden to do all he can to bring her home, adding that she misses her family dearly. In the week prior, organizations such as the Poor People's Campaign, friends, and family held prayer vigils at the Russian Consulate in New York City and at the Russian Embassy in Washington, D.C. At one vigil Poor People's Campaign co-chair Rev. William Barber said, "Four months this young lady, four months she's been away from her spouse, been away from her family, and it's time for her to come home."
The U.S. government has dragged its feet to attend to Griner's unjust detention, but it has been steadfast in sending weapons to Ukraine and strengthening the NATO alliance against Russia and China. This is a dangerous maneuver that only prolongs Griner's detention.
On July 7, Griner pleaded guilty to the charges in a high-stakes bid to be included in a potential prisoner exchange. She told the court, "I'd like to plead guilty, your honor. But there was no intent. I didn't want to break the law."
Griner's immediate release would strengthen the peace processes.
Brittney Griner is a political prisoner. Detained at the beginning of the Russia-Ukraine War, Griner is being used as a bargaining chip by Russian war hawks and weaponized by NATO imperialists. Absent public pressure demanding her release, as long as the U.S. and NATO keep fueling weapons sales and prolonging the war in Ukraine, Griner's chance of being released grows dimmer. Indeed, Griner's freedom is contingent on labor, peace, and progressive organizations fighting for peace and an end to the war in order to bring Griner home as soon as possible.  The Communist Party USA believes that Griner's immediate release would strengthen the peace processes and counter imperialism.
Progressive Black-led organizations such as the Movement for Black Lives (M4BL) and Black Feminist Future have circulated petitions and issued statements calling for Griner's immediately release. M4BL put out bullet points about Griner's detainment on June 28, mentioning first that the global war on drugs has historically targeted Black people and countries with majority non-white populations. It has been a part of a racist strategy to demonize Black people and to dampen social movements (for example, the relationship between Contras in Nicaragua and crack epidemic in Los Angeles). Second, Griner is forced to play basketball in Russia during the WNBA's off-season due to gender pay disparities with NBA players. In the U.S., Griner and her co-workers earn on average seven times less than NBA players. In Russia, they earn up to four times their U.S. salary. Third, being held in Russian custody as a Black queer person is inherently unsafe. LGBTQ+ folks in Russia face targeted repression such as legal persecution and are regularly victims of hate crimes. Fourth, our struggle to bring Brittney Griner home calls for the U.S. government to talk with the Russian government to resolve international conflict. It underscores that the racist war on drugs has only worsened the plight of Black people and other people of color.
We wholeheartedly support the #BringBrittneyHome campaign and encourage our readers, allies, and members to do so as well. The petition can be found on the Black Feminist Future website at this link.
We demand:
1. A diplomatic approach between U.S. and Russian parties to help bring Brittney Griner home as soon as possible.
2. An immediate end to arms sales to Ukraine to help end the war.
3. Immediate beginning of direct talks between U.S. and Russia to find a diplomatic solution to end the war.
4. An immediate halt to NATO's expansion eastward, including a pause on the inclusion of Sweden and Finland as members.
Image: Black Feminist Future.
Comments