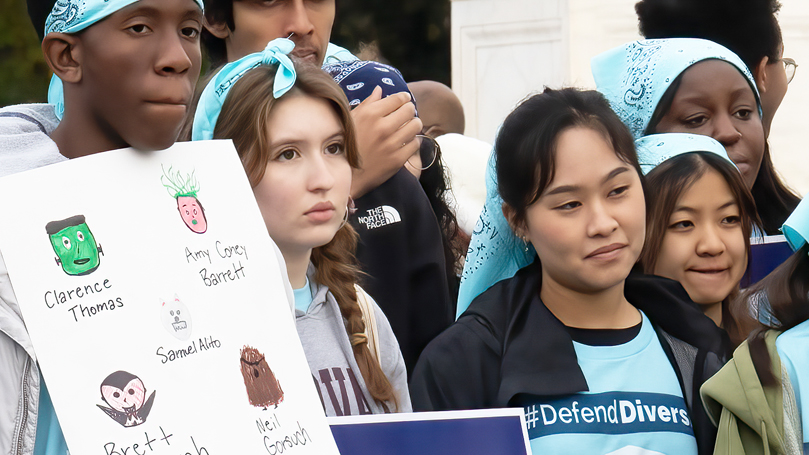 Today, the Supreme Court outlawed affirmative action. The 6–3 ruling by the right-wing majority rejected decades of precedent "disavowing race as a factor in achieving educational diversity." The decision will literally change the complexion of higher education in the U.S. and, while focusing on educational access, has implications for workplace hiring as well.
Derrick Johnson, head of the National Association for the Advancement of Colored People (NAACP), said, "Today has proven what we already knew — we are dealing with a rogue 'Supreme' Court that has bowed a knee to an extremist minority. Now, it's up to every institution in this country, from colleges to corporations, to embrace diversity, no matter what."
The ACLU of Minnesota pointed out that in both cases in which the Supreme Court considered the affirmative action issue (Students for Fair Admissions v. President and Fellows of Harvard and Students for Fair Admissions v. University of North Carolina), the effort to undo civil rights gains is being led by Students for Fair Admissions (SFFA), an outfit led by Federalist Society fellow Edward Blum. The Supreme Court had already twice rejected Blum's arguments, deciding that universities "can consider race in admissions to promote diversity on campus and enrich students' learning experience." Today, the far right Court made a 180-degree turn in support of Blum's arguments.
The doctrine of race blindness superficially appears to make sense. It is a lie. Racism, like sexism, is systemic in the United States, baked into the capitalist sinews of the U.S. economy and history. From the earliest colonial days until today, slavery and oppression of Black and Brown people have been a component of the U.S. economy and associated social policy. Race blindness leaves intact the harm done by systemic racism, including the denial of access for Black and Brown people to educational institutions and the better jobs those institution's students get.
Affirmative action does two things:
a.) It validates the reality of systemic racism in the U.S.
b.) It validates the fact that social policies can be used to address that systemic racism.
The extreme right, in its embrace of a racist world profiting on the exploitation of Black and Brown folks — and on the control of women, has won a key struggle with this ruling.
The people have to ask what kind of a nation is being built when systemic problems can't be resolved within the institutions that exist. Through their actions, the ruling class is strengthening the argument that a socialist realignment of power has to occur to correct systemic problems that can't be fixed under capitalist power structures.
It's worth noting that Justice Roberts exempted military schools from the decision, admitting that an all-white officer corps would not sit well with Black, Brown and Asian troops. In other words, they fear the potential reaction. Well, it sure as hell ain't gonna sit with civilians either. Time to put on our marching shoes!
Special measures to overcome past discrimination benefits broad sections of the U.S. public: Black, Brown, Asian, Native American, and women. Rather than eliminating these measures, a fight must be made to enlarge access for everyone. In this way, a broad coalition can be built to uphold justice not only in higher education, but everywhere else as well.
This ruling highlights the importance of focusing on stopping the racist, sexist, anti-worker drive to establish fascism and undo all of the people's gains won so far, including those of the Reconstruction era, the women's suffrage movement, FDR's New Deal reforms, the Civil Rights and LGBTQ equality movements, and many more. Working-class and people's movements must come together in unity to defeat the MAGA right in the 2024 election, to limit or remove them from power at the federal, state, and local levels, from boards of education and library boards to governors and the U.S. president. Make no mistake: affirmative action can be restored, but it's going to take mass actions — including strikes, sit-ins, occupations, marches, boycotts, plus elections — to do it.
Image: SCOTUS monsters Affirmative Action photo by Victoria Pickering (CC BY-NC-ND 2.0)
Comments