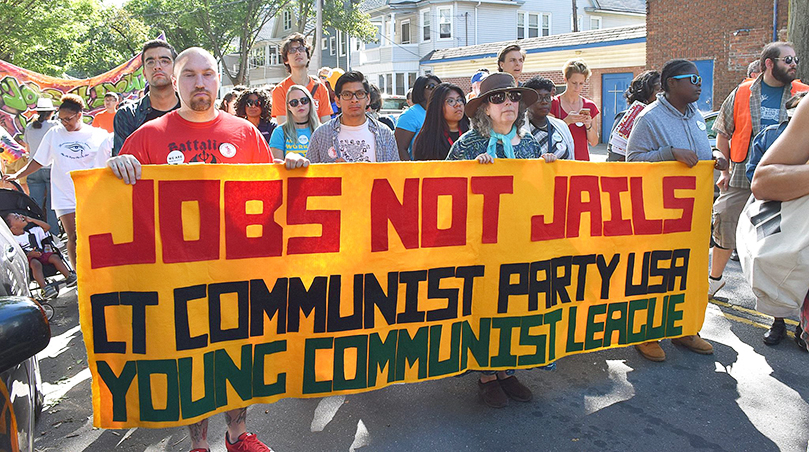 Opening presentation to elections panel at the CPUSA party building conference, December 2-3, 2017.
Let's start with congratulations to our comrades in Virginia and in New Jersey and to the working class in many parts of our country for rising up against the hate, fear and war mongering of the extremists.  Voters there said no to the racist attack on Charlottesville and no Trumpism by electing many young, women, African American, Latino, trans, and socialist oriented candidates who defeated some of the most entrenched anti-immigrant and bigoted incumbents.
This panel will take a look at some concrete examples of building our clubs in the context of our election work. We will discuss how we can best apply our united front strategy of building the broadest possible unity and solidarity of unions, community groups, all kinds of organizations and grass roots people who are getting hurt into a powerful movement with the capacity to reject white supremacy and change the political course in our country and communities. We will examine how this work can raise class consciousness and strengthen the Communist Party and the movement for "socialism USA."
The framework we're using is the high stakes of the 2018 elections: how to change the balance of power in Congress and many state houses by building a movement that can defeat extremist corporate right-wing incumbents, candidates and policies.
There are already many new candidates who would never have imagined themselves stepping forward, propelled by the resistance organizations that blocked the repeal of the ACA, and are fighting for a clean Dream Act and much more. There is plenty of space for Communists in that blossoming movement.
Beyond and within that, we need to grapple with how to strengthen the Communist Party and build unity and class solidarity to go on to the offensive and win a strong peoples' agenda.
People learn in the course of struggle. Concrete struggles are the heart of raising class consciousness, winning victories, electing left and progressive candidates, and building the grassroots movement that can determine the agenda.
The challenges before us are so massive and pervasive in every part of our lives. But at the heart of it all is building a movement from the grassroots up, community by community, for working-class power.
Just going around at election time to solicit votes for this or that candidate won't do it. It takes year round door knocking and talking with people, building a base that can choose its issues and win.
This panel will hear about the work of the Communist Party in four cities.  Each presentation will discuss how the Communist Party grew and became stronger in the course of contributing to this grassroots approach to the elections in their community.
This panel will make the case that the broad alliance and our country needs a larger and stronger Communist Party and we will open the discussion on how to get there.
We will hear from  a member of New Haven Connecticut's Board of Alders, who just decisively defeated her Republican opponent, about how a grass oots movement including the Communist Party can elect union members to public office and change the priorities of a city.
We will hear from Cleveland, Ohio about a big victory electing the first Latina to city council and how the West Side Club has been at the center of that campaign and successfully took on red baiting in that key election.
We will hear from Brooklyn, New York about the long-term and recent work of the club that has inspired new club members to become active leaders, through unifying movements like the fight for 15 with getting out the vote, and taking on the right wing in Staten Island.
We will hear about young candidates in Houston, Texas choosing to join the Houston Club and learn about the initiatives of the Party which have resulted in a number of independent political formations and a rapidly growing Communist Party organization.
It must be said that our future as a people and the direction of our country and the planet is on the line.  A lot of us are getting hurt by the increasing economic and social inequality and expanding imperial policies. The corporate right-wing interests used their money and media and every trick in the playbook to capture control by suppressing the vote and confusing, and dividing using white supremacy, misogyny and bigotry against immigrants.  Their goal is to dismantle all the gains won over decades for labor rights, civil rights, voting rights, environmental and social justice rights, health care, housing and child protections.
But as Tuesday's elections underscored, that extremist agenda is in the opposite direction of what the majority in our country wants. As more and more people are becoming "woke" and searching for how to turn things around, interest in socialism is growing.
Many of the newly elected candidates made history, from Jackson, Mississippi to Charlottesville, Va; from St. Paul, Minnesota to Cleveland, Ohio, and in Maine where voters overrode their Governor to expand Medicaid.  These candidates emerged from new political formations like Our Revolution, Working Families Party, Indivisible, and from the outreach by unions and many others that are shining a light through the deadly smog to change the political landscape.
The lesson is to bring working-class, grassroots organizing and consciousness into the elections at every level. That's where we come in as a revolutionary, working-class party.
And that's why it is so important that this conference is being held today. So we can move onto the offensive in 2018.  "And still we rise."
Following the panel presentations, the following discussion questions will be discussed at each venue:
 Based on the panel presentations, are there ideas for how your club can move forward and grow during the 2018 elections?  What obstacles will have to be overcome?
 What kind of assistance from the national Communist Party organization or from your state Party organization would be useful to your club in developing and implementing an organizing strategy around the 2018 elections?  What ideas for the kind of coverage and use of People's World that will be most helpful?
Image: Joelle Fishman
Comments