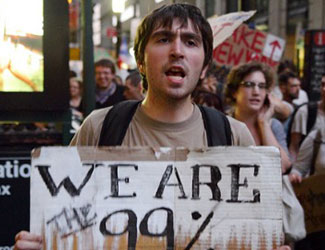 We're living in very exciting and challenging times.
During the week of Oct. 10-14, demonstrations across the country involving tens of thousands demanded jobs and making the banks and wealthy pay for the mess they created. In many places the America Wants to Work campaign joined with Moveon.org, National People's Action, Reclaim the American Dream movement and countless grassroots community and faith based groups and the local Occupy Movements.
On Oct. 15 over 950 Occupy demonstrations were held in 80 countries. In New York, 20,000 marched through mid-town Manhattan marking 30 days of Occupy Wall Street. They issued a demand for taxing the rich and investing $2 trillion to create 25 million public sector jobs rebuilding the country and expanding vital services.
Thousands more marched for jobs in Washington DC after the ceremony unveiling the new monument to Rev. Martin Luther King, Jr.
In Chicago over 175 people were arrested attempting to establish an encampment in Grant Park following a spirited march of 4,000. The arrestees included 5 Communist Party and Young Communist League members.
An outstanding feature of the Occupy Movement is the growing solidarity with labor, faith based and community organizations. New polls show growing support among the American people.
A key slogan of the Occupy Movement is "We are the 99%!" What is the 99% and what challenges does the movement face in building an all-inclusive coalition? What forms will it take? And how can all of us help build it?
This is the subject of our next national teleconference call:
Jarvis Tyner, CPUSA executive vice chair
Tuesday, October 25 at 8:00 pm Eastern
Teleconference number: 605-475-4850
Access code: 1053538#
Follow the great coverage from People's World/Mundo Popular:
No Surrender in Chicago as Occupy Movmeent mushrooms worldwide
Ten thousand occupy capitol, demand jobs now
Cass warfare: What goes around comes around
Teach-in promotes labor/student unity
Occupy El Paso Launched
Occupation spreads to Detroit!
Message from Occupy Missoula
Photo: Paul Stein // CC 2.0
Comments