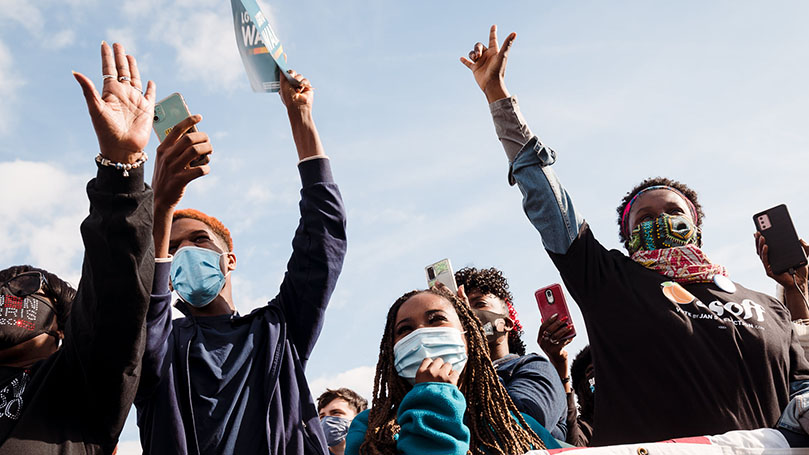 This report was presented to the National Board on Jan. 20, 2021.
We need to discuss how today's turning point moment is affecting our size and influence. This discussion might be framed as "problems in party growth" because the CPUSA is in fact growing — some 2,000 new members have joined since Bernie Sanders dropped out of the race for the presidency. The proof of this is in the numbers. Last year, for example, $50,000 in dues was collected, compared to $26,000 in 2019.
Membership has increased, along with involvement in struggles across the country. The party is beginning at long last to take more initiative in a number of areas: unemployment, electoral work, racist police violence, and mutual aid. We're starting to increase our presence at marches, demonstrations, and rallies.
In preparation for the April meeting of our National Committee a review of our work should be made from top to bottom, including the status of clubs and party districts. How many new clubs are there? How well are they functioning and what is the criteria for determining this? I won't pretend to do that here. I do know that in New York there's been improvement. New clubs have been set up in Queens, Long Island, Albany, and Syracuse. In New York City our young communists are meeting regularly and have introduced new-member orientations and a weekly book club. The Manhattan and Brooklyn clubs have remained stable and active. They set up regular tables, do mutual aid, and participate in demonstrations and marches. They were involved in the elections. In other areas of the country, some 12 new clubs are in various stages of organization.
Our progress so far
People's World now has achieved a circulation of some 3 million unique sessions over the last year, and CPUSA.org is stable and growing with close to 1 million sessions.  Our presence on Twitter has improved, and the party is now active on Instagram. The YCL podcast, the Specter, which showed great promise, however, has stopped broadcasting and requires a restart.
I think it's important to note that, notwithstanding the pandemic, we've also continued to hold public events: the town hall on the Covid crisis in the spring, the Unemployment meeting in August, the PW-sponsored election event in the fall, and the recent 100 Days of Struggle for a Better World effort. The Education Commission has sponsored several very successful webinars involving several hundred participants at a time. Our club in the D.C. area has set up a public Marxist school named after Claudia Jones. NY, CT, AZ, and MA have also sponsored public events on Zoom.
This uptick in the party's growth didn't spring from nowhere. It began even before the last convention and traces back at least to the 2017 party building conference. Even before that, the previous National Board took an important decision to raise the importance of membership and organization with Rossana Cambron's assignment of Membership Director. Let us also recall that she and I co-chaired a new Membership and Organizing Collective that has now morphed after the convention into an Organizational Department.
All of this, of course, occurred within the context of the mass radicalization processes, the objective developments in the country and internationally, Bernie's campaigns, the strike waves, the BLM uprisings, etc.
Where we need to improve
Before going further, we shouldn't fail to mention our collective overcoming of a rather protracted and problematic period in the party as we sought to adjust to new circumstances and conditions. Importantly, this included correcting some erroneous concepts regarding the very nature of the party, the most severe expression of which called for dissolving ourselves into the PW. Our last convention made a very important course correction in this regard. A big issue here was reasserting the initiating role of the party and its clubs within broader class and democratic struggles. Naturally, tensions remain here on the fringes of our policy, particularly with respect to electoral work. Given the nature of our country and politics, it's likely that this issue will always be with us. Still, we came through this election season, largely but not completely, united.
A year and one-half after our last convention, the party remains at the beginning stages of rebuilding and re-establishing itself as a single national organization, that is, as a political party with a single identity. This includes achieving greater unity with regard to our very self-conception as a working-class revolutionary party. The fact is, previously there were more than one concept of the party competing with each other in our leading bodies, clubs, and districts. Some districts had no clubs; others dozens; some applied the organizational principle of building the party around our press; others seemed to have faint awareness that People's World even existed. Added to this were uneven approaches to social media, and we'd be dishonest were we not to admit that, particularly among the boomers, there remains a reluctance to embrace and recognize its significance. That said, one of the direct effects of the COVID-19 pandemic is that it has pushed some of us, kicking and screaming, into the 21st century.
A serious weakness remains: the great mass of our membership, including in organized districts, are still unorganized either in clubs or other party collectives. In my opinion this is in part due to a) the uniquely American concept of membership in political parties, b) our inability so far to organize members effectively, and c) the means by which and where members are joining. For example, the majority of our growth remains spontaneous, that is, from people signing up online. There are exceptions to this in CT, TX, and NY. In the first two, a significant portion of new member growth comes from work in the neighborhoods, communities, and mass organizations. New York, beginning last summer, is now drawing new members from activist work, tabling, demonstrations, and other activities, particularly among the youth. The New York City party has also been doing outstanding work in reaching out to new members who join online on a regular basis and is systematizing this work.
Defining membership
While we are largely united on the concept of membership, on occasion, challenges emerge. We do hear from time to time calls for candidate memberships (giving prospective members a training period before allowing them full member status), or defining members by only those who pay dues. You also continue to hear folks making distinctions between "real" and "online" members, which comes close to saying there are in-person members and others who exist only in someone's imagination.
Of course, the definition of membership relates directly to the very concept of the party itself — mass or cadre. Here I think we have to continue to fight for a mass party concept, one expression of which is to allow people to join easily and not creating obstacles. Members are then urged to participate in clubs, pay dues, and become active. We must reject preconditions and take members from where they are to where we'd like them to be — part of a unitary fighting organization.
I want to emphasize here that we must equally value and embrace all members and not make a distinction between those who are more experienced and those who are not, while recognizing such qualities do exist. We have to keep in mind that much of our growth is coming from small-and medium-size towns where there's not a lot going on, where "civil society" is sparse, with not much more to belong to than the church, the bar, and the street gang and sometimes a union. Another obstacle is that some of these areas are deeply conservative politically and culturally. That's the reality for much of America. If members come from these places and don't have experience, the party should be the place that helps them gain it.
The next generation of leaders
One of the biggest problems we face is educating our new members in our politics and outlook. Here the Education Commission has been doing a fine job with limited resources. We should think through with them how to increase our work in this area. Making breakthroughs here is key to building and rebuilding our leadership, particularly at the club level.
Bringing forward new leadership is an extremely sharp question in almost every area of work. There's a constant tension between bringing new comrades forward on the one hand and placing them in difficult, sometimes impossible situations on the other. It's not an easy problem to solve. We want to give comrades time and space to develop in the clubs and districts. At the same time, there's the imperative of refreshing and renewing our work. We're experiencing this very acutely at the district level and also in national commissions. New comrades have been brought forward, but they quickly become disillusioned with the work and drop out.
Consider that in one major district, we have been unable to solve the leadership problem for more than 20 years. In the past, we traditionally brought forward the head of the YCL into leadership of the district where the party was headquartered, a practice utilized in many of our fraternal parties. This happened with Gil Green, with Jarvis, with John, and others. But given the problems we've had with our youth policy, that practice was made impossible to carry out.
The role of our elected bodies
A few words about our elected bodies and commissions. First, we need to review the work of the National Board and National Committee, including participation, and here we should have an eye toward bringing comrades forward who have stepped up and perhaps relieving those who have not participated.
With respect to the call for commissions that animated some of the discussion at the NC, we have to consider it seriously, including what's prompting it. Some are asking NC members to step up and fulfill their roles as members of this leading party body; others feel uncertain about how the party functions and hope that participation in commissions might help give greater definition; for others it's the notion that commissions will be the place where new members find footing and orientation. With respect to the latter, this has not proven to be the case.
What's striking, in the course of all of this, is that there's not a clear idea yet as to just what a commission is and their mandate — that too requires definition. Here it should be pointed out that the greatest obstacle has been and remains finding comrades to anchor and carry out the work.
Finally, we should not lose sight in this review and projection of our work that the party must be built from the ground up, that is, in the clubs and districts. Of course, there is a dynamic interplay between, local and national, offline and online, etc. That said, mass growth and consolidation will spring from the grassroots — it's where memberships take seed, learn, and grow.
Our identity
All of this has a direct bearing on the ongoing need to continually define and redefine the unique role and nature of the party as a revolutionary working-class organization. We've lost sight in some quarters of just what we are as a party of a new type, of what the "plus" means as applied to questions related to organization, structure, and inner party democracy. Concepts of organization are not uniform across class lines, and the working class has evolved practices over decades of struggle. The Communist Party is not any other mass democratic organization or even political party. It is a unique expression of a new level of working-class organization as it strives to become a fighting arm of our class and people. Here there are issues of principle that should brook no compromise and other secondary questions like adapting to innovation that require updating. For example, to me, fighting for party clubs, be they on campus, citywide, in a neighborhood, or even online  (transitional or not) is a question of principle. The moment you lose this emphasis, you start to lose the party.  The forms that clubs take vary according to time, place, and circumstance — so too with respect to where they interact, be it a union hall, someone's living room, a library, online community, by phone or Zoom.
So far we've done fairly well in continuing to understand, adapt, and utilize new techniques and forms as they become available, while relying on the tried-and-true principles of communist mass work.
Let's agree to deepen these discussions in the National Board and other collectives as we prepare for the April meeting of the National Committee. Let's also think over whether we can hold a mid-term national conference later this year.
Image:  Jon Ossoff, Facebook.

Comments