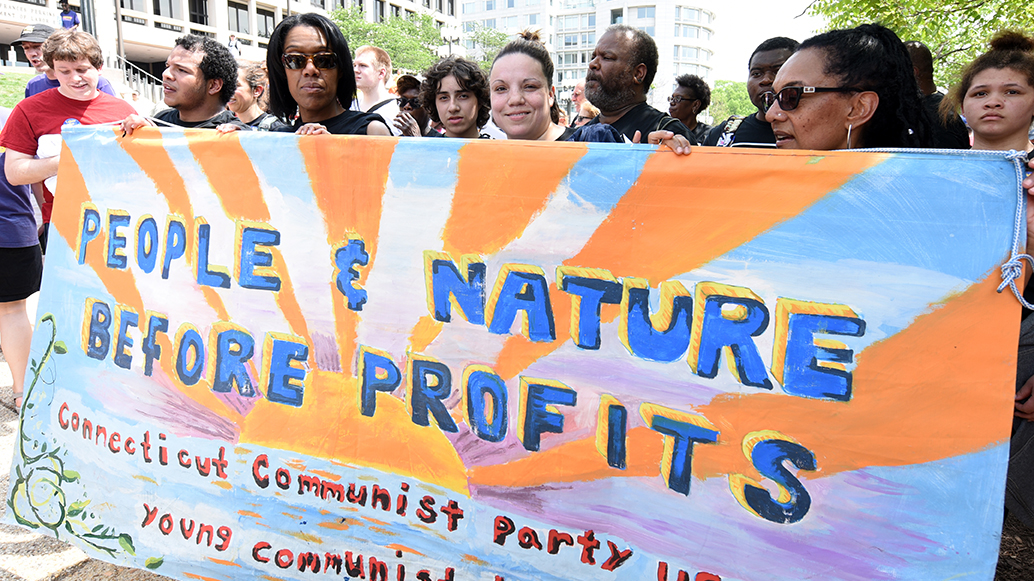 For the last month the Connecticut Communist Party joined with diverse allies and coalition partners in a series of resistance events. Themed "We Won't Go Back. Unity & Solidarity Can Win!" the calendar was geared to build momentum to resist, to defend, or organize and move forward.
Fifty years ago on April 4,1967, Martin Luther King joined together the fight against "the triple evils of racism, consumerism and militarism,"  in his courageous Time to Break Silence speech. He was assassinated exactly one year later in Memphis, Tennessee while supporting striking sanitation workers.
In 2017 all basic democratic rights are threatened by policies that favor the richest 1% over everyone else: healthcare, housing, education, voting rights, civil rights, immigrant rights, workers' rights, racial justice, social justice, climate justice, and peace are at stake.
Communist Party clubs across the state organized members, family and friends to participate in the calendar of marches, rallies and Congressional Recess town hall meetings.
The kickoff was Tuesday, April 4 at a state-wide Resisting Inequality Teach-in at Shiloh Baptist Church in Hartford followed by a vigil in solidarity with workers at a healthcare facility in contract negotiations.
DUE Justice coalition which helped organize the teach-in is also sponsored a Tax Day Rally for Economic Justice on April 18 at the Federal Courthouse in Hartford.  The need to tax the rich to meet people's needs in the federal and state budgets was  highlighted.
A series of events  led up to the  recent Peoples Climate March.  On Earth Day, April 22, club members took part in Science Marches in Hartford and New Haven as well as local town Earth Day events.
Next was Workers Memorial Day, sponsored by the Connecticut AFL CIO on April 28 in Hartford, which incorporated climate change issues.
In the early morning hours of April 29, buses from Connecticut left for Washington DC to participate in the Climate Jobs Justice March.  A delegation from Connecticut met up with the Communist Party contingent in DC and marched to the White House and demanded a sustainable economy with living wage, green jobs and an end to environmental racism.
Those who are unable to make the trip to Washington rallied at the State Capitol at a "Here to Stay" Immigration rally with a large coalition of organizations initiated by SEIU 32 BJ.  This immigrant rights rally was a kick off for May Day weekend.
Immigrant organizations in New Haven and Bridgeport called for "A Day Without Immigrants" and asked that businesses close and workers stay home where possible on May 1st.  Marches closed out the day in each city.
On April 25 Yale graduate teachers began an indefinite fast until the administration begins to negotiation their first contract with Local 33 Unite Here.  Community groups, including the Communist Party clubs in New Haven, have been holding their meetings at the encampment "33 Wall St" and participating in daily actions.  On May Day, we marched with Local 33 from that site to the New Haven Green and joined the May Day march for immigrant rights and workers rights.
To culminate the month of resistance activities, the Connecticut People's World Committee hosted a May Day rally on Sunday May 7, "We Won't Go Back. Unity & Solidarity Can Win!" The event included a slideshow of "May Day Around the World," a panel discussion with workers on the front lines, a homemade buffet, and an invitation to join the Communist Party.
.
Comments