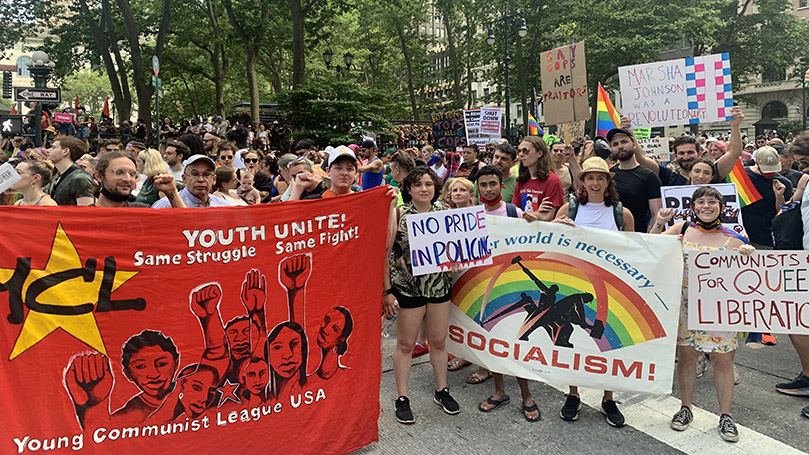 "Communists for Queer Liberation!" and "Remember Harry Hay and Sylvia Rivera!" read the signs of young Communists as they marched down 6th Avenue from Bryant Park to the Stonewall Inn located in the West Village this past Sunday afternoon.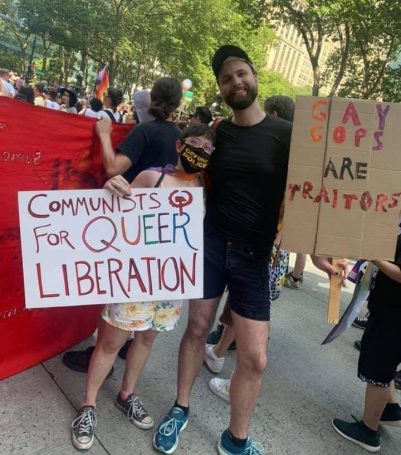 Over the past 20 years, the Communist Party USA and the Young Communist League have changed their stance on the issue of LGBTQ rights. Unfortunately, as a result of the "Lavender Scare" of the 1950s accompanied by McCarthyism, homophobia, and transphobia, the CPUSA did not always hold favorable opinions of its LGBTQ cadre.
This year, the YCL and CPUSA in New York City took to the streets to participate in the annual Queer Liberation March: a militant, left-leaning protest in which cops and corporations are banned from participating.
Our contingent proudly marched with a rainbow banner which read "Socialism" in bold as well as with signs with creative slogans such as, "It's OK to be Gay . . . AND a Communist!" The latter drew the attention of an older lesbian couple passing by. "Can we get a picture?" one woman asked. "You know, it means a lot that you all are here like this," she continued. "When we were in the Party years ago, it wasn't this easy to be open."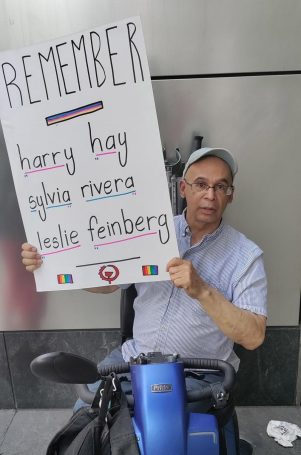 Our contingent also distributed printed copies of the People's World with the headline article celebrating the legacy of gay CPUSA leader Harry Hay. Other articles celebrated the Black and brown transgender-dominated ballroom dance scene.
While mainstream "corporate" Pride took the form of a street fair this year and was cancelled completely last year due to COVID-19 restrictions, the Queer Liberation March was larger than usual, since it was the most active form of celebration in NYC this year. Therefore, while its character is generally much to the "left of center," people from all walks of life showed up to stand in solidarity with the LGBTQ community.
Images: CPUSA
Comments