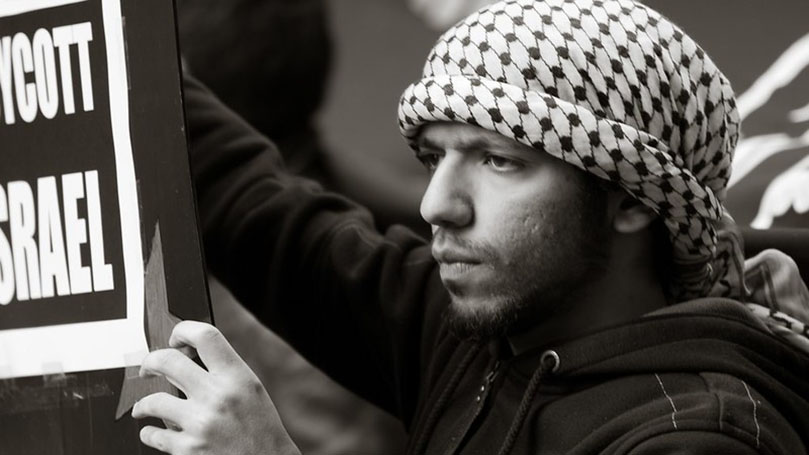 On August 18, while Arab-American activist Linda Sarsour spoke for three minutes at the Muslim delegates' assembly of the National Democratic Convention, Israel continued to carpet bomb the people of Gaza. At that point, the people had only three hours of electricity as the result of attacks on Gaza's only power plant.
In the days following her short talk, came rabid attacks from right-wing media outlets and Republicans painting the Democratic Party as "anti-Semitic" for allowing her a voice. Boris Epshteyn tweeted that she represents the "anti-Semitic" and "hateful" Democratic Party. The Biden campaign's response was to deny any connection to her. They called her opposition to Israel "anti-Semitic" and attacked the international boycott, divestment, and sanctions (BDS) movement that seeks the end of Israel's apartheid regime. They made clear that the Democratic Party opposes Sarsour's positions and that she has no place in their party. This despite her successful work to bring Arab and Muslim voters to the polls in 2018.
As Republicans and Democrats condemned her, Israel continued a 13-day bombing spree in Gaza. Of course, for the past 13 years Israel has blockaded Gaza—cutting it off from the rest of the world and all needed goods and services. As a result, 97% of Gaza's water is contaminated. This in a place where almost half of its people live below the poverty line, more than half are unemployed, and nearly 80% depend on international aid for mere survival.
Arab-American activists are well aware that the Democratic Party has done little to stop the growing anti-Arab hate crimes in the U.S., and little for the Palestinian people against Israeli aggression. Yet, like other progressives they recognize the danger of fascism represented by Trump and the Republican Party. Linda Sarsour has and continues to organize Arab Americans and Muslim Americans to vote for Biden. At the same time, she points out that Biden needs to win Michigan where the large, well-organized Arab community is a serious political force. This community is acutely aware of how attacks on activists like Sarsour are used to inspire and justify violence against Arab and Muslim communities. And it makes organizing more of a challenge when the Democratic Party ungraciously dispenses with an Arab-American leader instead of defending her from attacks by the Republicans.
In response to Biden, organizations including the Arab-American Anti-Discrimination Committee (AADC), Jewish Voice for Peace (JVP), and Council on American-Islamic Relations (CAIR) demanded an apology from the campaign.
Finally, Symone Sanders tweeted for the Biden campaign, "While Joe Biden affirms his support for the US-Israel relationship and opposes BDS, he has said many times that he does not equate criticism of Israeli government policy with anti-Semitism."
This response did not address the attack on Linda Sarsour. And so, groups continue to ask for an apology. To date, no such apology has been issued, leaving this misogynistic, anti-Arab attack on a progressive activist unaddressed by Biden and the Democratic Party.
The progressive movements must insist that the Biden campaign support Arab-American, Middle-Eastern, and Muslim people.
Linda spoke while our nation is reckoning with racism and xenophobia—a reckoning in which we must address anti-Arab racism and the genocidal actions of Israeli apartheid against Arab and Islamic peoples. Demand the Biden campaign apologize. Instead of joining attacks on Arab and Muslim peoples, insist that the Democratic Party will not tolerate such attacks. The progressive movements must insist that the Biden campaign support Arab-American, Middle-Eastern, and Muslim people. And if the campaign will do no such thing, we in the progressive movement must condemn such attacks and support Linda Sarsour.
The cold shoulder given Sarsour is a reflection of both Republicans' and Democrats' poor record on Palestinian sovereignty and their enabling genocide against the people of Palestine.
Current policy negates 70 years of internationally agreed-upon principles for the creation of peace in the region. These agreements require the ending of settlements, the right of return for refugees, the right of Palestinians to their own state, and the resolution of the final status of Jerusalem in some cooperative manner at the end of negotiations. The Obama administration veered away from these agreements in 2015 when it abstained on the issue of settlements on Palestinian land, opening the way for the current devastation in the West Bank. In 2016, the administration crafted a $38 billion, 10-year military aid package, despite international criticism from human rights advocates.
The Trump administration has gone all out for Israel's right-wing prime minister Benjamin Netanyahu. Making prospect for a just peace far less likely, Trump moved the U.S. embassy to East Jerusalem and declared that city the capital of Israel. This led the way for great numbers of Palestinian families to be forcibly removed from their homes in the West Bank, homes now illegally occupied by Israelis. The people of Gaza are being slowly strangled without basic resources needed for survival, and now 13 days of bombing is destroying even more of Gaza's infrastructure. And the threats to annex the West Bank remain.
While Trump must be removed from office on November 3rd, we must pressure Biden to put Jerusalem back on the negotiating table, oppose all settlements on Palestinian land, support the right of Palestinian refugees to return to their land, and support the right of Palestinians to full self-determination and sovereignty.
Image: Richard Ashurst, Creative Commons (BY 2.0).

Comments
Related Party Voices Articles