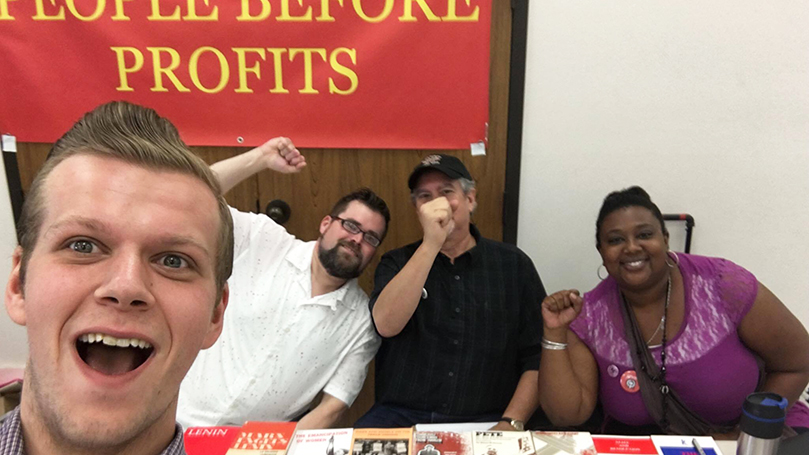 The first Texas district-wide conference was held February 24-51st. This was the first such meeting since 2014 when we held our last convention. Representation was present from clubs in Austin, Dallas Fort Worth and Houston.  We also had participation from two new organizers in East Texas.
The conference spanned two days.
The first day was devoted to classes on:
the theory and practice of Marxism;
the role of the Communist Party and its history in Texas;
a club guide for Texas;
basic recruitment and party building;
skills training; and
the intersectionality of race, class and gender.
We also had a cultural evening.  Alvaro Che played his original song Checkpoints and Borders highlighting the horrors of anti-immigrant racism.  The day was dedicated to a great union and communist organizer in Texas, Emma Tenayuca, leader of the pecan worker's strike in San Antonio back in the 1930's.  The Texas district developed a booklet on Emma Tenayuca based on an article they wrote in The Communist back in 1937 on the  "Mexican Question" in the Southwest by Emma Tenayuca and Homer Brooks.
On the second day, we voted on a new District Committee and District Plan of Work.  Party and club building is the priority in the district. We heard presentations from CP National Member Coordinator Rossana Cambron, a Texas labor leader, an activist with the Poor Peoples Campaign, several candidates, young communists, and club leaders from North Texas, Austin, and Houston.  We also heard from members interested in forming a club in East Texas.
John Bachtell in a recent visit helped us by meeting comrades and supporters in El Paso and we will pursue getting a club going there.
The CPUSA is the most diverse in composition on the left in Texas.  We are well represented by Hispanic members, youth, African Americans, labor, community organizations, etc.  We need to recruit more women. We also want to increase our numbers among African Americans, more labor representation and more political candidates.
Comments
Related Party Voices Articles