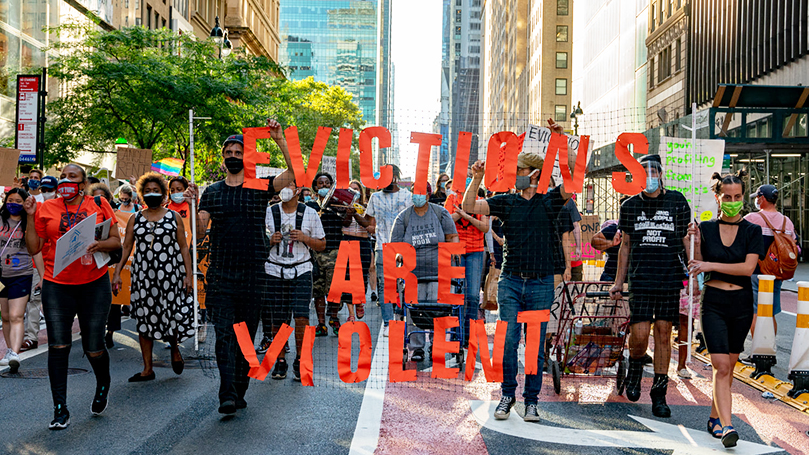 Housing Justice groups from throughout the city came together on March 31 to demand that Governor Cuomo and state legislators pass a state budget that addresses the needs of working-class New Yorkers.
Chants of "Cancel Rent," "Tenant Power," and "Tax the Rich" filled the streets as the protesters marched from Foley Square to Cuomo's and Senate Leader Carl Heastie's offices. Many took part in a sit-in civil disobedience action, blocking traffic and getting arrested while several hundred others sang and chanted in support.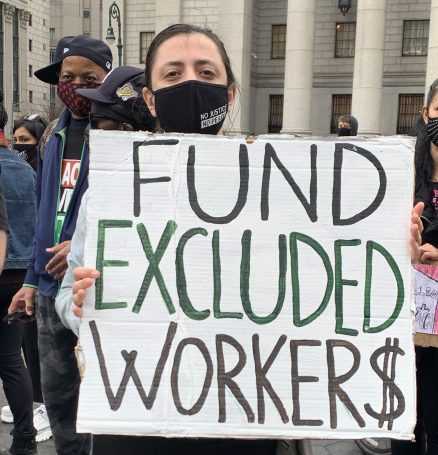 Among the protesters were several immigrant workers who have been excluded from the stimulus aid and rent moratorium.  These essential workers have been on a hunger strike for over two weeks to demand that legislators provide them economic relief funding in the new state budget. They spoke passionately about the contribution they make to the city and state and the injustice they face in the pandemic economy where many have lost income and their families are threatened with evictions.
The state budget was due to be decided on April 1, 2021, and the grassroots social justice movement is calling on the state to allocate billions of dollars in funds by passing six key bills known as the Invest In Our New York legislation that would levy taxes on the wealthiest New Yorkers and transfer at least $7 billion to fund housing, education, and other urgent people's needs.
Images:  Top, Met Council on Housing (Facebook); "Fund Excluded Workers," C. Widom.
Comments