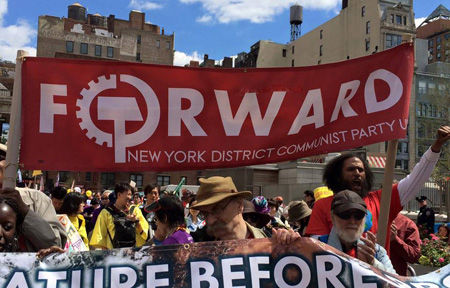 The New York district of the Communist Party  held a series of 4 classes in May and June titled "Marxism for the 99%." The classes were aimed at new members and others interested in a basic introduction to Marxism."Club members invited friends and contacts," said Estevan Nembhard-Bassett, NY CP organizer.  To publicize the event we invited folks on our mailing lists. We also advertised the event on the party's Facebook page letting friends who lived in NY know about the school."
A total of 30 people attended the four week course  equally Communist Party members and interested friends, all of various ages and backgrounds.  Nembhard-Bassett indicated five new people came from the online efforts. Over 30 expressed interest in the school on the Facebook event page. The classes were also streamed online.
Each of the classes was led by a  member of the party's state committee.  Lively discussions were held at each class.  Participants read The Communist Manifesto, The Road to Socialism, Can Capitalism Last? by Danny Rubin, and Introduction to Marx, Engels, Marxism by Lenin. People who attended enjoyed delicious potluck dinners before each class prepared and brought from home by many attendees.
The first class  was taught by Danny Rubin, in which he described how Marxism shows why capitalism  produces poverty, exploitation, racism, reaction and war, and how socialism will lay the basis for ending  these evils and lead to peace, equality, democracy and common prosperity.
Estevan Nembhard taught the second session explainingwhy capitalism always strives for maximum profits at the expense of the working class and results in class struggle. He explained the theory of surplus value and historical materialism.
Tina Nannarone taught the third class on Marxist Sstrategy and tactics.  The group discussed examples of strategies that were successful and strategies that failed.  Students discussed what analysis is necessary to plan successful strategies.   Nannarone discussed Marxist methodology and why its use is  necessary to achieve socialism.
The final class was taught by Jarvis Tyner with the title "To Win Socialism."  He examined what it will take to achieve socialism, what role the labor movement must play and why a strong democratic movement led by the working class is needed.
More classes will be held in the future.  Interest was expressed in classes on the topics:  Why socialism answers the needs of the 99%; Do we need a mass Communist Party to get to socialism; Marxism as a guide to win full equality and defeat racism;  Marxism as a guide to build labor and the fight for jobs and higher wages; What does Marxism mean for women's rights and others. Stay tuned!
Comments