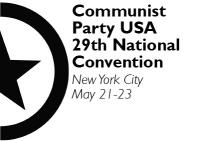 We would like to congratulate you on your preparations for holding your 29th convention and wish you the best of luck in achieving the objectives of your convention. The theme of your convention "A call for united action to create jobs, end foreclosures, hunger, poverty, racism and war" is as important today as it was in 1929.
Once again we see an international crisis in capitalism motivated by the capitalists' greed and their never-ending lust for power and profit. And once again, we see them calling for the workers and the poor to bear the full burden of the crisis.
These trends in capitalism can only be effectively resisted and defeated once the workers and the poor of the work unite in an organised fashion to enable themselves to standup to the united front of the capitalist bourgeoisie. Such a humane show of unity and solidarity is imperative today, against the background of the rise of fascist movement in Europe, and the USA, blaming the ills of the capitalist system on foreign powers and foreign labor.
It is against this background that we write to you, to express our solidarity and the solidarity of the ordinary Lebanese people (the working class, the employed, the unemployed and the poor) with the struggle of the American people for a fairer society which will put an end once and for all for poverty, hunger racism, war and exploitation.
In response to your rallying call, and to the theme of your convention, we stand in solidarity with you, and we say to all workers of the world, out loud: YES WE CAN AND YES WE EVENTUALLY WILL!!
Comradly Salutes and Greetings,
Dr Marie NASSIF- DEBS
International Affairs Secretary
Vice General Secretary
Lebanese Communist Party
Comments