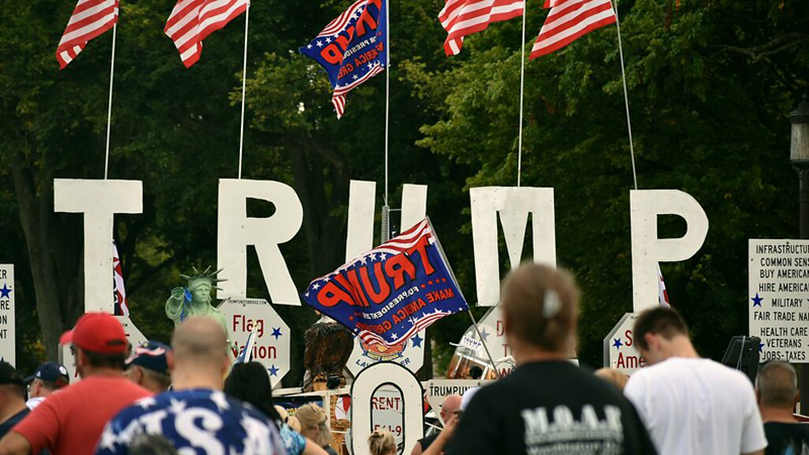 The fight against the fascist threat cultivated and promoted by Donald Trump is not over. During the weekend of November 14, the most reactionary elements of the extreme right made their way into Washington, D.C., for the so-called Million MAGA March to demand an overturn of the election results and to keep Trump in the White House for another four years. Mayor Muriel Bowser's citywide mask mandate and quarantine order — for visitors from areas outside the city where the COVID-19 caseload is high — did not seem apply to fascists and supporters of Trump.
These maskless white supremacists converged on Black Lives Matter Plaza and immediately tore down the murals and signs on the fencing surrounding the White House. These signs portrayed victims of police violence and racial terror, and slogans from the anti-police rebellions that took place over the summer. During this desecration, the D.C. police protected these fascists and prevented the counter-protesters from stopping them. Later on, these same forces tore down the Black Lives Matter mural on the AFL-CIO building. It is a damn disgrace that the police did not stop the vandalism by these folks invited in by Trump and his forces. We demand investigations into the failure of the D.C. Metropolitan Police Department to contain these fascists. We also reject the false equivalency between the rebellions on behalf of Black lives and extreme-right terrorist groups.
Trump also drove his motorcade through the crowd and sent supporting tweets out to his followers who were and are continuing to terrorize D.C. residents. Proud Boys, QAnon conspiracy theorists, America First-ers, and other fascist groups joined the fray as counter-protesters began to fight back. Later in the evening, violent confrontations took place where fascists began beating and stabbing anti-fascists in the streets. Andy Ngo, known as a fascist grifter from his antics in Portland, OR, posted edited video clips online blaming "BLM-Antifa" for violence against Trump supporters and so-called peaceful protestors.
We know from the history of our Party that anti-communism and racism are monopoly's twin weapons to destroy our movements.
Just a week earlier, those who voted against Trump celebrated in the streets of downtown D.C. by popping champagne corks and dancing as Biden and Harris were declared the victors in the election for presidency. Shouldn't the anti-Trump movement have planned an even broader and larger demonstration to defend democracy and the vote? Let's make no mistake — Trump is trying to strip the vote from Black voters in Detroit, Philadelphia, and Atlanta.
Organizations and individuals who don't want fascists taking over D.C. are actually physically fighting against fascism in the streets. We cannot go into a honeymoon period just because Republicans are out of the White House.
Anti-fascists have the right to defend themselves, their friends, and families from far-right violence and terror in D.C., and we stand in solidarity with them. This open terrorism has an eerie resemblance to the massive Ku Klux Klan rallies that happened in the 1920s in D.C. and the American Nazi Party rallies that happened at Madison Square Garden in New York in the 1930s. We must continue fighting these forces, even with Trump being defeated at the polls, and continue our struggles with the coalitions we built in our all-people's front against fascism.
It is beyond a disgrace for the lack of response to the violence that falls upon D.C. residents, especially from the police, corporate developers, and Trumpian fascist forces. Everyone responsible at the local and federal levels for not averting violence that descended upon the District this past weekend should be called to account. We demand actual accountability from our representatives in office.
We demand the following from the D.C. council members and Mayor Bowser:
Commit to your mask and quarantine mandates by fining those who descended on D.C. without masks and quarantining and also charge them with terrorism for knowingly putting D.C. residents at risk amidst the COVID-19 pandemic.
Provide free medical assistance to the organizers who were beaten and stabbed by Proud Boy fascists in D.C. on November 14.
Fire Metro Police Department Chief Newsham for continually failing to protect D.C. residents in the face of fascist terrorism.
Reverse your decision in giving more funds to the Metropolitan Police Department. Instead use these funds to promote public safety measures in consultation with the community (i.e., establishing a civilian police control board).
Reject fascist hate groups and protect your most vulnerable residents from fascist violence.
Want to join the fight against the extreme right? Join our Party today: cpusa.org/join; contact us at dccp@cpusa.org
Statement by DC Metro Club CPUSA.
Image:  kelly bell photography (CC BY 2.0).
Comments