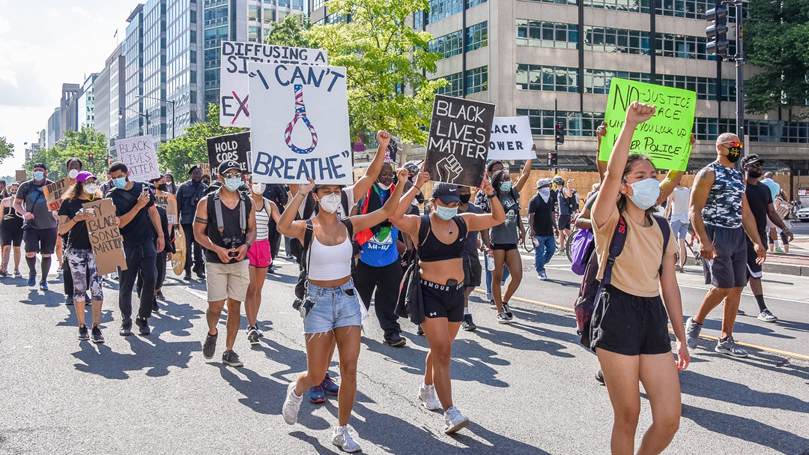 On Tuesday, July 11, the D.C. Council passed an emergency crime bill by a vote of 12-1. Ward 4 Councilmember Janeese Lewis George was the only person to oppose the bill. This "emergency" bill, sponsored by Ward 2 Councilmember Brooke Pinto, is a pared-down version of the public safety bill proposed earlier this year by Mayor Bowser.
The new policies enacted by the emergency crime bill will disproportionately harm our most disenfranchised community members. The provisions will exacerbate mass incarceration: courts can now more easily keep defendants in pre-trial detention, imprisoning them before even being convicted of a crime.
Many D.C. justice organizations, including the D.C. Justice Lab, recognize the harm and racism inherent in these provisions and oppose this bill. Organizations that do not protect our safety or interests, such as the fascist-led Fraternal Order of Police, support the bill. The D.C. FOP also led the charge in lobbying Congress to overturn our revised criminal code, which would have updated our 100-year-old laws and made the public safer.
This time last year, about 60% of D.C. Department of Corrections inmates were people held in pretrial detention. Over 90% of the inmates were Black, and over 40% were young. Black youth in D.C. are already facing racist policing and wildly disproportionate incarceration rates — this bill worsens that. Black D.C. youth deserve access to their futures instead of facing the threat of incarceration without conviction.
Additionally, police now have increased license to pursue suspects via vehicle. Until now, D.C. had a no-pursuit policy. Allowing car chases gives police further leeway to profile city residents.
We cannot allow increased police power in our communities, and yet D.C. politicians are already calling for even more policing. On Tuesday, Ward 8 Councilmember Trayon White said it is "time to call on the National Guard."
Crime and violence hurt our communities, but "tough-on-crime" policies are not the appropriate response. They have been proven time and time again to cause lasting damage and worsen systemic inequalities.
As this is an emergency bill, it is only in effect for 90 days. However, the D.C. Council can make the provisions of this bill permanent after those 90 days have passed. We have limited time to act and ensure the policies do not become our new and permanent reality.
What can you do? Contact your Ward Councilmember to let them know this is unacceptable. Support and join local organizations fighting against police crimes and racism like the D.C. Alliance Against Racist & Political Repression or Harriet's Wildest Dreams, and mutual aid organizations serving the community, particularly Black youth, such as Serve Your City D.C. / Ward 6 Mutual Aid. True public safety does not require policing solutions. It requires tackling the roots of the issue, which must include poverty alleviation programs, a jobs guarantee, priority funding for recreational and community programs for youth, free healthcare and education, expansion of rent control and enacting social housing programs, and more control over our governing — which ultimately requires D.C. Statehood.
The D.C. Young Communist League condemns this bill in the strongest possible terms, as it targets our youth in the district. We as D.C. residents need to make it clear to our elected officials that we will not stand for the provisions of this bill becoming permanent and will fight with our community partners against the failed tough-on-crime policies that have plagued our communities for far too long.
Image: 2020 Black Lives Matter rally in Washington, DC by Israel Izzy Carunungan (Facebook)
Comments