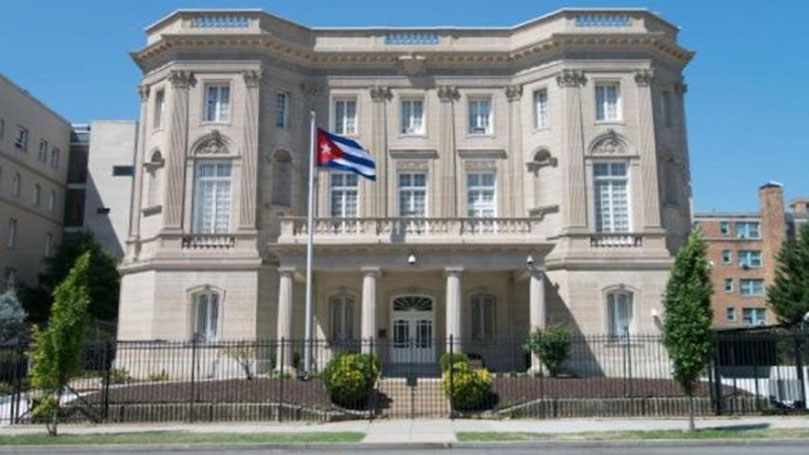 We call on Muriel Bowser, mayor of Washington, DC, to act immediately to conduct a thorough investigation into the shooting that took place at the Cuban Embassy in Washington, D.C., on the morning of April 30, 2020, and provide additional security to the premises.
An armed, right-wing terrorist attack took place during a city-wide stay-at-home order amidst the COVID-19 pandemic and led to approximately thirty bullet holes entering the embassy, causing material damage. Luckily, according to reports by the Cuban Foreign Ministry, there were no injuries to the twelve personnel that were in the embassy at the time of the shooting.
Miguel Díaz-Canel Bermúdez, current Cuban President, tweeted out a condemnation of this aggression, further saying that "It is an obligation of the States to adopt all the appropriate measures to protect the premises of an accredited diplomatic mission in their country."
It has been reported that Alexander Alazo, of Texas, was armed with an AK-47 assault rifle and has been taken into custody by local police and U.S. Secret Service. We are calling on you to further the investigation into this shooting to see if there are any extreme-right groups planning further attacks on our comrades from Cuba and other socialist countries.
The District of Columbia club of the Communist Party, USA, condemns the actions that were taken by this right-wing extremist, and we demand the following:
Full investigation into the shooter's motives for the aggression and full cooperation with Cuban authorities.
Take appropriate measures to protect embassy diplomats and the premises for which they house themselves while on missions.
Condemnation of the aggression and provide further protection of other Latin American embassies that have high risk of right-wing extremist attacks including Venezuela and Nicaragua.
Determine if this incident is part of a larger right-wing plot to promote violent acts against innocent people in D.C.
Condemn the U.S. government's anti-communist aggression against socialist Cuba, Venezuela and Nicaragua which has led to deaths of innocent people in these countries due to the extreme economic hardship.
Sign on with the other major U.S. cities to end the criminal U.S. blockade on socialist Cuba.
Develop dialogue with Cuban officials to receive medical supplies to help fight COVID-19.
Condemn the U.S. government and other local governments for providing a safe-haven for right-wing terrorists that are backed by corrupt corporations with imperialist interests in other Latin American countries.
The above was sent as a letter to Mayor Bowser on May 1, 2020.
Image: Telesur.
Comments