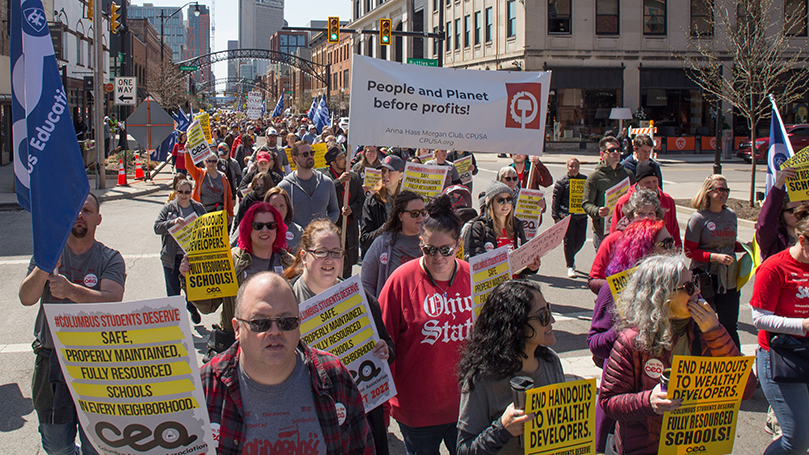 On April 20 the Anna Hass Morgan Club of the CPUSA marched in solidarity with the teachers, staff, and other educators of the Columbus Education Association (CEA) in their struggle against the Columbus city government and local real estate interests, demanding just and equitable funding of the city's public school system. With chants of "Keep our students safe and healthy, no more tax breaks for the wealthy" and "Developers get handouts, kids get sold out!" a crowd of hundreds led by teachers and CEA staff marched through an upscale retail district of downtown Columbus to deliver letters opposing tax abatements and demanding just funding of the public school system to the offices of the Pizzuti Companies, Thrive Companies, and Kaufman Development, all local real estate developers.  Participants in the demonstration, which was closely monitored by city police, were met with enthusiastic support by workers at local restaurants and construction sites lining the march route.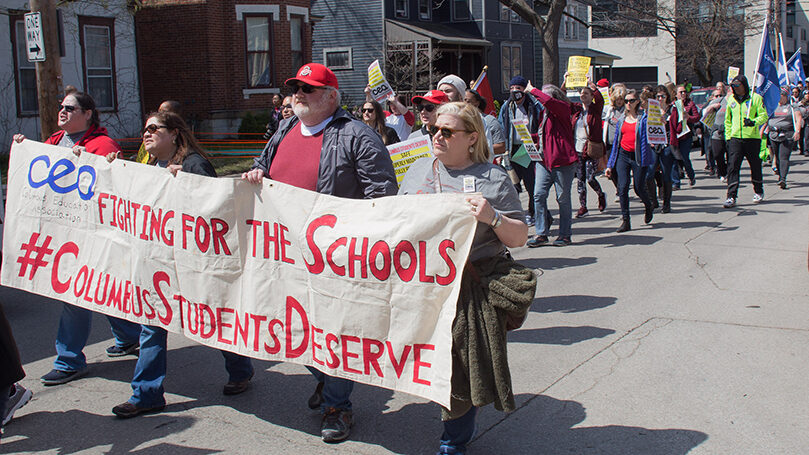 The Franklin County Auditor recently reported that Columbus City Schools lost more than $51 million in funding in 2021 alone as a result of a vast program of tax abatements ostensibly meant to encourage real estate development in the city. This comes at a difficult moment for Columbus City Schools, which face the ongoing challenges of the COVID-19 pandemic, and were recently served with an $11 million fine by the Ohio Department of Transportation for failing to deliver adequate transportation for students. Left unanswered by the city and state government is the question of how the $11 million fines will assist the deeply underfunded city schools in providing adequate transportation for over 46,000 students across 112 schools.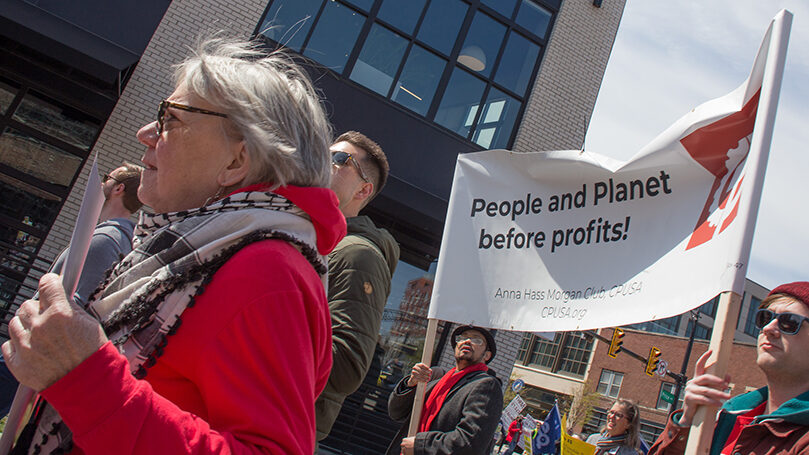 During the demonstration Columbus Mayor Andrew Ginther issued a tweet defending the program of tax abatements on the basis that they encourage job creation and appeared to contradict the County Auditor's reports by claiming that tax abatements do not result in loss of school funding. Left unsaid but clear to all in attendance at the demonstration was the Mayor's preference for local real estate interests at the expense of teachers, students, and workers across the city. The CEA will continue to pursue its struggle for just funding of the public school system and CPUSA will stand in unwavering solidarity with these efforts.
Images: Anna Hass Morgan Club, CPUSA.

Comments