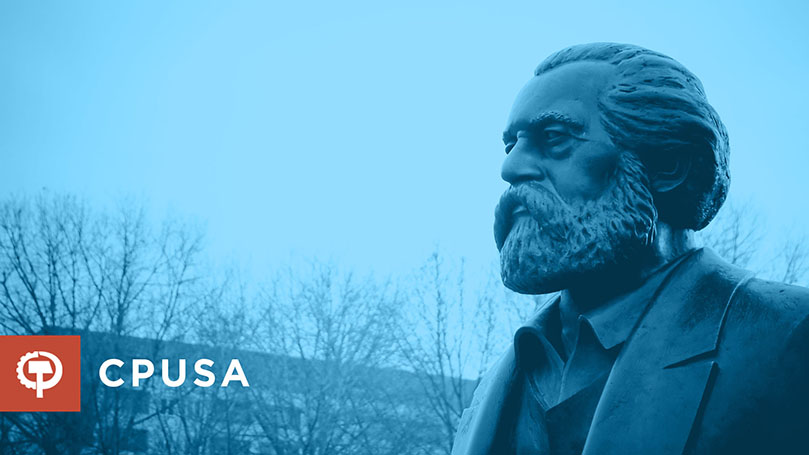 Recently I traveled for the first time in my life to the People's Republic of China. I went to participate in a remarkable conference, the Fourth International Conference on Marxism and Socialism in the 21st Century held on November 15–17 and sponsored by the World Socialism Research Center (CASS) and the School of Marxism of Wuhan University. The World Socialism Research Center studies the development of socialist thought, movements, and parties throughout the world. There are many schools of Marxism in Chinese universities like the school at Wuhan, which seeks to develop Marxist learning and understanding in the interests of both students and teachers and society as a whole. I wish to thank especially Professor Yu Weihai, whom I sponsored and worked with this year at Rutgers University, and Professor Cao Yaxiong of the School of Marxism, Wuhan University, who were responsible for my participation in this important conference.
Wuhan is a large industrial city of 10 million people, larger than any U.S. city. It reminded me a bit of Chicago, and a few Americans I met there from Chicago agreed, even though there were no homeless people on the streets or neighborhoods where people feared to go as there are today in most cities in capitalist countries.
The people were friendly and helpful, even though I spoke no Chinese, and outside the conference I found few people who spoke any English. People were generally dressed casually, including a few I saw wearing U.S. T-shirts and even one with a New York Yankee cap. As a lifelong Dodger fan, going back to 1951 at the age of seven when the Korean War was raging, I wished I could have told him that I believed in peaceful coexistence between the U.S. and the PRC and even between Dodger and Yankee fans.
This was a conference to remember. While the majority of participants were from the PRC, some of the participants had studied and/or taught at universities abroad. There were Marxist scholars from Greece, Britain, Vietnam, Spain, Russia, Brazil, and other countries, and their wide-ranging areas of interest included philosophy, economics, educational theory, ancient history, political science, anthropology, and other subjects.
We used headphones which sometimes malfunctioned (when they did there were always people around to help fix them quickly) to hear the presentations in English when they were in Chinese and vice versa. The theme of the conference emphasized Xi's leadership in continuing and enhancing what China calls the development of a socialist market economy with Chinese characteristics and the role of Marxist scholarship, learning, and education in developing a peaceful "shared future for humanity."
Many of the presentations were fascinating, including "China's New Paradigm of Democracy," which focused on the role of CPC leadership in developing China's new direction toward the building of a socialist society with Chinese characteristics. Li Shenming, former vice president of the Chinese Academy of Social Sciences, dealt with a global question in his presentation, "Understanding the Scientific Connotation of Building a Community with a Shared Future for Mankind." Professors from the School of Marxism at Wuhan University and other universities dealt with questions ranging from classic Marxist philosophy such as "Difference between Marx and La Salle—Based on an Analysis of the Critique of the Gotha Programme" (Yang Simai) to more current concerns such as "China's Road: Its Process, Essence, and Characteristics" (Luo Yuting).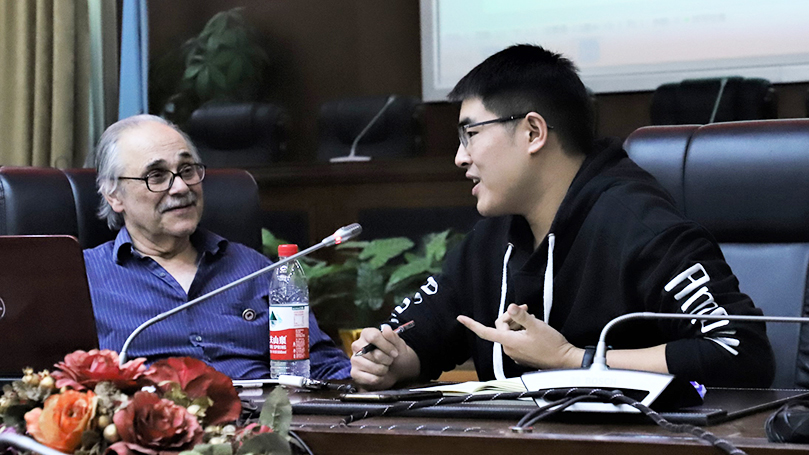 Image: Markowitz with graduate student at the School of Marxism.

There were also constructive criticisms of China's past failures and the importance of learning from those failures. These presentations included "Some Problems in Upholding and Improving CPC's Leadership System" (Ding Junping), "Rural Revitalization Strategy: General Requirements and CPC's Original Intention and Mission" (Liu Mingsong), and "Analysis of Organizing Power of Grassroots Party Organizations in Rural Areas in the New Era" (Zhu Fengming).
Other presentations from Chinese scholars dealt with the CPC's struggle to establish over 70 years a society in which the people are the masters, the role of Communists and CPC leadership in developing a critique of imperialist culture, the integrity and centrality of Marxism in the 21st century to both understanding and transforming society, and the transformation over time of a movement for socialism into a system of socialism.
This was very different from most academic conferences that I have attended in that the emphasis was on relating theory to real life; using critical analysis as a constructive tool rather than a weapon of attack; and using learning and education as a force to serve the entire society—a stark contrast to the standard boasting in U.S. universities about "world class research" in the service of corporations and the assembly-line approaches to teaching in order to credential obedient workers.
Presentations by the scholars from abroad focused on many questions concerning Chinese development as opposed to what is happening in major capitalist countries. These included a talk on the role of spirit in Chinese philosophy by Martin Albrew (member of the British Academy); "Marxist Activist Education against Neo Liberal/Neo Conservative? Neo Fascist Capitalism" by Dave Hill, a long-time scholar-activist (Anglia Ruskin University); "The Political Economy of Liberalism" by Afredo Saad Philho (Brazilian Marxist social scientist teaching at King's College, England); and "Marxist Analysis of the Commodification Processes in Education" by Juan Fernando (University of Leon, Spain).

Although some of the talks by foreign scholars focused on Chinese themes, for example, Professor Maria Nikolakaki's (Greece) "Connecting Ancient Civilizations through Education in the 21st Century: Greece's Participation in China's Belt and Road Initiative and Its Cultural and Educational Exchanges," most scholars from capitalist countries used Marxist analysis to show the continued destructive effects of capitalist policy on both the physical environment and the education and social welfare of the people throughout the capitalist world. My own presentation dealt with capitalist responses to China's new direction, and I also gave two presentations to undergraduate and graduate students: "The Recycling of Cold War Ideology toward the Peoples Republic of China" at the Central Wuhan Normal School, and "The American Way of Imperialism" at the School of Marxism of Wuhan University; both led to interesting questions and lively discussions.
When I returned and told one colleague, a woman of very progressive views, about my experience, she smiled and said that China "was not a communist Country." When I asked her what a communist country was, she pretty much said the Soviet Union. When I asked her if she was sympathetic to the Soviet model of socialism, she said no. Then I sought to convince her of the illogic of a position that defines "communism" in terms of one model and at the same time rejects that model while seeing that model as the only real one.
Today we see serious attempts to revive the bipartisan cold war consensus against the PRC at a time when such policies can only lead to devastating economic crises and possible war. A revived cold war against the PRC using as its model the cold war against the USSR would certainly have negative consequences for the PRC in its attempt to develop socialism with Chinese characteristics. However, the place of the PRC in the world economy and the fact that the U.S. (which controlled 80 percent of the investment capital of the capitalist world when the first cold war began) is today by far the world's leading debtor nation suggest that such a cold war would be catastrophic for the U.S. It would lead to huge increases in the flight of productive capital and jobs from the U.S., both relative and extreme poverty in the U.S., and the collapse of the remaining safeguards in the banking system, labor law, social welfare, and environmental protections.
As the People's Republic of China seeks greater engagement with communist parties and socialist and anti-imperialist movements, we should welcome those engagements and build upon them as we work for a shared socialist future for humanity.
Comments
Related Party Voices Articles