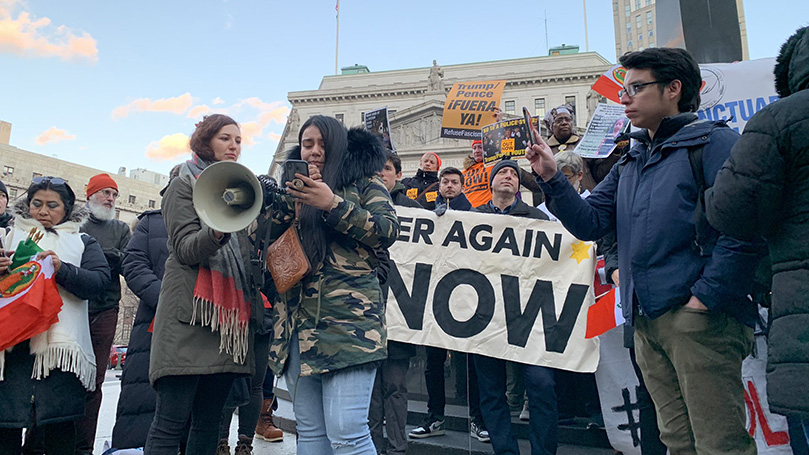 Brooklyn Club Protests ICE

Recently, members of the Brooklyn Club attended a rally protesting recent actions of ICE, after an ICE agent shot a man in the face in Gravesend, Brooklyn. The event was organized by the New Sanctuary Coalition, family members of other immigrants being held by ICE, Young Progressives of America, Mixteca Organization, Sunset Part ICE watch, Sunset Park Latino Democrats, the Chinese-American Planning Council, Jews for Racial and Economic Justice, the Black Lives Matter movement, Doctors for Camp Closure, and other community groups, as well as various elected officials in the New York City Council and New York State Senate and Assembly.
The groups called on Governor Cuomo and the New York State legislature to pass the Liberty Act, for the State and New York General Attorney Tish James to investigate and prosecute the acting ICE agent who shot Eric, to stop all deportations, and to abolish ICE.
Activist Genesis Aquino said that just as the US corporations make money off people's bodies through the prison-industrial complex and immigrant-industrial complex, corporations like Domino Sugar force people to leave their home countries for the US by strangling out the producers operating there. "And then we come here, we are treated as if we are coming here to steal," she added.
Members of the Brooklyn Club reminded those in attendance that ICE, as part of the Department of Homeland Security, was put into place by the G. W. Bush administration in the lead-up to the Iraq War and so-called war on terrorism. Originally targeting Muslim-Americans and immigrants from the Middle East, ICE is now terrorizing all immigrant communities of color. The Brooklyn Club said that the action represented a part of the peace movement, and that a much broader peace movement is needed to end the assaults on immigrants coming from countries being targeted by U.S. imperialism.
People's World NY provided a livestream of the rally.
Brooklyn Club Marches with Workers Demanding Sick Time

On Friday, March 6th, members of the Brooklyn Club marched on the picket line with Chipotle workers demanding sick days to protect themselves and the public at the outset of the COVID-19 outbreak in NYC.
"Make it fast; make it quick! Cutting corners makes us sick!" workers and allies chanted on the picket line. They appealed to the general public with another one: "If we works it, you will gets it!"
Chipotle workers from 11 NYC stores have filed complaints saying they were told to work while sick or were retaliated against for taking sick time. One worker with the flu was told he had to work while sick.
The action occurred in the context of the #ServingUpJustice campaign, in which Chipotle workers, McDonald's workers, and other fast-food workers are fighting to hold their employers accountable to the Sick Day and Fair Workweek Laws, and for the right to unionize. The campaign is being led by 32BJ SEIU, and has released a report on how Chipotle management practices lead to worker abuses and represent food safety risks for consumers.
Following the picket line and a small rally featuring addresses by workers, union leaders, and elected officials, CPUSA Brooklyn Club members handed out printed copies of the People's World article Workers: Dignity and Respect Missing from Chipotle Menu in New York to workers and allies as they dispersed.
People's World NY provided a livestream of the picket line and part of the rally.
Colorado May Day Club Supports Airport Workers

On Friday, March 6, several comrades in the Colorado May Day Club formed part of a community delegation at Denver International Airport to protest appalling mistreatment suffered by workers at the Starbucks franchisee HMSHost at the airport. We were joined by representatives from Unite Here Local 23, SEIU Local 105, the Denver Area Labor Federation, the AFL-CIO's Pride At Work, Colorado Wins, and other groups in a failed attempt to present local HMSHost's management with a letter listing some of the most serious problems. HMSHost refused to see us or to respond in any way.
Denver International Airport is landlord to all franchisees who operate there. The airport is owned by the city, and all members of Denver's City Council but one have appealed for fair treatment of franchisee workers at the airport. Because of this the delegation proceeded to the airport's management to make them aware of the bad treatment HMSHost is inflicting on its workers. Again, we were turned away, being told that neither the airport CEO nor any of the four vice presidents were in the building. The letter we had brought, signed by all members of the delegation, was also refused. Thus a decision was made to ramp up this new campaign supporting workers at HMSHost Starbucks soon.
Immediately following this action, the same delegation joined a second airport event—already in progress—supporting union representation for 600 Denver kitchen workers at United Airlines catering services. Denver is one of only six U.S. cities with large kitchens that prepare food for all United Airlines passengers as well as those of a few other airlines. Comrades will return to the airport again on Friday, March 13, to join United Here Local 23 again in continuing our support for the United Airlines kitchen workers.
Image: A young woman addresses the rally at Foley Square, speaking on the case of her father who is being held by ICE; Chinese-American Planning Council.
Comments