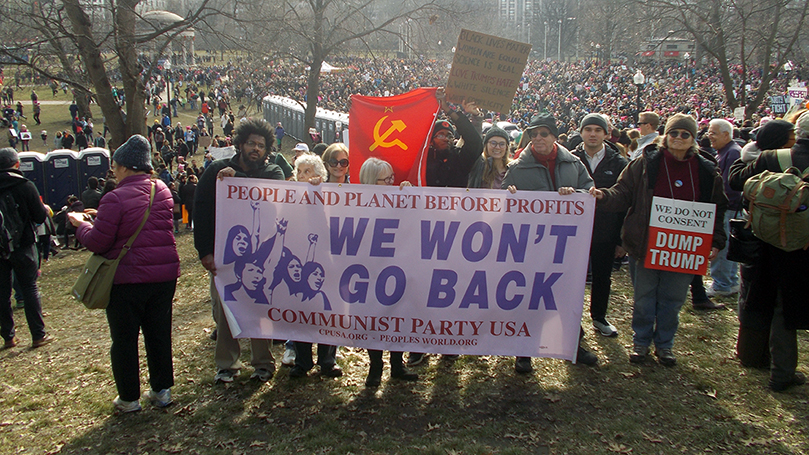 The CPUSA Boston, Massachusetts club aims to address the needs and struggles of the city's working class.  We are fighting on behalf of labor by organizing a May Day labor conference at the IUE IUE-CWA Local 201 in Lynn, Massachusetts. Our working date is set for May 5, 2018. The club is preparing to work with the Committee for International Labor Defense in cooperation with the Metrowest Worker Center, demanding that Massachusetts Attorney General Maura Healey enforce the law in protecting employees from exploitative tactics by companies such as Uber.
With the coming 2018 and 2020 elections, the Boston club has placed a great deal of energy into the arena of health care, elder care service, and Raise Up Massachusetts (examples: Fight for $15, Paid Family Leave, Fair Share Amendment). A committee within the club has been tasked with addressing the aforementioned points, while we are currently deciding whom to endorse and campaign for as the next governor of Massachusetts.
A club comrade has engaged himself deeply into the struggle for immigrant rights, by leading the Boston May Day Coalition. Due to this work and the full backing of the Boston club, people throughout the state have responded to their call for actions on behalf of migrant rights.
Because the club is fortunate enough to be housed at the Center for Marxist Education, we continue to hold events in the form of book talks, films, round-table discussions, and lectures. Holding these events is part of our visibility and aids in recruiting new members, as we seek to add two new clubs in the near future. Furthermore, as part of our visibility, a few comrades from the club will be sitting on panels, leading workshops, and hosting a club table for informational purposes at the March 17th 2018 Boston Socialist Unity Project conference.
Lastly, we are excited to host a comrade from the New York district who will discuss his work in the YCL, as we ponder further developing this avenue here in Massachusetts. We have some hard working comrades seeking to advance the plight of working-class people. While we face our share of challenges, there is a sense of optimism here in Massachusetts.
Comments
Related Party Voices Articles