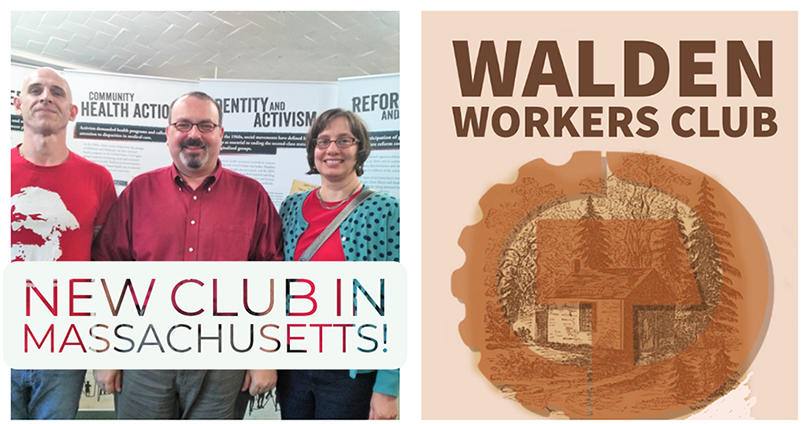 CLINTON, Mass. – Walden Workers Club is a new collective of the CPUSA in central Massachusetts. Members have organized from within the CPUSA-Boston Club and plan to work closely with Boston to build the Communist Party of Massachusetts. The club provides opportunities to improve ourselves and our community through educational programs and community-based action.
Walden Workers Club has a core group of three organizers (photo). We are building awareness of the CPUSA and working on issues that will bring us together with other working class people in one of America's oldest industrial areas, located between Worcester and Concord, Massachusetts. Two of our core organizers are union members and one is an industrial worker.
The club took its name from nearby Walden Pond, the home of one of the founders of the US environmental movement, H.D. Thoreau, a local abolitionist, war-resister and author of "Walden" and "Civil Disobedience." Thoreau's cabin on Walden Pond is depicted with the CPUSA hammer and sickle/gear in our club's logo.
We are beginning to hold educational programs to build our own class-consciousness and to reach out to working people across our area. Along with the CPUSA-Boston Club, we are planning to work with the Latinx community in the Clinton, Framingham and Worcester area to protect immigrant workers and their families. Club members have also been working on the union-backed Raise Up Massachusetts campaign. This state-wide effort includes the Fight for $15 to raise our minimum wage, support for Paid Family Leave Act and the Fair Share Amendment to our state's constitution which will invest in quality public schools, affordable higher education, and a reliable transportation system by creating an additional tax of four percentage points on annual income above one million dollars.
Our club is also working with the Committee for International Labor Defense in the struggles of working people to defend their unions and independent political organizations, as well as raising awareness and support for working class political prisoners here and around the world.
We may be small, but together we want to create a cooperative economy and a socialist society whose priority is to meet human and ecological needs, and not the toxic desires of profiteers, billionaires and warmongers! To learn more about the club and its activities, please "like" us on Facebook at  follow us on Twitter and visit our website.
Comments