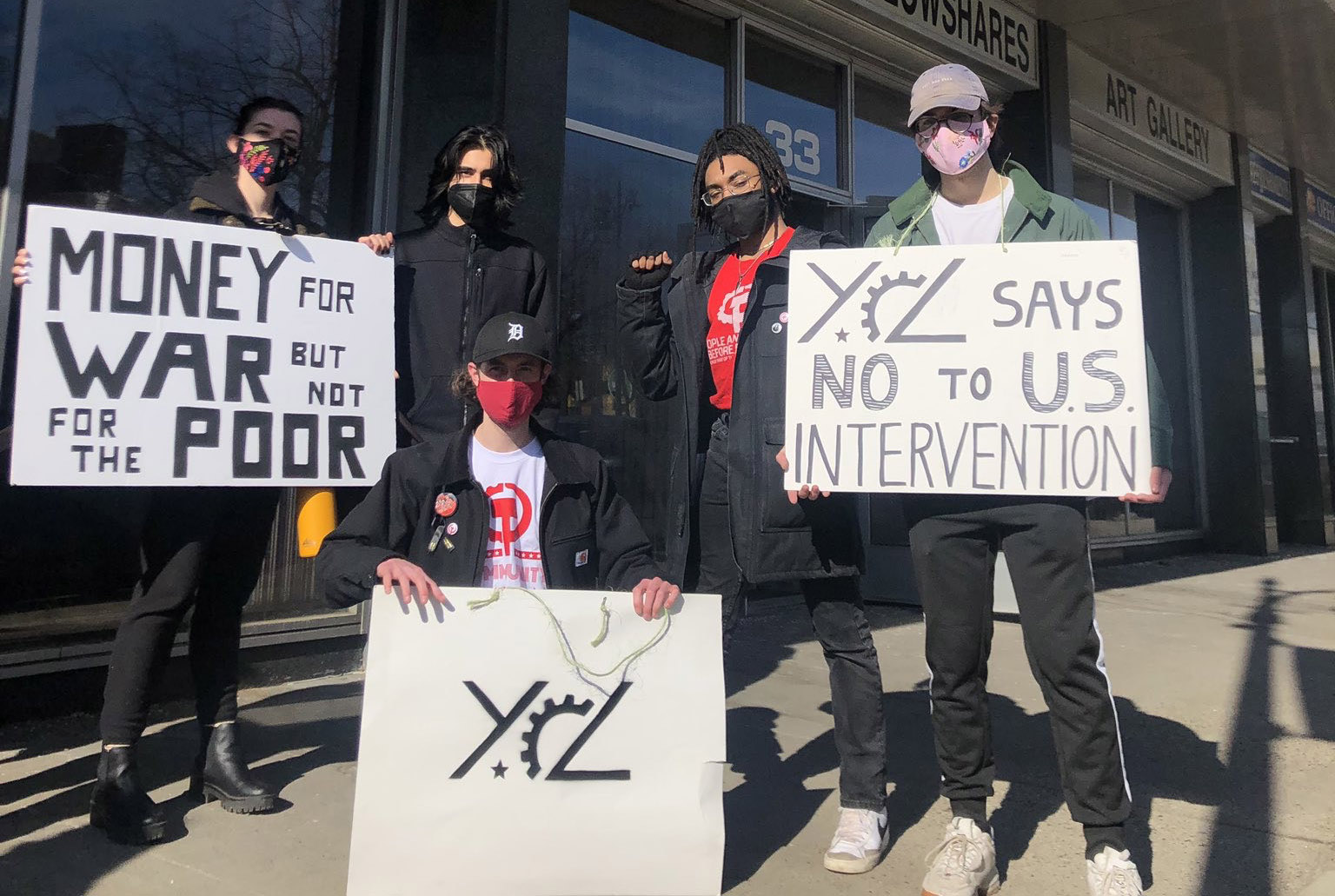 The Young Communist League at Wayne State University, in coordination with the Michigan District of the CPUSA, participated in a weekend of struggle. They helped organize two anti-war activities and participated in an annual commemoration of the Ford Hunger March.
The YCL, in response to the Russian invasion of Ukraine, initiated a meeting of a variety of peace groups, political organizations, and community representatives. Representatives came together to discuss the causes of this war and the role that Detroit activists could play in advocating for peace. Following the meeting, the coalition came to a consensus: we were to advocate for an immediate ceasefire and diplomatic negotiations between Russia and Ukraine, and end to NATO expansion, and prioritization of humanitarian aid over military aid to Ukraine. Other topics discussed were the need to accept all refugees (no matter where they come from — Ukraine or elsewhere) and the transformation of military funding into social funding.
Peace and justice activists will follow up this meeting by sending delegations to Michigan's senators to voice our demands and concerns. Also being considered is a forum in the African American community to discuss the war and the impact of U.S. militarization.
On March 6, YCL and Party members also attended the Global Day of Action against the war in Ukraine. Protestors called for an end to war, NATO expansionism, militarism, and imperialism. Spencer, a member of the Communist Party and the YCL, spoke passionately on the causes of the war, its costs to the Detroit community, and how the United States could help bring about peace. The speech was well received from protestors, with all-around applause.
The day before, on March 5, the members of the Detroit and Metro Detroit Clubs and the Wayne State YCL joined the annual commemoration of the Ford Hunger March, organized by Local 600 of the United Auto Workers. The march celebrates the five lives lost during a worker protest on March 7, 1932. Of the lives taken by police violence, at least two were members of the YCL. The UAW president spoke on the history of the Hunger March while noting that many of the marchers' demands regarding racism and poverty are still relevant to workers today. The Communist Party's role in developing the union was discussed by a historian.
This was a great weekend of struggle for the Michigan District of the CPUSA and the YCL. Our broadening ties with community organizations and unions strengthens our ability to work amongst the masses. We hope to play an integral role in developing the broader party and the struggle for socialism.
Image: WSU YCL.

Comments