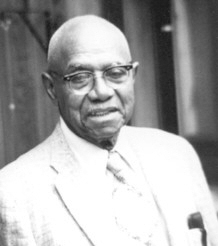 Black History Month Special
Part of a series on African American communists in US history.
Hosea Hudson was born in Wilkes County, Georgia. He worked as a sharecropper in what was then known as the 'Black Belt' of Georgia before moving to Birmingham and working as a skilled iron molder. He became active in the movement to save the Scottsboro youth and joined the Communist Party in 1931.
In 1938, he organized the Right to Vote Club, which helped literate African Americans to register to vote (he himself had just learned to read at a CPUSA National Training School).
During the Depression, he worked on the Works Progress Administration (WPA), serving as secretary of the Jefferson and Birmingham County locals of the WPA's union. With the start of World War II, Hudson returned to his work as an iron molder and became active in the United Steel Workers' union, serving first as recording secretary of Local 1489 and then as founder and president of Local 2815.
During the McCarthy period, he was expelled from the Birmingham Industrial Union Council, fired from his job, removed from his offices in Local 2815, and blacklisted as a communist.
In 1980, though, his life's work was honored when Richard Arrington, the first Black mayor of Atlanta, proclaimed February 26, 1980, as Hosea Hudson Day. In his proclamation, Arrington noted Hudson's pioneering work in the civil rights movement. Hudsons life is chronicled in his autobiography, Black Worker in the Deep South.
For more information: The Story of Hosea Hudson: Lessons of a Black worker in the deep South still loom large
(Compiled by Kevin Lindemann)
Comments