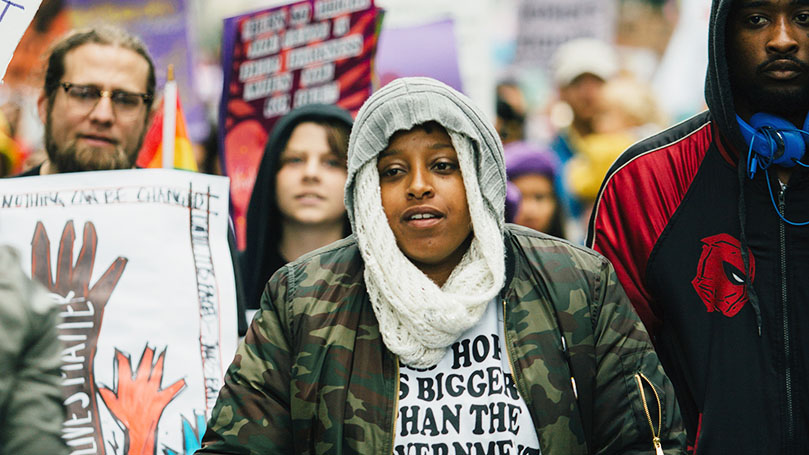 I would like to begin with a quote from Camila Duarte, a high school leader with United we Dream, whose family was directly affected by the shooting in Parkland, Florida:
"As youth of color and immigrants, we've been through so much hate, emotional abuse and violence in this last year, from the Muslim ban, to the termination of DACA, to budget cuts at our schools. We will not stay silent. Today, my classmates and I organized a Remembrance Walk at my school to honor the lives of those affected by this tragedy and to express our outrage at the apathy in Congress. We will take action again on March 24th, when immigrant youth at United We Dream will follow the leadership of the courageous students at Marjory Stoneman Douglas High School who are organizing a national day of action, the March for Our Lives. We will take the streets together because we believe in a future where everyone can feel safe in their schools and in their homes."
Camila and the brave Emma Gonzalez from Parkland are among many young women taking stands on issues that unify people across racial, gender, and political lin.  This year we honored another Camila and her twin sister Carolina Bortoletto at our Peoples' World Amistad Awards, who are two young dreamer women at the front of the immigrant rights fight in Connecticut.  They have also marched with unions and black lives matter, and were part of our Black History Month celebration this past Sunday. High school immigrant youth, many of them young women, will be at the front of the 17-minute walkouts at their schools March 14th, in which 1600 schools have already pledged to participate.
The recent "die-ins" and similar actions in response to the shooting in Florida are of course reminiscent of the hundreds of die-in actions organized by Black Lives Matter across the country.  Alicia Garza, Patrisse Cullors, and Opal Tometi, three Black female activists with broad social justice experience, began the Black lives Matter movement in 2013 following the acquittal of George Zimmerman, Trayvon Martin's killer.  "Say Her Name" is a movement within the community of Black Lives Matter, declaring that activism around police brutality must include the narrative of black women, including queer and trans black women. Johnetta Elzie, at age 26, quickly became one of the most prominent voices in modern day civil rights when she began reporting and organizing around the killing of Michael Brown in her hometown of St. Louis, MO.  She co-founded the organization "Mapping Police Violence", which documents the killings of people by police.
A Public Religion Research Institute youth survey shows that young women are more likely to follow/post about political issues online, sign an online petition, have an issue that they care about, attend a rally, and donate to a cause. However, young women are also more likely to say that insufficient information and fear of criticism inhibits their involvement in political issues.
The Women's March on Washington was likely the largest single-day demonstration in recorded U.S. history. Young, queer, women of color were at the center of the planning and execution of the march, declaring that this is their movement, not just a white women's movement.  After all, white women sadly voted majority for Trump in the elections. The March 24th "March for our Lives" on Washington will be an opportunity to further unify women across all racial, class, and political lines in the fight against the extreme right and Trump's sexist and violent agenda.  It will also be a galvanizing moment for the fight ahead in 2018 to get the progressive movement to the polls.
Finally, young women are marching into legislative office in unprecedented numbers.  While the beginning of 2017 welcomed in the first Latina Senator, the first Native female Senator, the first Asian-American female Senator, and others, 2018 promises to be even more exciting.   Emily's List, an organization that backs pro-choice female candidates in their quest for office, says they have over 34,000 women trained and ready to run for local, state, and national office. Currently there are 431 women are ready to run for the House nationwide, and 50 ready to run for the Senate.  This is more than twice the number that were poised to run in 2016. Emily's list's slogan is: "You Marched. Now Run."
Comments