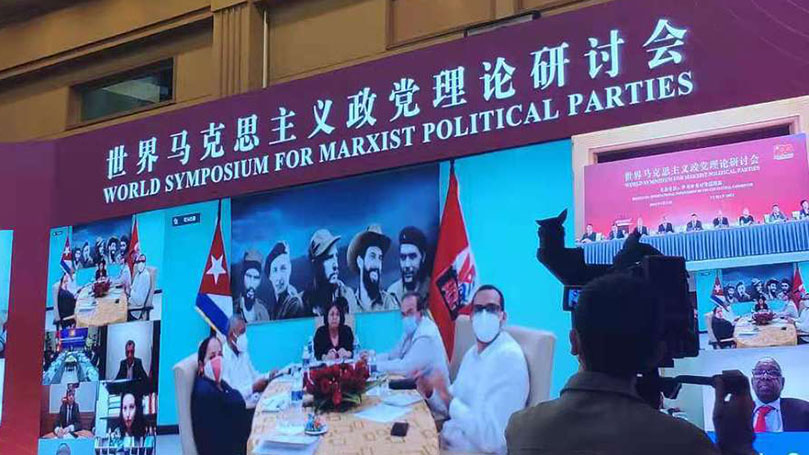 The following greeting was presented by a U.S. comrade at the World Symposium for Marxist Political Parties.
Hello everyone, comrades,  大家好,同志们好!
On behalf of the Communist Party of the United States, our National Committee, and co-chairs Joe Sims and Rossana Cambron, I'm proud to extend warm greetings and solidarity to the Communist Party of China and all of the parties participating in this World Symposium of Marxist Parties.
The CPUSA deeply appreciates this conference, also marking the 100th anniversary of the CPC. These gatherings offer the opportunity to deepen cooperation and understanding and share experiences between our parties. In a world beset by multiple, interlocking crises, global solidarity and exchanges between working-class and democratic forces, and those committed to a Marxist outlook and socialist future, are essential.
Humanity is at a crossroads. We live in a fast-changing and increasingly complex, interdependent, multi-polar world that is incredibly diverse, economically, socially, and culturally. The urgent need for economic, scientific, technological, and social cooperation to address the Covid-19 pandemic and other diseases, the existential climate and ecological crises, racism, militarism, nuclear proliferation, and economic inequality and development, grows by the day.  The demand for justice and peace grows as well, as we can see in the renewed Israeli attacks on Gaza.
Over its 100-year history, the Communist Party of China has made singular contributions to Marxist theory and practice, including building socialism with unique Chinese characteristics. Unprecedented economic and social achievements have been made in the past 40 years, including raising over 700 million people out of poverty, modernizing the country's physical, cultural, social, and intellectual infrastructure, helping spur global economic uplift through the Belt-Road Initiative, and sharing Covid-19 vaccines as global goods.
China's pledge to reach its greenhouse gas emissions peak before 2030, be fully carbon-neutral by 2060, and lead in the production and adoption of renewable energy sources, scientific innovation, reforestation, and expansion of ecological protected areas, are essential steps.
While fighting for the end of imperialist neoliberalism, Communist Parties, socialist, and other working-class and democratic forces have a critical role in shaping a new multilateral order that emerges in which countries cooperate peacefully and collaborate equally and where economic and cultural exchange is mutually beneficial.
We express our good wishes for a successful symposium and the continued success of Communist and revolutionary workers parties worldwide.
Solidarity forever!
Image: Ma Chi, China Daily.

Comments